Celgene Corporation
NASDAQ: CELG
Celgene (NASDAQ:CELG) Spiked today on news it has bought RCPT
CELG was a fun one today! The stock was surging up this morning on news that they are buying out RCPT. Shares of RCPT were trading flat today at 228 but shares of CELG were surging up. The buyout is for 7.2billion. This is great news for shareholders of RCPT but it's also great news for CELG! The stock opened today 132.58 vs a close yesterday of 122.85.
Trading CELG on the top reversal
I traded $CELG this morning, taking a short position at $135.00 and covering on the move down to $134. On this trade I was never down more than 10 cents from my entry. It was pretty much an instant winner. That's what we like! I found this trade on our Top Reversal scanner, but I was also watching it off our gap scanner right out of the gates. I typically avoid trading higher priced stocks in the first 5min of the market open.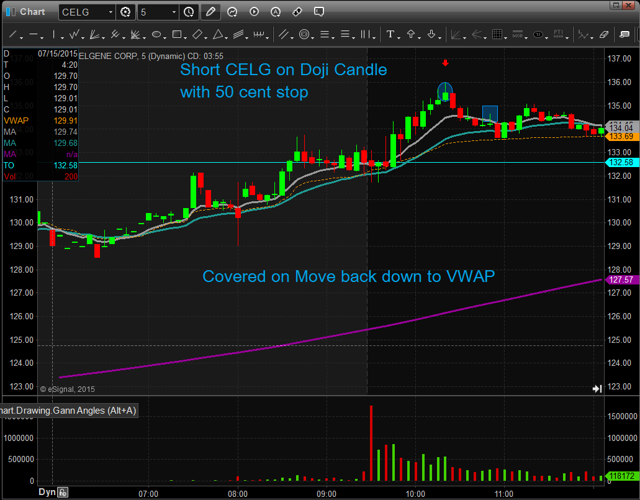 Company Profile
Celgene Corporation, a biopharmaceutical company, discovers, develops, and commercializes therapies to treat cancer and inflammatory diseases in the United States and Internationally. It markets REVLIMID, an oral immunomodulatory drug for multiple myeloma, myelodysplastic syndromes (NYSE:MDS), and mantle cell lymphoma; ABRAXANE, a solvent-free chemotherapy product to treat breast, non-small cell lung, pancreatic, and gastric cancers; POMALYST/IMNOVID for the treatment of multiple myeloma; and VIDAZA, a pyrimidine nucleoside analog to treat intermediate-2 and high-risk MDS, and chronic myelomonocytic leukemia, as well as acute myeloid leukemia (AML). The company's products also include THALOMID for the patients with multiple myeloma and for the treatment of cutaneous manifestations of erythema nodosum leprosum; OTEZLA for psoriatic arthritis, psoriasis, and ankylosing spondylitis; ISTODAX to treat cutaneous and peripheral T-cell lymphoma; and FOCALIN, FOCALIN XR, and RITALIN LA products. Its clinical stage products comprise oral anti-inflammatory agents targeting PDE4, an intracellular enzyme that modulates the production of multiple pro-inflammatory and anti-inflammatory mediators; CC-122 and CC-220 to treat hematological and solid tumor cancers, and inflammation and immunology diseases; cellular therapies, such as PDA-001 and PDA-002 for Crohn's and peripheral arterial diseases; CC-486 to treat MDS, AML, and solid tumors; Sotatercept and luspatercept for the treatment of anemia; and CC-223 and CC-115 for lymphomas, hepatocellular, and prostate cancers. The company has collaborative agreements with Novartis Pharma AG; Acceleron Pharma; Agios Pharmaceuticals, Inc.; Epizyme Inc.; Sutro Biopharma, Inc.; bluebird bio, Inc.; FORMA Therapeutics Holdings, LLC; MorphoSys AG; Acetylon Pharmaceuticals, Inc.; OncoMed Pharmaceuticals, Inc.; and NantBioScience, Inc. Celgene Corporation was founded in 1980 and is headquartered in Summit, New Jersey. - Yahoo Finance
Orignally posted on Warrior Trading News