Inteliquent, Inc. (NASDAQ: IQNT)
Inteliquent, Inc. (IQNT), an international voice telecommunications services company yesterday announced that they have entered into an agreement to be acquired by GTCR LLC. The transaction is valued at around $800 million, GTCR to pay $23.00 per share.
Inteliquent, Inc. and GTCR LLC CEO's Comments
"Over the past several quarters, Inteliquent has been transforming its business to become a leader in the next-generation communications services market," said Matt Carter, Inteliquent's Chief Executive Officer. "The acquisition of Inteliquent by GTCR and Onvoy validates our Growth Forward strategy. We believe this transaction will deliver immediate, significant and certain cash value to our stockholders while creating a market leading provider."
"We are excited to partner with the Inteliquent and Onvoy management teams to create a leading provider of communications enablement solutions," added GTCR Managing Director Lawrence Fey. "The combination of Inteliquent and Onvoy is transformational and creates an entity that is well positioned to provide robust next-generation solutions to the communications enablement market."
"Inteliquent's commitment to the core switching infrastructure has earned the trust of the nation's top carriers. We believe this will lead to additional opportunities for other carriers to partner with Inteliquent to outsource network infrastructure and achieve cost savings without sacrificing quality and reliability," said Fritz Hendricks, Chief Executive Officer of Onvoy. "We look forward to working with the Inteliquent team to continue the network expansion and to empower innovation for our shared customer base." Globe Newswire
IQNT Technical Analysis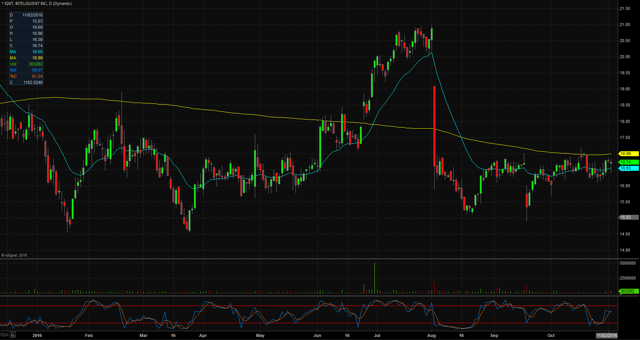 IQNT opened trading yesterday at $16.69 which was down from the previous day's trading close of $16.76. IQNT closed trading yesterday at $16.74 and spiked up after market to $22.37, equivalent to a 34% increase from the closing price. Taking a look at the daily chart we can see the last time IQNT traded above these levels we have to go back to October 28th, 2015 when it traded at $22.52. Taking a closer look at the daily chart we can see that before the spike up IQNT had been in an overall downward trend dating back to August 1st when it traded at $20.89. IQNT has a float of 31.24 million shares and traded below the normal daily trading volume on Wednesday. For trading purposes, I would like to see IQNT open trading on Thursday above $20.50 and if it does I would be looking to take a long position at the bell. My stop loss would be $0.50 from my entry position fearing anything more than that and the stock would start to fill in the gap up.
Company Profile
Inteliquent, Inc. provides voice telecommunications services on a wholesale basis in the United States and internationally. The company offers its services using an all-IP network, which enables to deliver global connectivity for various media, including voice. It provides voice services comprising local transit, long distance, switched access, international voice, direct inward dialing, and toll-free services. The company's solutions enable carriers and other providers to deliver voice traffic or other services where they do not have their own network or elect not to use their own network. Inteliquent, Inc. serves wireless, cable, wireline, and non-carrier customers. The company was formerly known as Neutral Tandem, Inc. and changed its name to Inteliquent, Inc. in July 2013. Inteliquent, Inc. was founded in 2001 and is headquartered in Chicago, Illinois. Yahoo Finance
If you're interested in checking out more information on our trading strategies you can check out this link here or if you would like more information on our chat room services you can click on this link.