Depomed, Inc. (NASDAQ: DEPO)
Depomed, Inc. (DEPO), a specialty pharmaceutical company yesterday reported their third quarter 2016 financial results. Depomed reported adjusted third quarter earnings of $0.28 per share which fell short of analyst expectations of $0.39 per share. Depomed reported third quarter revenues of $110.5 million which fell short of analyst expectations of $127.3 million.
Depomed, Inc. CEO's Comments
"Although our third quarter revenues increased by 5% over the previous year's quarter, they did not meet our expectations, as several factors, including a disconnect between prescription demand and wholesaler shipments, influenced net sales of the NUCYNTA franchise and Gralise. Prescriptions for NUCYNTA ER grew 4% over the second quarter, while shipments to wholesalers were down 1%. Prescriptions for NUCYNTA and Gralise were equal to the second quarter, however, shipments were down 6% and 12%, respectively," said Jim Schoeneck, President and CEO of Depomed. "In addition, we made adjustments to our reserve accounts, including managed care and PBM rebate submissions from prior quarters, which impacted our product net sales."
Continued Mr. Schoeneck, "For the rest of 2016 and beyond, we are fully committed to continuing the successful relaunch of our Nucynta franchise and building prescription demand for our products. For the third quarter, NUCYNTA ER reached all time high monthly market share and total prescriptions, with year-over-year prescription growth of approximately 20%. In addition, the rest of our portfolio achieved revenues of $45 million, an increase of 13% year-over-year. Finally, Depomed's recent NUCYNTA ANDA patent litigation win marked a major milestone for the company, giving us more than 9 years to continue to grow the NUCYNTA franchise, with exclusivity established until December 2025." Globe Newswire
DEPO Technical Analysis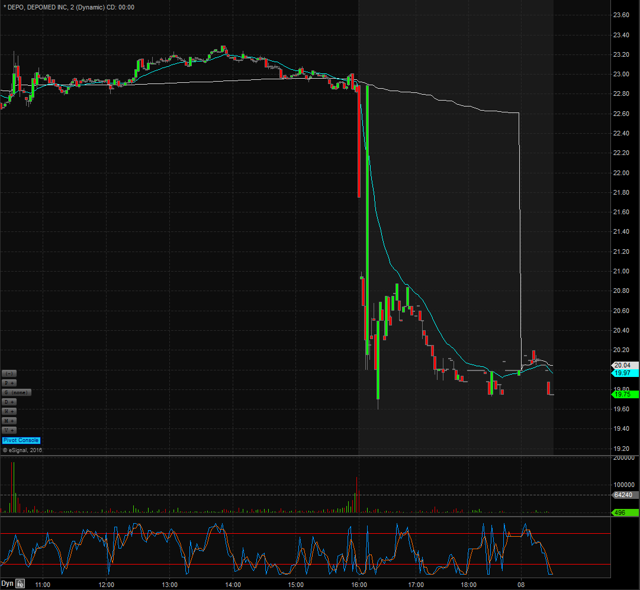 DEPO opened trading yesterday at $23.01 which was up from the previous day's trading close of $22.66. DEPO closed trading yesterday at $22.89 and crashed down after market to $19.85, equivalent to a 13% decrease from the closing price. Taking a look at the daily chart we can see the last time DEPO traded below these levels we have to go back to August 29th when it traded at $19.51. Taking a closer look at the daily chart we can see that before the spike down DEPO had already been in an overall downward trend dating back to October 5th when it traded at $26.01. DEPO has a float of 50.43 million shares and traded 1.67 times the normal daily trading volume on Monday. For trading purposes, I would like to see DEPO open trading on Tuesday below $20.85 and if it does I would be looking to take a short position at the bell. My stop loss would be $0.40 from my entry position fearing anything more than that and the stock would start to fill in the gap down.
Company Profile
Depomed, Inc., a specialty pharmaceutical company, engages in the development, sale, and licensing of products for pain and other central nervous system conditions in the United States. It offers Gralise (gabapentin), an once-daily product for the management of postherpetic neuralgia; CAMBIA (diclofenac potassium for oral solution), a non-steroidal anti-inflammatory drug indicated for acute treatment of migraine attacks in adults; Zipsor (diclofenac potassium) liquid filled capsule, a non-steroidal anti-inflammatory drug for the treatment of mild to moderate acute pain in adults; and Lazanda (fentanyl) nasal spray, an intranasal fentanyl drug used to manage breakthrough pain in adults. The company also provides NUCYNTA ER (tapentadol extended release tablets), a product for the management of pain severe enough to long term opioid treatment, including neuropathic pain associated with diabetic peripheral neuropathy (DPN) in adults; and NUCYNTA (tapentadol), a product for the management of moderate to severe acute pain in adults. In addition, it is involved in the clinical development of IW-3718 refractory gastroesophageal reflux disease program using Acuform drug delivery technology; and Cebranopadol, a molecule for the treatment of chronic nociceptive and neuropathic pain. Depomed, Inc. sells its Gralise products to wholesalers and retail pharmacies. The company also has a portfolio of license agreements based on its proprietary Acuform gastroretentive drug delivery technology with Mallinckrodt Inc.; Ironwood Pharmaceuticals, Inc.; and Janssen Pharmaceuticals, Inc. The company was founded in 1995 and is headquartered in Newark, California. Yahoo Finance
Check out these links if you're interested in more information on our trading strategies and Day Trading Chat Room services!
Disclosure: I/we have no positions in any stocks mentioned, and no plans to initiate any positions within the next 72 hours.