Alarm.com Holdings, Inc. (NASDAQ: ALRM)
Alarm.com Holdings, Inc. (NASDAQ:ALRM), a global cloud-based software platform solutions company yesterday reported their third quarter 2016 financial results. Alarm reported third quarter adjusted earnings of $0.19 per share which beat analyst expectations of $0.11 per share. Alarm reported third quarter earnings of $67.8 million which beat analyst expectations of $59.8 million. Alarm also announced that they have named Steve Valenzuela as the new Chief Financial Officer (NASDAQ:CFO).
Alarm.com Holdings, Inc. CEO's Comments
"We continued to execute our strategy in the third quarter and are pleased with the solid results," said Steve Trundle, President and CEO of Alarm.com. "Along with our service providers, we remain well positioned to capture growing momentum in the market for connected home and business solutions. At the same time, we continued to invest in our platform to open new market opportunities for Alarm.com and our partners." Globe Newswire
ALRM Technical Analysis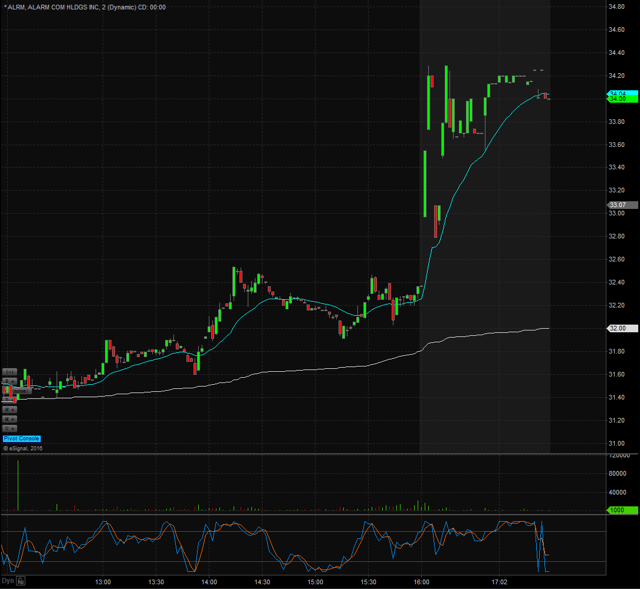 ALRM opened trading yesterday at $31.00 which was up from the previous day's trading close of $30.72. ALRM closed trading yesterday at $32.37 and spiked up after market to $34.01, equivalent to a 5% increase from the closing price. Taking a look at the daily chart we can see that we are in unchartered territory as ALRM is currently trading at all time highs. Taking a closer look at the daily chart we can see that before the spike up ALRM had already been in an overall upward trend dating back to September 13th when it traded at $24.72. ALRM has a float of 13.18 million shares and traded 2.5 times the normal daily trading volume on Monday. For trading purposes, I would like to see ALRM open trading on Tuesday above $33.50 and if it does I would be looking to take a long position at the bell. My stop loss would be $0.25 from my entry position fearing anything more than that and the stock would start to fill in the gap up.
Company Profile
Alarm.com Holdings, Inc. provides cloud-based software platform solutions for the connected homes in the United States and internationally. It offers multi-tenant software-as-a-service platform that allows home and business owners to intelligently secure and manage their properties, as well as remotely interact with an array of connected devices through a single intuitive interface. The company provides interactive security solutions, which offer intelligent security and awareness services through a dedicated, cellular, and two-way connection to the home or business; and intelligent automation solutions that connects, integrates, and controls the devices in the home or business, such as security systems, garage doors, lights, door locks, thermostats, electrical appliances, environmental sensors, and other connected devices. It also offers video monitoring solutions, which provide live streaming, smart clip capture, high definition continuous recording, and instant video alerts through its mobile app or on the Web; and energy management solutions that offer enhanced energy monitoring and management services. In addition, the company provides service provider solutions, including a permission-based online portal that offers access to a set of marketing, sales, training, and support tools and information; installation and support tools and apps, which enables service providers to install and service their connected home customers; business management services; and sales, marketing, and training services. It has approximately 2.6 million residential and business subscribers. Alarm.com Holdings, Inc. was founded in 2000 and is headquartered in Tysons, Virginia. Yahoo Finance
Check out these links if you're interested in more information on our trading strategiesand Day Trading Chat Room services!
Disclosure: I/we have no positions in any stocks mentioned, and no plans to initiate any positions within the next 72 hours.