Cerner Corporation (NASDAQ: CERN)
Cerner Corporation (NASDAQ:CERN), a leading international healthcare information technology yesterday announced that Sheridan Memorial Hospital is the first hospital to implement Cerner's CareAware Event Management system to link up with Hospira's infusion system Alarm Forwarding technology. The management system is designed to route alerts from medical devices or nurse call systems to a clinician's mobile device.
Cerner Corporation VP's Comments
"We are proud of the success we've seen at Sheridan with the integrated alarm forwarding technology," said Bryce Turnbull, vice president of DeviceWorks, Cerner. "Taking the initiative to integrate these technologies is an indication of Sheridan's continued investment to deliver high-quality patient care." Globe Newswire
CERN Technical Analysis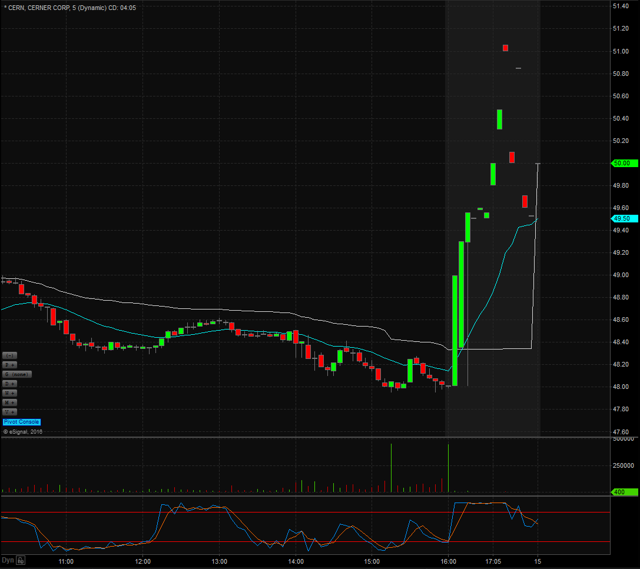 CERN opened trading yesterday at $48.20 which was down from the previous day's trading close of $48.21. Shares closed trading yesterday at $48.01 and spiked up after market to $50.85, equivalent to a 6% increase from the closing price. Taking a look at the daily chart we can see that the last time CERN traded above these levels we have to go back to November 28th when it traded at highs of $50.87. Taking a closer look at the daily chart we can see that before the spike up CERN had been in an overall downward trend dating back to August 8th when it traded at $67.33. CERN has a float of 301.13 million shares and traded 1.30 times the normal daily trading volume on Wednesday. For trading purposes, I would like to see CERN open trading on Thursday above $50.00 and if it does I would be looking to take a long position at the bell. My stop loss would be $0.25 from my entry position fearing anything more than that and the stock would start to fill in the gap up.
Company Profile
Cerner Corporation designs, develops, markets, installs, hosts, and supports health care information technology, health care devices, hardware, and content solutions for health care organizations and consumers in the United States and internationally. The company offers Cerner Millennium architecture, which includes clinical, financial, and management information systems that allow providers to access an individual's electronic health record at the point of care, and organizes and delivers information for physicians, nurses, laboratory technicians, pharmacists, front- and back-office professionals, and consumers. It also provides HealtheIntent platform, a cloud-based platform that enables organizations to aggregate, transform, and reconcile data across the continuum of care, as well as assists to enhance outcomes and lower costs. In addition, the company offers a portfolio of clinical and financial health care information technology solutions, as well as departmental, connectivity, population health, and care coordination solutions; and various complementary services, including support, hosting, managed, implementation, and strategic consulting services. Further, it provides various services, such as implementation and training, remote hosting, operational management, revenue cycle, support and maintenance, health care data analysis, clinical process optimization, transaction processing, employer health centers, employee wellness programs, and third party administrator services for employer-based health plans; and complementary hardware and devices for third parties. It serves integrated delivery networks, physician groups and networks, managed care organizations, hospitals, medical centers, reference laboratories, home health agencies, blood banks, imaging centers, pharmacies, pharmaceutical manufacturers, employers, governments, and public health organizations. Cerner Corporation was founded in 1979 and is headquartered in North Kansas City, Missouri. Yahoo Finance
Check out these links for more information on Warrior Trading and the trading strategies they implement in their chat room!
Disclosure: I/we have no positions in any stocks mentioned, and no plans to initiate any positions within the next 72 hours.