Conatus Pharmaceuticals Inc. (NASDAQ: CNAT)
Conatus Pharmaceuticals Inc. (NASDAQ:CNAT), a biotechnology company yesterday announced that is has reached an agreement with Novartis to globally develop and commercialize its first class orally active pan-caspase inhibitor emricasan.
Conatus Pharmaceuticals Inc. CEO's Comments
"We believe Novartis is ideally suited to collaborate with Conatus in the further development of emricasan for chronic liver diseases," said Conatus co-founder, President and Chief Executive Officer Steven J. Mento, Ph.D. "This collaboration validates the Conatus emphasis on the initial development of emricasan as a single agent treatment for NASH cirrhosis in both compensated and decompensated patients, and sets the stage for simultaneous development of oral combination therapies for the treatment of NASH fibrosis including emricasan and one of the Novartis internal FXR (Farnesoid X receptor) agonists in clinical development. Their strong commitment to and expertise in liver disease, and proven record of success in drug development provide our best opportunity to deliver these potentially groundbreaking new therapies to chronic liver disease patients with high unmet medical need." Globe Newswire
CNAT Technical Analysis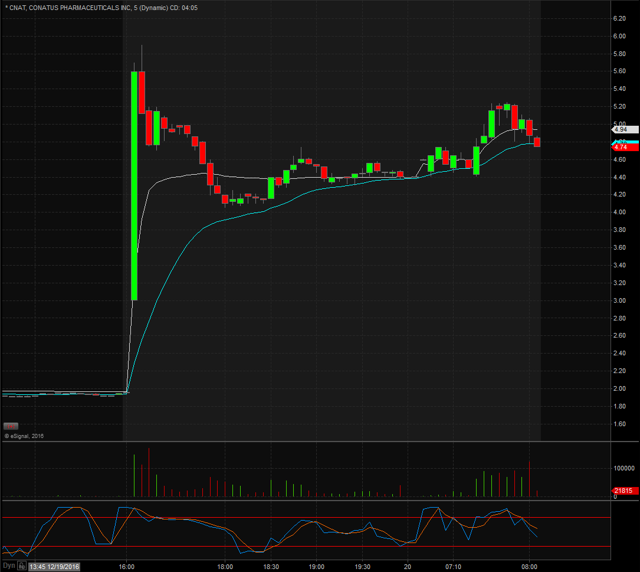 CNAT opened trading yesterday at $1.95 which was up from the previous day's trading close of $1.91. CNAT closed trading yesterday at $1.96 and spiked up after market to $5, equivalent to a 155% increase from the closing price. Taking a look at the daily chart we can see that the last time CNAT traded above these levels we have to go back to September 25th, 2015 when it traded at $5.16. Taking a closer look at the daily chart we can see that before the spike up CNAT had already been in an overall upward trend dating back to November 3rd when it traded at $1.50. CNAT has a float of 22.43 million shares and traded below the normal daily trading volume on Monday. For trading purposes, I would like to see CNAT open trading on Tuesday above $4 and if it does I would be looking to take a long position at the bell. My stop loss would be $0.25 from my entry position fearing anything more than that and the stock would start to fill in the gap up.
Company Profile
Conatus Pharmaceuticals Inc., a biotechnology company, focuses on the development and commercialization of novel medicines to treat liver diseases in the United States. Its product candidates include Emricasan, an orally active pan-caspase protease inhibitor that is in Phase II clinical trials for the treatment of liver cirrhosis, acute-on-chronic liver failure, post-orthotopic liver transplant as a result of hepatitis C virus infection with sustained viral response, non-alcoholic steatohepatitis, and nonalcoholic fatty liver disease and raised transaminases, as well as for the treatment of patients with severe alcoholic hepatitis. The company was founded in 2005 and is headquartered in San Diego, California. Yahoo Finance
Check out these links for more information on Warrior Trading and the trading strategies we implement in their chat room!
Disclosure: I/we have no positions in any stocks mentioned, and no plans to initiate any positions within the next 72 hours.