Biogen Inc. (NASDAQ: BIIB)
Biogen Inc. (NASDAQ:BIIB), a global independent biotechnology company yesterday announced that FDA has approved their SPIRANZA treatment. SPIRANZA is used for the treatment of spinal muscular atrophy. SPIRANZA is on the only treatment for SMA that the U.S. FDA has approved. Biogen licensed the global rights to develop, manufacture and commercialize SPINRAZA from Ionis Pharmaceuticals.
Biogen Inc. CEO's Comments
"SPINRAZA offers new hope for the SMA community and exemplifies our mission of applying cutting-edge science to make a meaningful difference in the lives of patients with devastating, life-altering diseases," said George A. Scangos, Ph.D., chief executive officer at Biogen. "We are humbled and grateful for the commitment of the patients and families who participated in the SPINRAZA clinical trial program, the tireless efforts of our investigators, and the urgency demonstrated by the FDA in rapidly reviewing and approving this treatment. We also want to acknowledge the important work of our colleagues at Ionis, who initiated this program." Business Wire
BIIB Technical Analysis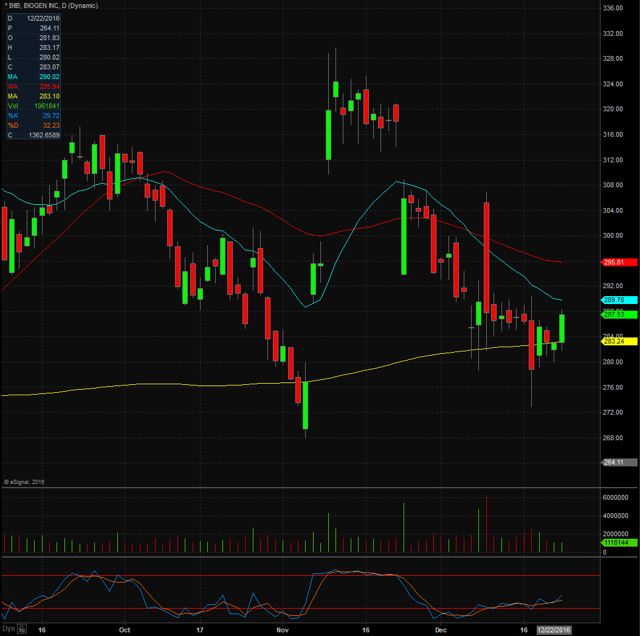 BIIB opened trading yesterday at $283.05 which was down from the previous day's trading close of $283.07. BIIB closed trading yesterday at $287.53 and spiked up after market to $297.07, equivalent to a 3% increase from the closing price. Taking a look at the daily chart we can see that the last time BIIB traded above these levels we have to go back to December 2nd when it traded at $297.19. Taking a closer look at the daily chart we can see that before the spike up BIIB had been in an overall downward trend dating back to November 10th when it traded at $324.40. BIIB has a float of 217.24 million shares and traded below the normal daily trading volume on Friday. For trading purposes, I would like to see BIIB open trading on Tuesday above $294.50 and if it does I would be looking to take a long position at the bell. My stop loss would be $1.00 from my entry position fearing anything more than that and the stock would start to fill in the gap up.
Company Profile
Biogen Inc. discovers, develops, manufactures, and delivers therapies for the treatment of neurodegenerative diseases, hematologic conditions, and autoimmune disorders. It offers TECFIDERA, AVONEX, and PLEGRIDY to treat relapsing forms of multiple sclerosis (NYSE:MS); TYSABRI to treat relapsing forms of MS and Crohn's disease; and FAMPYRA to improve walking ability for patients with MS. The company also provides ELOCTATE to treat adults and children with hemophilia A for control of bleeding episodes; ALPROLIX to treat adults and children with hemophilia B for control of bleeding episodes; RITUXAN for treating non-Hodgkin's lymphoma, rheumatoid arthritis, and chronic lymphocytic leukemia (CLL), as well as two forms of ANCA-associated vasculitis; GAZYVA for the treatment of patients with previously untreated CLL; and FUMADERM to treat plaque psoriasis. The company's products in Phase III development stage comprise ZINBRYTA, a monoclonal antibody for the treatment of relapsing-remitting MS; Aducanumab for Alzheimer's disease; and ISIS-SMNRx for spinal muscular atrophy. Its Phase II clinical trial products include Anti-LINGO for optic neuritis and MS; Amiselimod for multiple autoimmune indications; BAN2401 and E2609 for Alzheimer's disease; Raxatrigine for trigeminal neuralgia; rAAV-XLRS for X-linked juvenile retinoschisis; and BG00011 for idiopathic pulmonary fibrosis. Its Phase I clinical trial products comprise Dapirolizumab pegol for systemic lupus erythematosus (SLE); ISIS – DMPK for myotonic dystrophy; Anti-BDCA2 for SLE; Anti-alpha-synuclein for Parkinson's disease; and BIIB063 for sjogren's syndrome. The company has a strategic research collaboration with Ionis Pharmaceuticals, Inc. It offers products primarily through its own sales force, marketing groups, and third parties worldwide. The company was formerly known as Biogen Idec Inc. and changed its name to Biogen Inc. in March 2015. Biogen Inc. was founded in 1978 and is headquartered in Cambridge, Massachusetts. Yahoo Finance
Check out these links for more information on Warrior Trading and the trading strategies we implement in their chat room!
Disclosure: I/we have no positions in any stocks mentioned, and no plans to initiate any positions within the next 72 hours.