Mylan N.V. (NASDAQ: MYL)
Mylan N.V. (NASDAQ:MYL), a global specialty pharmaceuticals company yesterday announced the launch of Methylphenidate Hydrochloride Extended Release Tablets. The tablets are a generic form of Janssens Concerta Tablets.
MYL CEO's Comments
Mylan CEO Heather Bresch commented, "The launch of generic Concerta® Tablets demonstrates Mylan's leadership in complex development and manufacturing and in bringing to market a broad portfolio of high quality generics. This launch also further strengthens our robust portfolio of central nervous system medications, which is the largest in the U.S. with more than 100 products. We're excited about bringing another generic in this therapeutic area to market and expanding access to help patients." PR Newswire
MYL Technical Analysis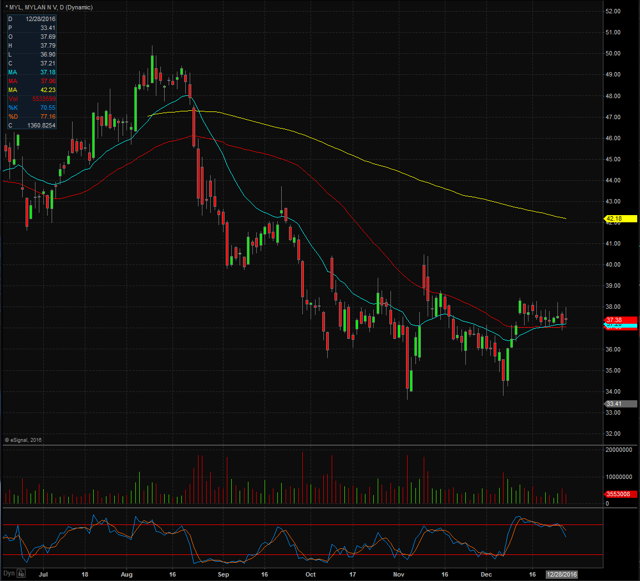 MYL opened trading yesterday at $37.47 which was up from the previous day's trading close of $37.21. MYL closed trading yesterday at $37.38 and spiked up after market to $38.20, equivalent to a 2% increase from the closing price. Taking a look at the daily chart we can see that the last time MYL traded above these levels we have to go back to December 13th when it traded at $38.30.
Taking a closer look at the daily chart we can see that before the spike up MYL had been in an overall downward trend dating back to August 18th when it traded at $49.32. MYL has a float of 434.18 million shares and traded below the normal daily trading volume on Thursday. For trading purposes, I would like to see MYL open trading on Friday above $37.90 and if it does I would be looking to take a long position at the bell. My stop loss would be $0.20 from my entry position fearing anything more than that and the stock would start to fill in the gap up.
Company Profile
Mylan N.V., together with its subsidiaries, develops, licenses, manufactures, markets, and distributes generic, branded generic, and specialty pharmaceuticals worldwide. The company provides generic or branded generic pharmaceutical products in tablet, capsule, injectable, transdermal patch, gel, cream, or ointment forms, as well as active pharmaceutical ingredients (APIs). It is also involved in the development of APIs with non-infringing processes for internal use and to partner with manufacturers; and manufacture and sale of injectable products in antineoplastics, anti-infectives, anesthesia/pain management, and cardiovascular therapeutic areas.
In addition, the company produces finished dosage form and oral solid dose products; and offers antiretroviral therapies to third parties. Further, it manufactures and sells branded specialty injectable and nebulized products comprising EpiPen Auto-Injector to treat severe allergic reactions; Perforomist Inhalation Solution, a formoterol fumarate inhalation solution for the maintenance treatment of bronchoconstriction in chronic obstructive pulmonary disorder patients; and ULTIVA, an analgesic agent used during the induction and maintenance of general anesthesia for inpatient and outpatient procedures. It sells generic pharmaceutical products to proprietary and ethical pharmaceutical wholesalers and distributors, group purchasing organizations, drug store chains, independent pharmacies, drug manufacturers, institutions, and public and governmental agencies; and specialty pharmaceuticals to pharmaceutical wholesalers and distributors, pharmacies, and healthcare institutions. Mylan N.V. has a collaboration agreement with Momenta Pharmaceuticals, Inc. to develop, manufacture, and commercialize Momenta Pharmaceuticals, Inc.'s biosimilar candidates. The company was formerly known as New Moon B.V. Mylan N.V. was founded in 1961 and is based in Hertfordshire, the United Kingdom. Yahoo Finance
Check out these links for more information on Warrior Trading and the trading strategies we implement in their chat room!
Disclosure: I/we have no positions in any stocks mentioned, and no plans to initiate any positions within the next 72 hours.