Tesla Motors (NASDAQ: TSLA)
Tesla Motors News & Technicals
Today Tesla Motors ($TSLA) announced that they will be mass producing lithium-ion batteries in their new giga-factory outside of Reno, Nevada. This is a huge step for the Tesla Motors as it will reduce battery prices for the company which could then be passed down to their clients. The company is looking to use these batteries in their energy-storage products and then eventually in the Model 3 that should be on the market by the end of the year.
"And we are still less than 30 percent done. Once complete, we expect the Gigafactory to be the biggest building in the world," it said. "With the Gigafactory online and ramping up production, our cost of battery cells will significantly decline due to increasing automation and process design to enhance yield, lowered capital investment per Wh of production, the simple optimization of locating most manufacturing processes under one roof, and economies of scale."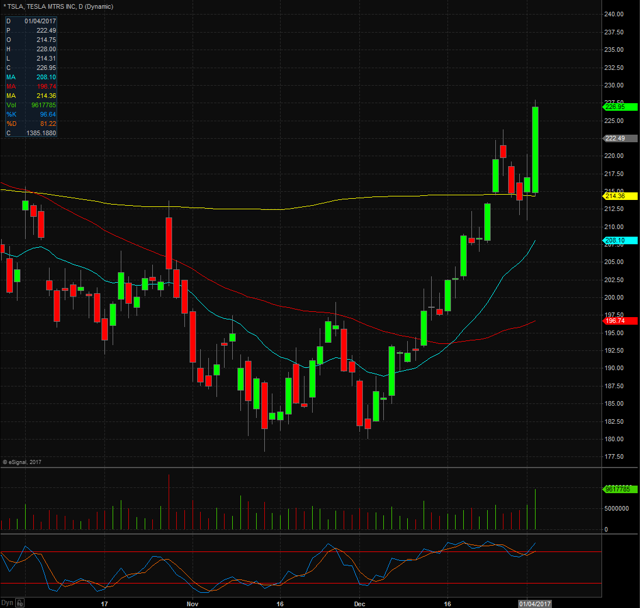 Looking at the daily chart of Tesla Motors, you will see that shares have started a solid uptrend following the double bottom back in early December. Shares are liking this recent news as is evident in the price action today with a strong surge up on heavy volume. Shares are currently above their 200-day moving average sitting at $214.36 and are looking to take on the big $230 resistance level. Look for changes in price action behavior at that level to see if we will get a pullback or if it is strong enough to push through and continue to higher prices. As long as it is above the 200-day moving average we can assume that buyers are in control.
Tesla Profile
Tesla Motors, Inc. designs, develops, manufactures and sells electric vehicles and energy storage products. The Company produces and sells two electric vehicles: the Model S sedan and the Model X sport utility vehicle (SUV). The Company has delivered over 107,000 Model S vehicles across the world. In addition to developing its own vehicles, it sells energy storage products. Its energy storage products include the seven kilowatt-hour and 10 kilowatt-hour Powerwall for residential applications, and the 100 kilowatt-hour Powerpack for commercial and industrial applications. The Company delivers energy storage products under the Tesla Energy brand. It manufactures its products primarily at its facilities in Fremont, California, Lathrop, California, Tilburg, Netherlands and at its Gigafactory near Reno, Nevada. The Company uses battery packs manufactured at the Gigafactory for its energy storage products. - GoogleFinance
Check out these links for more information on Warrior Trading and the trading strategies we implement in their chat room!
Disclosure: I/we have no positions in any stocks mentioned, and no plans to initiate any positions within the next 72 hours.