Bank Of America (NYSE: BAC)
Bank Of America News
Bank Of America posted fourth quarter earnings early Friday morning that topped analyst expectations and gave shares some life in the premarket session. BAC's fixed-income trading desk was able to take advantage of favorable markets with increased revenues while also being able to reduce expenses. Earnings per share came out at 40 cents per share on $20 billion in revenue while analysts were looking for 38 cents a share on $20.8 billion in revenue.
BAC Technicals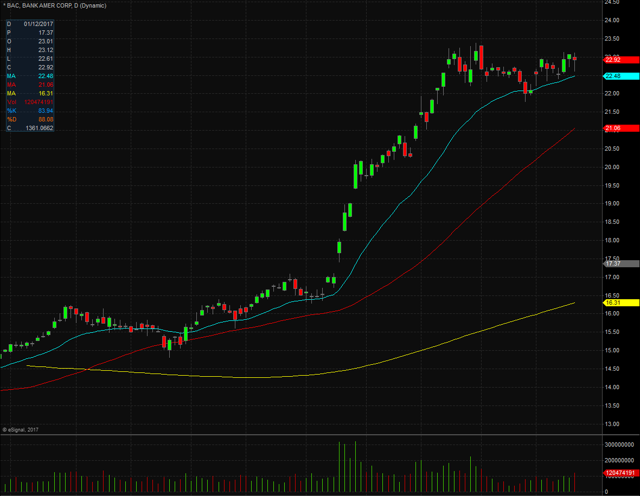 Looking at the BAC chart you will see that shares have been in a strong uptrend since Trump won the presidential election back in early November with shares now trading $22 which it hasn't done since 2008. With an earnings beat we could see further buying pressure and if we can get prices above $23.50 we could see more buyers jump in. Shares are well above their 200-day moving average currently sitting at $16.31 and their 50-day moving average at $21.06. Currently analysts have an average price target of $24.13, but could see that get adjusted over the next few days.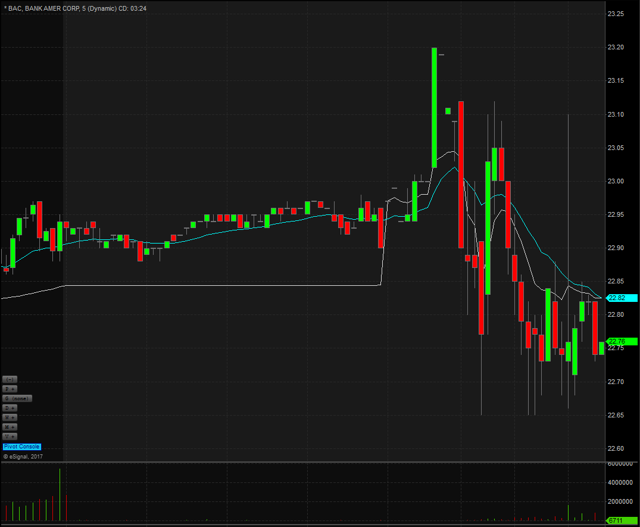 Above is a chart of BAC 5-minute following their earnings release and as you cane see shares sparked to life with plenty of pre-market volume. After popping shares came back in and have found support at $22.65 which we will want to see hold. If not, we could see shares trade lower. Yesterdays lows was at $22.61 so we know there is plenty of support at this level. Shares will see higher than normal volume and volatility which should create some opportunity for us intraday traders.
Bank Of America Profile
Bank of America Corporation is a bank holding and financial holding company. The Company is a financial institution, serving individual consumers, small- and middle-market businesses, institutional investors, corporations and governments with various banking, investing, asset management and other financial and risk management products and services. Its segments include Consumer Banking, which provides credit, banking and investment products and services to consumers and small businesses; Global Wealth & Investment Management, which offers solutions, such as investment management, brokerage, banking and retirement products; Global Banking, which provides lending-related products and services, integrated working capital management and treasury solutions; Global Markets, which offers sales and trading services; Legacy Assets & Servicing, which provides mortgage servicing activities, and All Other, which consists of asset and liability management activities, equity investments and others. - GoogleFinance
Check out these links for more information on Warrior Trading and the penny stock trading strategies we implement in their chat room!
Disclosure: I/we have no positions in any stocks mentioned, and no plans to initiate any positions within the next 72 hours.