Wesco Aircraft Holdings, Inc. (NASDAQ: WAIR)
Wesco Aircraft Holdings, Inc. (NYSE:WAIR), a global aerospace company yesterday reported their fiscal first quarter 2017 financial results. Wesco reported first quarter adjusted earnings of $0.19 per share which fell short of analyst estimates of $0.26 per share. The company reported first quarter revenues of $339.4 million.
Wesco Aircraft Holdings, Inc.
CEO's Comments
Dave Castagnola, president and chief executive officer, said, "We continue to book significant wins and renewals in fiscal 2017, building on the value proposition Wesco provides to major aerospace and defense customers. Sales wins with strategic customers in fiscal 2016 and the first quarter of fiscal 2017 totaled approximately $130 million on an annualized basis, approximately half of which is expected to be realized in fiscal 2017. We also have renewed long-term agreements with existing customers totaling $400 million on an annualized basis over the same period of time. New business strength continues to give us confidence in our outlook for constant-currency sales growth of three to five percent for the year.
"Our fiscal 2017 first-quarter results were negatively impacted by foreign currency translation, temporary disruptions to certain customers' consumption patterns due to operational changes and extended site closures, and late production schedule revisions made by a major commercial OE customer. The challenges created by these events were partially offset by sales realized from recent new business wins.
"The slippage of some sales out of the quarter, along with higher planned selling, general and administrative expenses to support the significant ramp in new business, reduced net income and adjusted EBITDA margins(1) in the fiscal 2017 first quarter. As sales increase in the remainder of fiscal 2017, we expect to improve operating leverage and margins, supporting our earnings per share outlook for the year. We also increased our investment in inventory in the first quarter to support the substantial level of new business wins and to assure the excellent service levels our customers expect. We plan to continue this investment to support our growth, particularly in the first half of the year. We expect this investment to reduce cash provided by operating activities and free cash flow(1) in fiscal 2017 from our previous outlook." Globe Newswire
WAIR Technical Analysis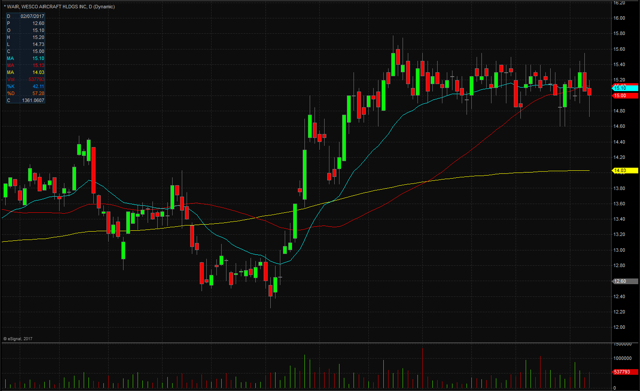 WAIR opened trading yesterday at $15.10 which was up from the previous day's trading close of $15.05. Shares closed trading yesterday at $15.00 and spiked down after market to $14.00, equivalent to a 7% decrease from the closing price. Taking a look at the daily chart we can see that the last time WAIR traded below these levels we have to go back to November 18th, 2016 when it traded at $13.90.
Taking a closer look at the daily chart we can see that before the spike down WAIR had been in an overall upward trend dating back to November 2nd, 2016 when it traded at $12.40. WAIR has a float of 55.78 million shares and traded 1.12 times the normal daily trading volume on Tuesday. For trading purposes, I would like to see WAIR open trading on Wednesday below $14.33 and if it does I would be looking to take a long position at the bell. My stop loss would be $0.20 from my entry position fearing anything more than that and the stock would start to fill in the gap down.
Company Profile
Wesco Aircraft Holdings, Inc. distributes aerospace bearing products and provides supply chain management services to the aerospace industry in the North America and internationally. Its services comprise traditional distribution, management of supplier relationships, quality assurance, kitting, just-in-time delivery, and point-of-use inventory management.
The company supplies approximately 575,000 active stock-keeping units, including hardware, chemicals, electronic components, bearings, tools, and machined parts. Its hardware products comprise blind fasteners, panel fasteners, bolts and screws, clamps, hi lok pins and collars, hose assemblies, hydraulic fittings, inserts, lockbolts and collars, nuts, rivets, springs, valves, and washers; and chemicals, comprise adhesives, sealants and tapes, lubricants, oil and grease, paints and coatings, industrial gases, coolants and metalworking fluids, and cleaners and cleaning solvents.
The company's electronic components include connectors, relays, switches, circuit breakers, and lighted products; bearings consist of airframe control bearings, rod ends, spherical bearings, ball bearing rod ends, roller bearings, and bushings; and machined parts and other products comprise brackets, milled parts, shims, stampings, turned parts, and welded assemblies. Wesco Aircraft Holdings, Inc. is also involved in the installation of various products comprising air and hydraulic tools, as well as drill motors; provision of maintenance and repair services for tools; and rental or lease of tools.
It serves original equipment manufacturers and their subcontractors, as well as industrial customers in the automotive, energy, pharmaceutical, and electronics sectors. The company was formerly known as Wesco Holdings, Inc. Wesco Aircraft Holdings, Inc. was founded in 1953 and is headquartered in Valencia, California." Yahoo Finance
Disclosure: I/we have no positions in any stocks mentioned, and no plans to initiate any positions within the next 72 hours.