Tessera Holding Corporation (NASDAQ: TSRA)
Tessera Holding Corporation (TSRA), a global company that provides chip technology for small electronic devices yesterday reported their fourth quarter and full year 2016 financial results. Tessera reported a fourth quarter loss of $9.3 million. Tessera reported fourth quarter adjusted earnings of $0.45 per share. Tessera reported fourth quarter revenues of $70.1 million.
Tessera Holding Corporation
CEO's Comments
"2016 was a transformational year with the combination of Tessera and DTS, which today we are excited to have rebranded as Xperi, reflecting our new vision of bringing together digital and physical experiences in smart, connected and personalized ways," said Tom Lacey, chief executive officer. "While the transaction and related accounting had a significant impact on the fourth quarter results, the effect is transitory and does not reflect the underlying cash flow strength of the business. We are pleased to report the integration of DTS is on track and we are confident in our ability to realize the full benefits of the transaction. Notably, the audio and imaging businesses reached new revenue milestones in 2016 and our IP business delivered the highest recurring revenue in the last five years. Looking ahead, we are excited about the roadmap for the combined company, our momentum, and we expect to deliver strong earnings and operating cash flow in 2017." Business Wire
TSRA Technical Analysis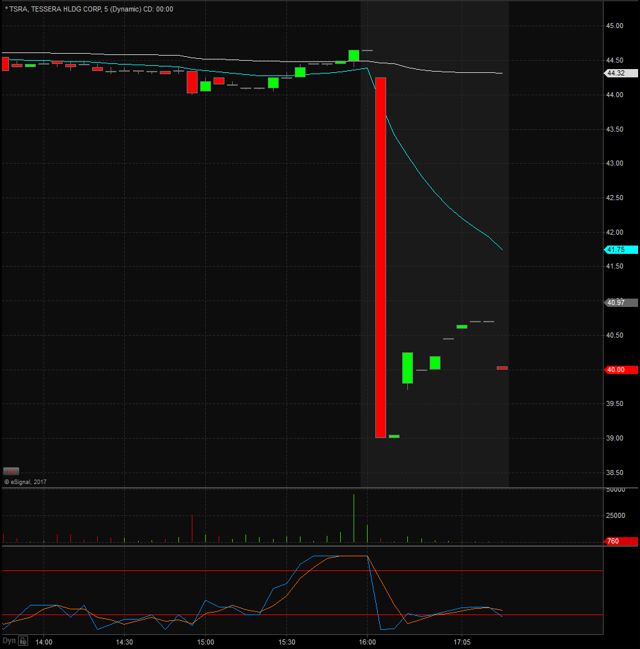 TSRA opened trading yesterday at $44.80 which was down from the previous day's trading close of $44.85. Shares closed trading yesterday at $44.65 and spiked down after market to $38.60, equivalent to a 14% decrease from the closing price. Taking a look at the daily chart we can see that the last time TSRA traded below these levels we have to go all the way back to November 10th, 2016 when it traded at $38.35.
Taking a closer look at the daily chart we can see that before the spike down TSRA had been in an overall upward trend dating back to July 6th, 2016 when it traded at $29.56. TSRA has a float of 46.09 million shares and traded 1.12 times the normal daily trading volume on Wednesday. For trading purposes, I would like to see TSRA open trading on Thursday below $40.60 and if it does I would be looking to take a short position at the bell. My stop loss would be $0.50 from my entry position fearing anything more than that and the stock would start to fill in the gap down.
Company Profile
Tessera Holding Corporation, through its subsidiaries, creates, develops, and licenses audio, computational imaging, computer vision, semiconductor packaging, and interconnect technologies worldwide. It offers chip-scale packaging technologies to electronic device companies, who in turn integrate the technologies into their enterprise and consumer electronic products.
The company also provides audio technologies for mobile devices, home theater systems, cinemas, automotive, and other products; and researches and develops 3D semiconductor packaging and interconnect solutions in the areas of mobile computing and communications, memory and data storage, MEMS, and image sensors. In addition, it researches and develops embedded image processing solutions for computer vision and computational imaging applications. The company's video and image enhancement technologies are used in high-end smartphones and other consumer imaging products. Tessera Holding Corporation was founded in 1990 and is headquartered in San Jose, California. Yahoo Finance
Check out these links for more information on Warrior Trading and the penny stock trading strategies we implement in their chat room!
Disclosure: I/we have no positions in any stocks mentioned, and no plans to initiate any positions within the next 72 hours.