Universal Display Corporation (NASDAQ: OLED)
Universal Display Corporation (NASDAQ:OLED), an organic light-emitting diode technology company yesterday reported their fourth quarter and full year 2016 financial results. Universal reported fourth quarter profits of $25.8 million and full year profits of $48.1 million. Universal reported fourth quarter earnings of $0.55 per share and full year earnings of $1.02 per share. Universal reported fourth quarter revenues of $74.6 million and full year revenues of $198.9 million.
Universal Display Corporation
CFO's Comments
"We are pleased to report that 2016 finished on a strong note," said Sidney D. Rosenblatt, Executive Vice President and Chief Financial Officer of Universal Display. "In the fourth quarter, total emitter sales increased 25% sequentially, the adoption of next-generation emitters commenced, and with the robust activity for new UniversalPHOLED materials in the pipeline, we embarked on our next expansion phase with PPG Industries to double our phosphorescent emitter production capacity."
Rosenblatt continued, "Looking forward, we see extremely positive momentum in our business and believe that we are well positioned to capture the tremendous opportunities in front of us. With our bustling customer pipeline, we have broadened and further increased the depth of our R&D team to respond to the exciting challenges and opportunities in the marketplace for today and tomorrow. We have the innovation, commitment to operational excellence, agility and flexibility to drive the invention and development of the best OLED technologies and phosphorescent materials for our customers and partners worldwide." Business Wire
OLED Technical Analysis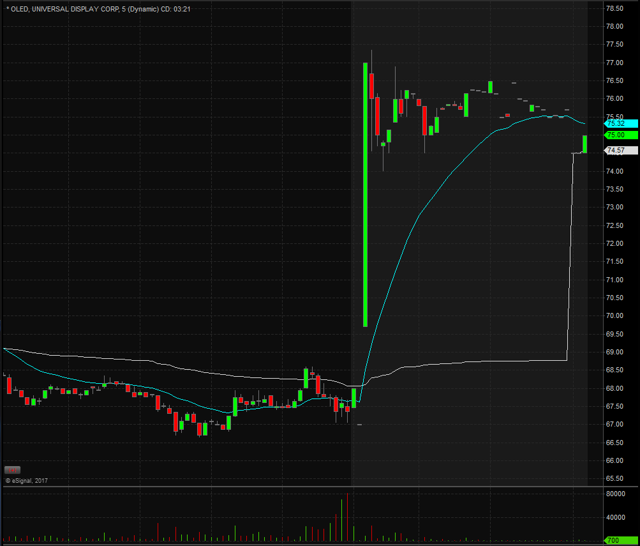 OLED opened trading yesterday at $71.55 which was up from the previous day's trading close of $71.25. Shares closed trading yesterday at $67.45 and spiked up after market to $76.00, equivalent to a 13% increase from the closing price. Taking a look at the daily chart we can see that we are in unchartered territory as OLED with the spike up is now trading at all time highs.
Taking a closer look at the daily chart we can see that before the spike up OLED had already been in an overall upward trend dating back to October 14th, 2016 when it traded at $49.22. OLED has a float of 44.5 million shares and traded 2.32 times the normal daily trading volume on Thursday. For trading purposes, I would like to see OLED open trading on Friday above $73.00 and if it does I would be looking to take a long position at the bell. My stop loss would be $0.50 from my entry position fearing anything more than that and the stock would start to fill in the gap up.
Company Profile
Universal Display Corporation engages in the research, development, and commercialization of organic light emitting diode technologies and materials for use in flat panel displays and solid-state lighting applications. It owns, exclusively licenses, or has the sole right to sublicense approximately 3,600 patents issued and pending worldwide.
The company licenses and supplies its proprietary UniversalPHOLED phosphorescent OLED technologies and materials to display manufacturers and others. It is also involved in the research, development, and commercialization of other OLED device and manufacturing technologies, including FOLED that are flexible OLEDs for the fabrication of OLEDs on flexible substrates; encapsulation technology for the packaging of flexible OLEDs and other thin-film devices, as well as for use as a barrier film for plastic substrates; UniversalP2OLED, which are printable phosphorescent OLEDs; OVJP, an organic vapor jet printing technology; OVPD, an organic vapor phase deposition for manufacturing a small molecule OLED; and TOLED, which are transparent OLEDs for the fabrication of OLEDs that have transparent cathodes.
In addition, the company provides technology development and support services, including government contract work and support provided to third parties for the commercialization of their OLED products. It has strategic relationships with Samsung Display Co., Ltd.; LG Display Co., Ltd.; Tohoku Pioneer Corporation; Konica Minolta Holdings Inc.; AU Optronics Corporation; Innolux Corporation; Kaneka Corporation; Philips Technologic GmbH; Sumitomo Chemical Co., Ltd.; Sony Corporation; Lumiotec, Inc.; LG Chem, Ltd.; NEC Lighting, Ltd.; BOE Technology Group Co., Ltd.; and OLEDWorks L.L.C. The company was founded in 1985 and is headquartered in Ewing, New Jersey. Yahoo Finance
Check out these links for more information on Warrior Trading and the penny stock trading strategies we implement in their chat room!
Disclosure: I/we have no positions in any stocks mentioned, and no plans to initiate any positions within the next 72 hours.