Spectrum Pharmaceuticals, Inc. (NASDAQ: SPPI)
Spectrum Pharmaceuticals, Inc. (NASDAQ:SPPI), a biotechnology company yesterday reported their fourth quarter and full year 2016 financial results. Spectrum reported a fourth quarter loss of $17.4 million. Spectrum reported fourth quarter earnings of a loss of $0.22 per share which beat analyst expectations of a loss of $0.26 per share. Spectrum reported fourth quarter revenues of $35.2 million.
Spectrum Pharmaceuticals, Inc.
CEO's Comments
"We made significant advancements in our pipeline throughout 2016 and I believe we are well positioned for transformational growth," said Rajesh C. Shrotriya, MD, Chairman and Chief Executive Officer of Spectrum Pharmaceuticals. "ROLONTIS is our highest priority drug and we are pleased that we remain on track for a BLA filing next year. Poziotinib, which is being developed for breast cancer has recently emerged as a potential treatment for a high unmet medical need in lung cancer. Data presented in December suggests that poziotinib has potential in lung cancer patients with certain genetic mutations that have poor prognosis and limited treatment options. An investigator sponsored trial of poziotinib in such patients with EGFR Exon 20 insertion mutations at MD Anderson Cancer Center could yield key results before year end. We have also obtained a new SPA for our late-stage bladder cancer drug Qapzola that significantly reduces the number of patients required for an NDA filing. Spectrum is in a unique position of having multiple opportunities to create value while benefiting patients." Business Wire
SPPI Technical Analysis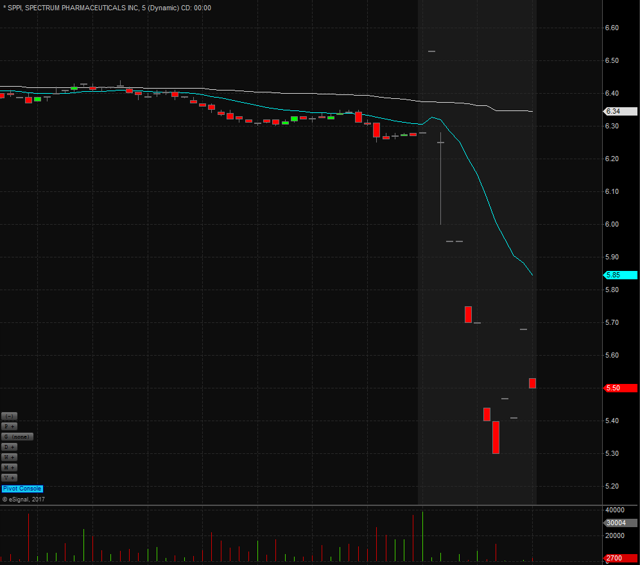 SPPI opened trading yesterday at $6.32 which was up from the previous day's trading close of $6.31. SPPI closed trading yesterday at $6.28 and spiked down after market to $5.65, equivalent to a 10% decrease from the closing price. Taking a look at the daily chart we can see that the last time SPPI traded below these levels we have to go all the way back to February 13th, when it traded at $5.44.
Taking a closer look at the daily chart we can see that before the spike down SPPI had been in an overall upward trend dating back to November 3rd 2016, when it traded at $3.22. SPPI has a float of 66.2 million shares and traded 1.41 times the normal daily trading volume on Wednesday.
For trading purposes, I would like to see SPPI open trading on Thursday below $5.85 and if it does I would be looking to take a short position at the bell. My stop loss would be $0.10 from my entry position fearing anything more than that and the stock would start to fill in the gap down.
Company Profile
Spectrum Pharmaceuticals, Inc., a biotechnology company, develops and commercializes oncology and hematology drug products. The company markets six drug products, including FUSILEV for patients with metastatic colorectal cancer, rescue after high-dose methotrexate therapy in osteosarcoma, and to diminish the toxicity and counteract the effects of impaired methotrexate elimination and of inadvertent overdosage of folic acid antagonists; FOLOTYN, a folate analogue metabolic inhibitor to treat patients with relapsed or refractory PTCL; ZEVALIN injection for patients with follicular non-Hodgkin's lymphoma; MARQIBO, a sphingomyelin/cholesterol liposome-encapsulated formulation of the anticancer drug vincristine for adult patients with Philadelphia chromosome-negative acute lymphoblastic leukemia; BELEODAQ injection for patients with relapsed or refractory PTCL; and EVOMELA for use as a conditioning treatment prior to autologous stem cell transplant in multiple myeloma patients.
It is also developing POZIOTINIB for treating breast, gastric, colorectal, and lung cancers; EOQUIN for non-muscle invasive bladder cancer; and SPI-2012 for chemotherapy-induced neutropenia in patients with breast cancer. The company sells its drugs through a direct sales force in the United States; and through distributors in Europe.
It has licensing and development agreement with Cell Therapeutics, Inc.; license agreement with Merck & Cie AG, Sloan-Kettering Institute, and Cydex Pharmaceuticals, Inc.; development and commercialization collaboration agreement with Allergan, Inc.; collaboration agreement with Nippon Kayaku Co., Ltd.; licensing and collaboration agreement with TopoTarget A/S; and co-development and commercialization agreement with Hanmi Pharmaceutical Company.
The company was formerly known as NeoTherapeutics, Inc. and changed its name to Spectrum Pharmaceuticals, Inc. in December 2002. Spectrum Pharmaceuticals, Inc. was founded in 1987 and is headquartered in Henderson, Nevada. Yahoo Finance
Check out these links for more information on Warrior Trading and the penny stock trading strategies we implement in their chat room!
Disclosure: I/we have no positions in any stocks mentioned, and no plans to initiate any positions within the next 72 hours.