Neurocrine Biosciences, Inc. (NASDAQ: NBIX)
Neurocrine Biosciences, Inc. , a pharmaceuticals company yesterday announced that it has been approved by the U.S Food Drug Administration for its new drug that treats patients who have tardive dyskinesia.
This is the first drug to be approved by the U.S FDA to treat Tardive Dyskinesia and the approval comes without a black box safety warning against suicidality or depression.
Neurocrine Biosciences, Inc. CEO's Comments
"The often debilitating effects of tardive dyskinesia have left people feeling isolated and forgotten. The approval of INGREZZA represents a turning point for these patients and their care partners, offering a meaningful treatment where before there was little hope," said Kevin C. Gorman, Chief Executive Officer of Neurocrine Biosciences. "For the past 20 years, Neurocrine has been devoted to developing treatments for difficult to manage conditions in underserved patient populations. We are committed to ensuring that those impacted by the disruptive effects of TD have access to INGREZZA." PR Newswire
NBIX Technical Analysis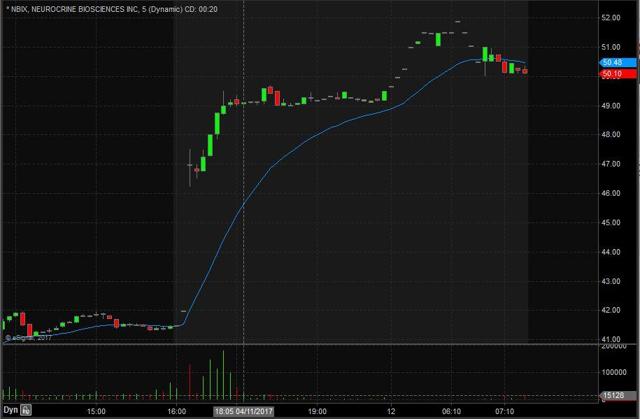 NBIX opened trading yesterday at $40.51 which was down from the previous day's trading close of $40.31. NBIX closed trading yesterday at $41.48 and spiked up after market to $49.50, equivalent to a 19% increase from the closing price. Taking a look at the daily chart we can see that the last time NBIX traded above these levels we have to go back to November 25th, 2016 when it traded at $51.06.
Taking a closer look at the daily chart we can see that before the spike up NBIX had been in an overall downward trend dating back to March 15th when it traded at $47.26. NBIX has a float of 85.91 million shares and traded 1.42 times the normal daily trading volume on Tuesday.
For day trading purposes, I would like to see NBIX open trading on Wednesday above $47 and if it does I would be looking to add at the bid price at the bell especially it it tests the VWAP first. My stop loss would be $0.35 from my entry position fearing anything more than that and the stock would start to fill in the gap up.
Company Profile
Neurocrine Biosciences, Inc. discovers and develops pharmaceuticals for the treatment of neurological and endocrine-related diseases and disorders in the United States and internationally.
The company's lead products include INGREZZA (valbenazine), a vesicular monoamine transporter 2 inhibitor (VMAT2) used for the treatment of movement disorders; elagolix, a gonadotropin-releasing hormone (GnRH) antagonist that is in Phase III clinical trials used for women's health; and opicapone, a catechol-O-methyltransferase inhibitor, which is in Phase III clinical trials used for in adjunct therapy and preparations of levodopa/DOPA decarboxylase inhibitors for adult patients with Parkinson's disease.
It is also developing NBI-640756 that is in Phase I clinical trials used for the treatment of essential tremor; and NBI-74788, which is in Phase I clinical trials used for the treatment of classic congenital adrenal hyperplasia. In addition, the company's research programs comprise VMAT2 Inhibitors for movement disorders, bipolar disorders, and schizophrenia; and G Protein-Coupled Receptors and Ion Channels for epilepsy, essential tremor, pain, and other Indications.
It has collaborations with AbbVie Inc. to develop and commercialize elagolix and GnRH antagonists for women's and men's health; Mitsubishi Tanabe Pharma Corporation to develop and commercialize INGREZZA for movement disorders; and BIAL – Portela & Ca, S.A. to develop and commercialize opicapone for the treatment of human diseases and conditions, including Parkinson's disease. Neurocrine Biosciences, Inc. was founded in 1992 and is headquartered in San Diego, California. Yahoo Finance
Disclosure: I/we have no positions in any stocks mentioned, and no plans to initiate any positions within the next 72 hours.