Express Scripts Holding Company (NASDAQ :ESRX)
Express Scripts Holding | $ESRX Stock | Shares Crash On News of Company Losing its Biggest Client Anthem
Express Scripts Holding Company (NASDAQ:ESRX), a global pharmacy benefit management (NYSEMKT:PBM) company yesterday announced that they will be losing their biggest customer Anthem.
Express announced that Anthem their biggest customer does not plan on extending their contract when it expires in 2019. Anthem has sued Express Scripts in March of last year stating they were being charged too much for drugs and operational failures.
Express Scripts Holding Company
CEO's Comments
"It is difficult for us to understand why Anthem has not recognized the potential value which could be brought forth by engaging in meaningful discussions regarding a mutually beneficial pricing arrangement for the remaining term of our contract and beyond," said Tim Wentworth, President and CEO of Express Scripts. "No other party can offer Anthem savings prior to 2020, and no other party can provide updated pricing terms beyond 2019 without the risk and disruption of a lengthy and complicated implementation. As our disclosure today clearly demonstrates, Express Scripts makes well below $3 billion annually on the Anthem contract despite Anthem's numerous public pronouncements to the contrary. Anthem's conflicting demands for annual PBM savings, ranging from $700 million in September 2015 to $3 billion in January 2016, its subsequent litigation against us, and now its decision to discontinue discussions altogether do not make any sense to us. We just can't explain why Anthem would choose to walk away from an opportunity to realize $1 billion in annual savings, which we have no obligation to provide under our current contract, in exchange for a contract extension at prevailing market rates with a longstanding business partner who has proven its ability to deliver value for their members," Wentworth said. PR Newswire
ESRX Technical Analysis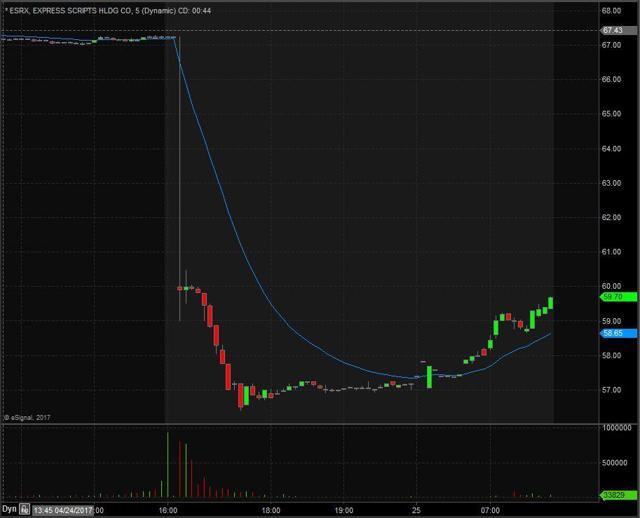 ESRX Chart
ESRX opened trading yesterday at $67.27 which was up from the previous day's trading close of $66.46. Shares closed trading yesterday at $67.25 and crashed down after market to $57.07, equivalent to a 15% decrease from the closing price. Taking a look at the daily chart we can see that the last time ESRX traded below these levels we have to go back to the week of April 15th, 2013 when it traded at $55.35.
Taking a closer look at the daily chart we can see that before the spike down ESRX had already been in an overall downward trend dating back to December 6th, 2016 when it traded at $76.73. ESRX has a float of 604.01 million shares and traded below the normal daily trading volume on Monday.
For day trading purposes, I would like to see ESRX open trading on Tuesday below $60 and if it does I would be looking to take a short position at the bell. My stop loss would be $0.40 from my entry position fearing anything more than that and the stock would start to fill in the gap down.
Company Profile
Express Scripts Holding Company operates as a pharmacy benefit management company in the United States, Canada, and Europe. It operates in two segments, PBM and Other Business Operations.
The PBM segment offers clinical solutions, specialized pharmacy care, home delivery and specialty pharmacy, retail network pharmacy administration, benefit design consultation, drug utilization review, drug formulary management, administration of a group purchasing organization, and consumer health and drug information services.
This segment also provides Medicare, Medicaid, and health insurance marketplace products; and Express Scripts SafeGuardRxSM, a suite of solutions targeting the medication classes that pose a budgetary threat to its clients. The Other Business Operations segment distributes pharmaceuticals and medical supplies, including injectable and infusible pharmaceuticals and medications to treat specialty and rare/orphan diseases.
This segment also provides consulting services, such as design, implementation, and project management for pharmaceutical and biotechnology manufacturers to collect scientific evidence to guide the use of medicines. The company serves care organizations, health insurers, third-party administrators, employers, union-sponsored benefit plans, workers' compensation plans, government health programs, providers, clinics, hospitals, and others.
As of December 31, 2016, it operated four automated dispensing home delivery pharmacies; one non-automated dispensing home delivery pharmacy; and one non-dispensing home delivery pharmacy, as well as various non-dispensing order processing and patient contact centers, specialty drug pharmacies, and fertility pharmacies.
The company was formerly known as Aristotle Holding, Inc. and changed its name to Express Scripts Holding Company in April 2012. Express Scripts Holding Company was founded in 1986 and is headquartered in Saint Louis, Missouri." Yahoo Finance
Disclosure: I/we have no positions in any stocks mentioned, and no plans to initiate any positions within the next 72 hours.