Take-Two Interactive Software, Inc. (NASDAQ: TTWO)
Take-Two Interactive Software, Inc. , a global interactive entertainment solutions for consumers company yesterday announced that they will be delaying the launch of Red Dead Redemption 2. The highly awaited video game launch has been delayed until Spring 2018 from the original planned release in Fall 2017.
Take-Two Interactive Software, Inc. Company's Comments
"We are very sorry for any disappointment this delay causes, but we are firm believers in delivering a game only when it is ready. We are really excited to bring you more details about the game this summer. In the meantime, please enjoy this selection of new screenshots from the world of Red Dead Redemption 2." Rockstar Games
TTWO Technical Analysis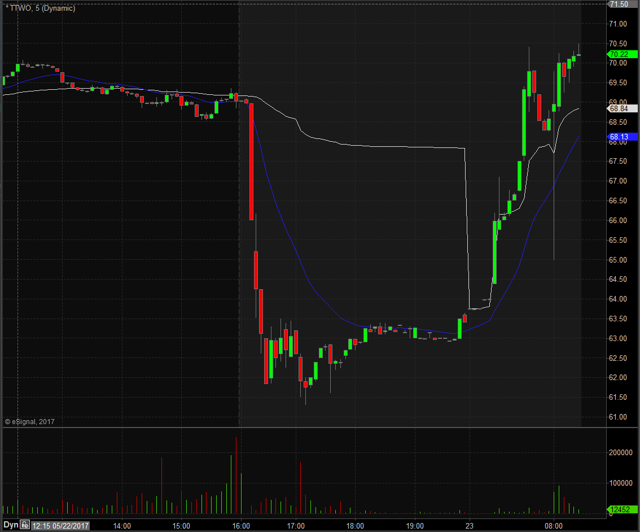 TTWO opened trading yesterday at $68.60 which was up from the previous day's trading close of $67.58. TTWO closed trading yesterday at $69.04 and crashed down after market to $62.90, equivalent to a 9% decrease from the closing price.
Taking a look at the daily chart we can see the last time TTWO traded below these levels we have to go back to April 28th when it traded at $62.85. Taking a closer look at the daily chart we can see that before the spike down TTWO had been in an overall upward trend dating back to October 13th, 2016 when it traded at $42.35. TTWO has a float of 89.66 million shares and traded 2.14 times the normal daily trading volume on Monday.
For day trading purposes, I would like to see TTWO open trading on Tuesday below $65.00 and if it does I would be looking to take a short position at the bell. My stop loss would be $0.35 from my entry position fearing anything more than that and the stock would start to fill in the gap down.
Company Profile
Take-Two Interactive Software, Inc. develops, publishes, and markets interactive entertainment solutions for consumers worldwide. The company offers its products under the Rockstar Games and 2K labels. It develops and publishes action/adventure products under the Grand Theft Auto, Max Payne, Midnight Club, and Red Dead names through developing sequels; offering downloadable episodes, and content and virtual currency; and releasing titles for smartphones and tablets.
The company also develops brands in other genres, including the L.A. Noire, Bully, and Manhunt franchises. In addition, it publishes various entertainment properties across platforms and a range of genres, including action, adventure, family/casual, racing, role-playing, shooter, sports, and strategy; various unit selling franchises, including BioShock, Borderlands, Carnival Games, Evolve, Mafia, NBA 2K, Sid Meier's Civilization, Spec Ops, WWE 2K, and XCOM; and various sports simulation titles, including its flagship NBA 2K series, a basketball video game and the WWE 2K professional wrestling series.
Further, the company offers free-to-play mobile games, such as Dragon City and Monster Legends on iOS and Android platforms. Its products are designed for console gaming systems, such as Sony's PlayStation 3 and PlayStation 4, and Microsoft's Xbox 360 and Xbox One; and personal computers comprising smartphones and tablets.
The company delivers its products through physical retail, digital download, online platforms, and cloud streaming services. Take-Two Interactive Software, Inc. was founded in 1993 and is headquartered in New York, New York. Yahoo Finance
Disclosure: I/we have no positions in any stocks mentioned, and no plans to initiate any positions within the next 72 hours.