Acceleron Pharma Inc. (NASDAQ: XLRN)
Acceleron Pharma Inc. , a clinical stage biopharmaceutical company yesterday announced results from their DART Phase 2 Study of Dalantercept. Dalantercept is used to treat advanced renal cell carcinoma.
The study did not reach its primary endpoints showing a lack of statistical significant increase over the placebo. Acceleron announced that they plan to discontinue the development of dalantercept.
Acceleron Pharma Inc.
CEO's
Comments
"We designed a robust Phase 2 study to evaluate the efficacy of dalantercept in combination with anti-VEGF therapy in advanced renal cell carcinoma patients whose disease has progressed on prior anti-VEGF therapy. We are disappointed by the results given the need for new agents that improve outcomes for patients with advanced RCC. We would like to thank the patients, caregivers, investigators, and our team who made the DART study possible," said Habib Dable, President and Chief Executive Officer of Acceleron. "Based on the lack of efficacy, we are discontinuing the development of dalantercept. We remain focused on the development of luspatercept across multiple Phase 3 and Phase 2 studies and ACE-083 across two neuromuscular diseases, and will continue to pursue additional candidates in areas of high unmet medical need." Business Wire
XLRN Technical Analysis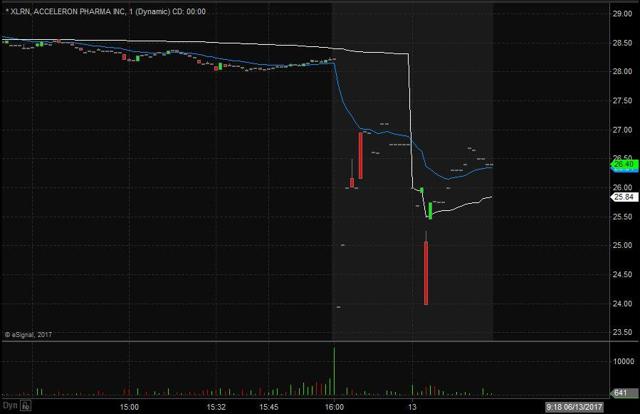 XLRN opened trading yesterday at $28.91 which was down from the previous day's trading close of $29.04. XLRN closed trading yesterday at $28.23 and spiked down after market to $26.75, equivalent to a 5% decrease from the closing price. Taking a look at the daily chart we can see the last time XLRN traded below these levels we have to go back to May 31st when it traded at $25.51.
Taking a closer look at the daily chart we can see that before the spike down XLRN had already been in an overall downward trend dating back to May 1st when it traded at $33.49. XLRN has a float of 32.76 million shares and traded below the normal daily trading volume on Monday.
For trading purposes, I would like to see XLRN open trading on Tuesday below $27.25 and if it does I would be looking to take a short position at the bell. My stop loss would be $0.25 from my entry position fearing anything more than that and the stock would start to fill in the gap down.
Company Profile
Acceleron Pharma Inc., a clinical stage biopharmaceutical company, focuses on the discovery, development, and commercialization of therapeutics for serious and rare diseases. Its therapeutic candidates include luspatercept to treat anemia and associated complications in patients with myelodysplastic syndromes and beta-thalassemia; and sotatercept for chronic kidney diseases. The company's therapeutic candidates also include dalantercept, a tyrosine kinase inhibitor, which is in phase II clinical trials for renal cell carcinoma; and ACE-083 that is in phase II clinical trials for facioscapulohumeral dystrophy. It has collaboration, license, and option agreement with Celgene Corporation. The company was formerly known as Phoenix Pharma, Inc. Acceleron Pharma Inc. was founded in 2003 and is headquartered in Cambridge, Massachusetts. Yahoo Finance
Disclosure: I/we have no positions in any stocks mentioned, and no plans to initiate any positions within the next 72 hours.