Tesla Inc. (NASDAQ: TSLA)
If you take a good look at the price chart of Tesla, the way you would take a good look at the Tesla Model S if you had one sitting in your driveway or garage, you would have to notice that while the car looks superb and like it wants to run at 200 miles an hour-lifting your spirits and heart rate, the price chart indicates something is terribly wrong and that it might be heading to $200 per share and give you cardiac arrest instead.
Don't get me wrong, on both sides of the equation are equally happy and very unhappy Traders and investors. You see if you bought at the December lows of 2016 you are smiling from ear to ear and you might actually own a Tesla from your profits. However if you bought Tesla in the last 2 to 3 weeks, where shares saw a 52-week high of $386.99, you fall into the  latter category mentioned above.
If you are a short trader- one who sells shares first and buys them lower later(hopefully), then you are smiling all the way to the bank as shares are off around 20% from 52 week highs. Shares have traded in a 52-week range of $178.19 to $386.99. One reason why shares may have gone from such lows to such highs is what's called the 'short interest' or 'short float'.
This is the amount of shares that traders or investors have basically sold now looking to buy lower later. A  short float of 24%, which is what Tesla currently has, is a significant amount of shares short. This means roughly one out of every four shares have been sold now looking to be bought back lower at a later date.
A few reasons can be attributed to the recent price action. Number one, the market in general has been choppy and testing support levels for some of the high beta stocks. Aside from that, Tesla has had some company news that has not been the best they could have hoped for.
Some recent news surfaced that an independent highway safety organization made a claim that their Flagship Model S was unable to qualify for top safety standard levels. The latest shortcoming, which comes after changes were made following an initial failure earlier in the year, appears to discredit the company's claim on its website that its vehicles are "the safest cars ever."
Many eyes will be watching this stock and how it trades not only because of the overall Market action of late, but also because it raises some questions about the CEO, Elon Musk's credibility when he stated that quality control is as it always was and that is top-notch in his opinion.
IIHS Findings And Company Statements
"The main problem with the Model S was that the safety belt let the dummy's torso move too far forward, allowing the dummy's head to strike the steering wheel hard through the airbag,"
"However, when IIHS tested the modified Model S, the same problem occurred, and the rating didn't change,"
"While IIHS and dozens of other private industry groups around the world have methods and motivations that suit their own subjective purposes, the most objective and accurate independent testing of vehicle safety is currently done by the U.S. government, which found Model S and Model X to be the two cars with the lowest probability of injury of any cars that it has ever tested, making them the safest cars in history," a Tesla spokesperson said in an emailed statement to MarketWatch.- Marketwatch.com
TSLA Price Chart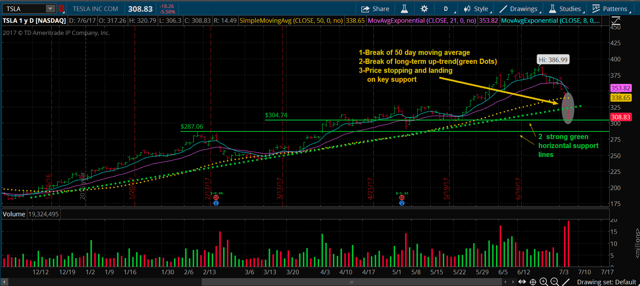 The above price chart shows Tesla trading activity from late 2016 up until the present. Please note how Tesla has penetrated not only the short-term exponential moving averages of 8, 21, but also the 50 period simple moving average and  a key long-term trend line shown in green dots. The only positive takeaway is that the price has landed on one of two Green support lines shown by horizontal green lines.
Tesla Inc Profile
Tesla, Inc. designs, develops, manufactures, and sells electric vehicles and energy storage products in the United States, China, Norway, and internationally. The company operates in two segments, Automotive, and Energy Generation and Storage. It primarily offers sedans and sport utility vehicles. The company also provides electric vehicle powertrain components and systems to other manufacturers; and services for electric vehicles through its 135 company-owned service centers and Service Plus locations, as well as through Tesla Ranger mobile technicians.
It sells its products through a network of company-owned stores and galleries, as well as through Internet. In addition, the company offers energy storage products, such as rechargeable lithium-ion battery systems for use in homes, commercial facilities, and utility sites. Further, the company designs, manufactures, installs, maintains, leases, and sells solar energy systems to residential and commercial customers through a sales organization that include specialized internal call centers, outside sales force, a channel partner network, and a customer referral program, as well as through selected Tesla stores.
Additionally, it sells renewable electricity generated by solar energy systems to customers. The company was formerly known as Tesla Motors, Inc. and changed its name to Tesla, Inc. in February 2017. Tesla, Inc. was founded in 2003 and is headquartered in Palo Alto, California.-YahooFinance
Disclosure: I/we have no positions in any stocks mentioned, and no plans to initiate any positions within the next 72 hours.