CyberArk Software Ltd. (NASDAQ: CYBR)
CyberArk Software Ltd. (CYBR), a global software-based IT security solutions yesterday reported their preliminary second quarter 2017 financial results.
CyberArk reported that they expect second quarter revenues to be in between $57 to $57.5 million which is down from previous guidance of $61 to $62 million.  
CyberArk Software Ltd. CEO's  Comments
"We are disappointed that our results for the second quarter will be below the guidance we provided in May," said Udi Mokady, CyberArk Chairman and CEO. "The primary reason for our revenue shortfall was our performance in EMEA, where certain deals that we anticipated would close did not close by the end of the quarter. We are actively working to determine and implement the appropriate steps to improve execution, drive stronger results and enhance visibility into our EMEA performance."
"There were a number of positive trends in the quarter. The Americas and APJ continued to grow, our pipeline expanded and market fundamentals for privileged account security across all geographies continued to be robust. We believe that our significant greenfield opportunity, leadership position in the market, and strategy will deliver long term value to our shareholders," concluded Mokady.  Business Wire
CYBR Technical Analysis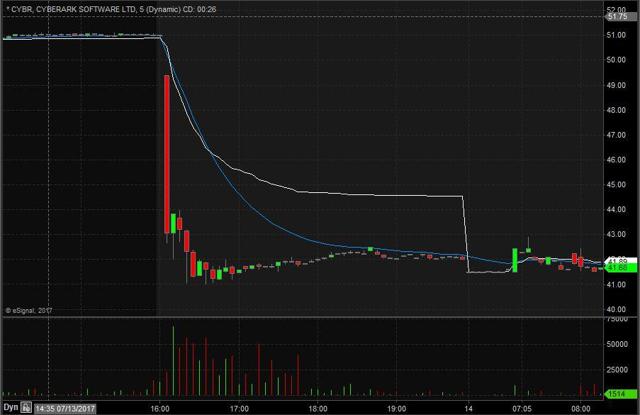 CYBR opened trading yesterday at $50.30 which was down from the previous day's trading close of $50.44. CYBR closed trading yesterday at $51.00 and spiked down after market to $42.40, equivalent to a 17% decrease from the closing price. Taking a look at the daily chart we can see the last time CYBR traded below these levels we have to go back to May 23rd, 2016 when it traded at $42.18.
Taking a closer look at the daily chart we can see that before the spike down CYBR had been in an overall upward trend dating back to May 22nd when it traded at $46.41. CYBR has a float of 28.09 million shares and traded below the normal daily trading volume on Thursday.
For day trading purposes, I would like to see CYBR open trading on Friday below $45.00 or the VWAP and if it does I would be looking to take a short position at the bell. My stop loss would be $0.40 from my entry position fearing anything more than that and the stock would start to fill in the gap down.
Company Profile
CyberArk Software Ltd. develops, markets, and sells software-based IT security solutions that protect organizations from cyber attacks in the United States and internationally. The company offers privileged account security solution to secure, manage, and monitor account access and activities.
Its privileged account security solution consists of Enterprise Password Vault that provides a tool to manage and protect physical, virtual, or cloud-based assets; SSH Key Manager to store, rotate, and control access to SSH keys for preventing unauthorized access to privileged accounts; Privileged Session Manager that protects servers, applications, databases, and hypervisors from malware; and Privileged Threat Analytics that profiles and analyzes individual privileged user behavior and creates prioritized alerts when abnormal activity is detected.
The company also provides Application Identity Manager, which addresses the challenges of hard-coded, embedded credentials, and cryptographic keys being hijacked and exploited by malicious insiders or external cyber attackers; Endpoint Privilege Manager that offers Windows least privilege management and application control software; Cybertinel, which provides cyber security services; and On-Demand Privileges Manager to limit the breadth of access of Unix/Linux administrative accounts.
In addition, it offers Shared Technology Platform that integrates operating systems, databases, network devices, security appliances, hypervisors, applications, industrial control systems, and application servers in the datacenter or the cloud; sensitive information management solutions; and software maintenance and support, and consulting services.
The company offers its products to energy and utilities, financial services, healthcare, manufacturing, retail, technology, and telecommunications industries, as well as government agencies through resellers and distributors. The company was founded in 1999 and is headquartered in Petach Tikva, Israel.  Yahoo Finance
Disclosure: I/we have no positions in any stocks mentioned, and no plans to initiate any positions within the next 72 hours.