Amyris, Inc. (NASDAQ: AMRS)
Amyris, Inc. (AMRS), a global industrial bioscience company yesterday reported their second quarter 2017 financial results.
Amyris reported second quarter net income of $620,000 and earnings of $1.36 per share. The company also reported second quarter revenues of $25.7 million.   
Amyris, Inc. CEO's  Comments
"Our strong business results are continuing with another consecutive quarter of doubling product revenue year over year," said John Melo, Amyris President & CEO. "We are continuing to experience very strong product sales growth in our personal care and health and nutrition segments and expect most of our products to generate improved gross margins with the value share component of our business."
Continued Melo, "With the strong support of DSM as a strategic partner and shareholder we have the necessary resources to maintain our leadership in industrial biotechnology. We have a very strong collaboration and product pipeline with several new partnerships expected to close before the end of this year and several new product deliveries to our strategic partners driving our growth for the remainder of 2017."  Globe Newswire
AMRS Technical Analysis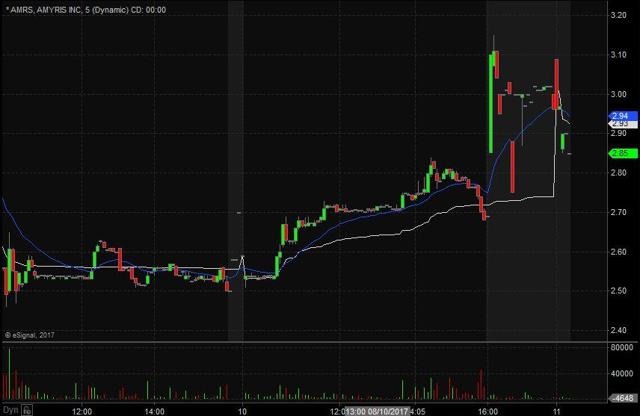 AMRS opened trading yesterday at $2.53 which was up from the previous day's trading close of $2.50. AMRS closed trading yesterday at $2.69 and spiked up after market to $3.09, equivalent to a 15% increase from the closing price. Taking a look at the daily chart we can see the last time AMRS traded above these levels we have to go back to August 4th when it traded at $3.56.
Taking a closer look at the daily chart we can see that before the spike up AMRS had been in an overall downward trend dating back to October 24th when it traded at $16.80. AMRS has a float of 11.58 million shares and traded 2.51 times the normal daily trading volume on Thursday.
For trading purposes, I would like to see AMRS open trading on Friday above $2.95 and if it does I would be looking to take a long position with a limit order at the bell. My stop order would be $0.10 from my entry position fearing anything more than that and the stock would start to fill in the gap up.
Company Profile
Amyris, Inc. provides various alternatives to a range of petroleum-sourced products worldwide. The company uses its industrial bioscience technology to design microbes primarily yeast, as well as to convert plant-sourced sugars into renewable ingredients.
It produces and sells Biofene that converts to squalane, which is used as an emollient in cosmetics and other personal care products; and natural oils and aroma chemicals for the flavors and fragrances market.
The company also provides renewable solvents, polymers, and lubricants for industrial markets; Biofene ingredients for nutraceuticals and vitamins market; and renewable fuels for transportation fuels markets.
It has a collaboration partnership with Total S.A. to produce and commercialize Biofene-based diesel and jet fuels. The company was formerly known as Amyris Biotechnologies, Inc. and changed its name to Amyris, Inc. in June 2010. Amyris, Inc. was founded in 2003 and is headquartered in Emeryville, California.  Yahoo Finance
Disclosure: I/we have no positions in any stocks mentioned, and no plans to initiate any positions within the next 72 hours.