Urban Outfitters, Inc. (NASDAQ: URBN)
Urban Outfitters, Inc. (URBN), a company that specializes in retail and wholesale of general consumer products yesterday reported their second quarter 2017 financial results.
Urban reported adjusted second quarter earnings of $0.44 per share which beat analyst expectations of $0.37 per share and reported revenues of $872.9 million which also beat analyst expectations of $863.9 million.   

Urban Outfitters, Inc. CEO's  Comments
"While we are disappointed in our second quarter performance, we have a number of initiatives underway including: speed to customer, international growth, wholesale expansion and digital investments," said Richard A. Hayne, Chief Executive Officer. "We believe these initiatives combined with encouraging fashion apparel trends could lead to improved topline performance in future quarters," finished Mr. Hayne.  Globe Newswire
URBN Technical Analysis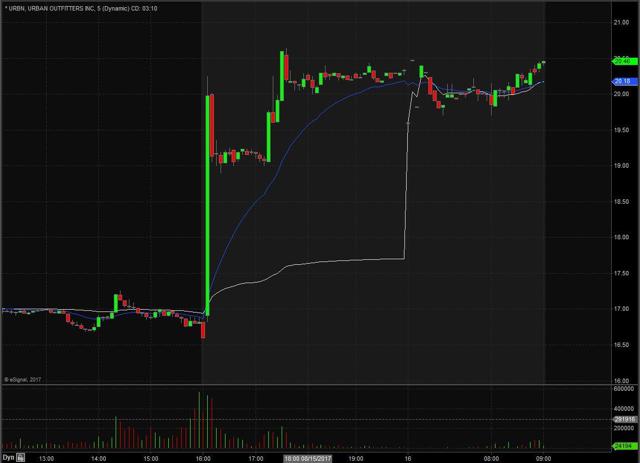 URBN opened trading yesterday at $17,45 which was down from the previous day's trading close of $17.73. Shares closed trading yesterday at $16.82 and spiked up after hours to $20.22, equivalent to a 20% increase from the closing price. Taking a look at the daily chart we can see the last time URBN traded above these levels we have to go back to May 16th when it traded at  $20.46.
Taking a closer look at the daily chart we can see that before the spike up URBN had  been in an overall downward trend dating back to November 22nd, 2016 when it traded at $39.01. URBN has a float of 79.22 million shares and traded 3.40 times the normal daily trading volume on Tuesday.
For trading purposes, I would like to see URBN open trading on Wednesday above $19.00 and if it does I would be looking to take a long position at the bell. My stop order would be $0.30 from my entry position fearing anything more than that and the stock would start to fill in the gap up.
Company Profile
Urban Outfitters, Inc. engages in the retail and wholesale of general consumer products. It operates through two segments, Retail and Wholesale. The company retails women's and men's fashion apparel, intimates, footwear, beauty and accessories, home goods, activewear, and electronics for young adults aged 18 to 28 under the Urban Outfitters brand; and assortment, including women's casual apparel and accessories, intimates, shoes, beauty, home furnishings, and various gifts and decorative items for women aged 28 to 45 under the Anthropologie brand.
It also offers a collection of heirloom quality wedding gowns, bridesmaid frocks, party dresses, assorted jewelry, headpieces, footwear, lingerie, and decorations under the Bhldn brand; and lifestyle home and garden products, antiques, live plants, flowers, wellness products, and accessories under the Terrain brand, as well as operates food and beverage restaurant services.
In addition, the company operates Free People retail stores that provide merchandise mix of casual women's apparel, intimates, shoes, accessories, activewear, beauty and wellness products, home products, and gifts for women aged 25 to 30. It serves its customers directly through retail stores, Websites, mobile applications, catalogs, and customer contact centers.
As of January 31, 2017, the company operated 242 Urban Outfitters stores; 225 Anthropologie Group stores comprising Anthropologie, Bhldn, and Terrain brands in the United States, Canada, and Europe, as well as 127 Free People stores in the United States and Canada; and 12 food and beverage restaurants.
It also engages in the wholesale business under the Free People brand that designs, develops, and markets young women's contemporary casual apparel and shoes to approximately 1,900 specialty stores and select department stores worldwide. The company was founded in 1970 and is based in Philadelphia, Pennsylvania." Yahoo Finance
Disclosure: I/we have no positions in any stocks mentioned, and no plans to initiate any positions within the next 72 hours.