Briggs & Stratton Corporation (NASDAQ: BGG)
Briggs & Stratton Corporation (BGG), a company that manufactures, markets, sells, and services gasoline engines for outdoor power equipment yesterday reported their fiscal fourth quarter 2017 financial results.
Briggs reported fourth quarter earnings of $0.46 per share which fell short of  analyst expectations of $0.52 per share. They also reported fourth quarter revenues of $474.1 million which fell short of analyst expectations of $538 million.
Briggs & Stratton Corporation CEO's  Comments
"We achieved earnings within our guidance range for fiscal 2017 on the meaningful progress made to diversify our business and drive operational excellence," stated Todd J. Teske, Briggs & Stratton's Chairman, President and Chief Executive Officer.  "During the year, we delivered strong sales growth in commercial products and commercial engines to gain share and improve gross profit margins.  New, innovative products, with the features our customers want, also contributed to profitability and our success in maintaining our leadership position in engines." Teske continued, "Lower-than-expected shipments of residential outdoor power equipment and engines resulted from certain North America channel partners making unexpected changes to their merchandising and inventory stocking levels during the spring selling season compounded by regional pockets of suboptimal growing conditions. We have observed improved growing conditions throughout the season but continue to see a cautious approach to reordering as channel partners have focused on controlling inventory to abnormally low levels.  Looking ahead, we remain optimistic about the future, as reflected in the outlook for fiscal 2018, as well as today's announcement of our business optimization program, which will drive further advancements in operational excellence and provide capacity for the production of high-growth products."  PR Newswire
BGG Technical Analysis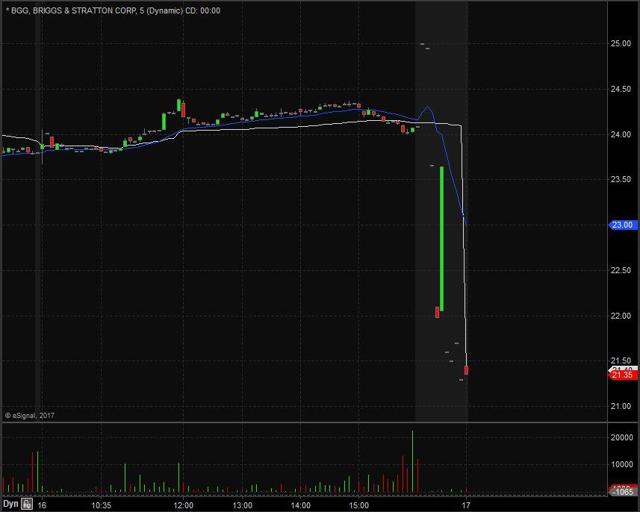 BGG opened trading yesterday at $23.84 which was up from the previous day's trading close of $23.80. BGG closed trading yesterday at $24.09 and spiked down after market to $21.50, equivalent to a 11% decrease from the closing price. Taking a look at the daily chart we can see the last time BGG traded below these levels we have to go back to April 20th when it traded at lows of $21.48.
Taking a closer look at the daily chart we can see that before the spike down BGG had already been in an overall downward trend dating back to April 27th when it traded at $25.45. BGG has a float of 41.39 million shares and traded 1.54 times the normal daily trading volume on Wednesday.
For trading purposes, I would like to see BGG open trading on Thursday below $22.50 and if it does I would be looking to take a short position at the bell. My stop order would be $0.25 from my entry position fearing anything more than that and the stock would start to fill in the gap down.
Company Profile
Briggs & Stratton Corporation designs, manufactures, markets, sells, and services gasoline engines for outdoor power equipment to the original equipment manufacturers in the United States. It operates in two segments, Engines and Products. The Engines segment offers four-cycle aluminum alloy gasoline engines that are used primarily by the lawn and garden equipment industry.
Its products are used in various lawn and garden equipment applications, including walk-behind lawn mowers, riding lawn mowers, garden tillers, and snow throwers, as well as products for industrial, construction, agricultural, and other consumer applications that include portable and standby generators, pumps, and pressure washers. This segment also manufactures and sells replacement engines and service parts to sales and service distributors.
The Products segment primarily provides a line of portable and standby generators, pressure washers, snow throwers, lawn and garden power equipment, turf care, and job site products. This segment sells its products through various channels of retail distribution, including consumer home centers, warehouse clubs, mass merchants, and independent dealers and distributors under its own brands, such as Briggs & Stratton, Simplicity, Snapper, Snapper Pro, Ferris, PowerBoss, Allmand, Billy Goat, Murray, Branco, and Victa, as well as other brands comprising Craftsman and Troy-Bilt.
The company also exports its products to customers in the European Union, Asia, Australia, and Canada. Briggs & Stratton Corporation was founded in 1908 and is headquartered in Wauwatosa, Wisconsin.  Yahoo Finance
Disclosure: I/we have no positions in any stocks mentioned, and no plans to initiate any positions within the next 72 hours.