Vipshop Holdings Limited (NASDAQ: VIPS)
Vipshop Holdings Limited (VIPS), an online discount retailer for various brands in the People's Republic of China yesterday reported their unaudited second quarter 2017 financial results.
Vipshop reported second quarter gross profits of $569.4 million which was a 19.1% increase from the same quarter last year. The company also reported second quarter revenues of 42.58 billion a 30.3% increase from the same quarter last year.  
Vipshop Holdings Limited CEO's  Comments
"We delivered solid operational results in the second quarter of 2017," said Mr. Eric Shen, chairman and chief executive officer of Vipshop. "Specifically, our total active customers for the trailing twelve months ended June 30, 2017 reached 58.8 million, representing a 32% year-over-year increase. We are also delighted to witness improved average revenue per active customer during the quarter, which was a testament of our ability to effectively manage the lifetime value of our customers. In the past quarter, we made further progress with the trial for our new Super VIP paid membership program, aiming to increase our customer loyalty. We remain focused on strengthening our core capability in merchandising and exploring opportunities to diversify our product categories to improve user stickiness."  PR Newswire
VIPS Technical Analysis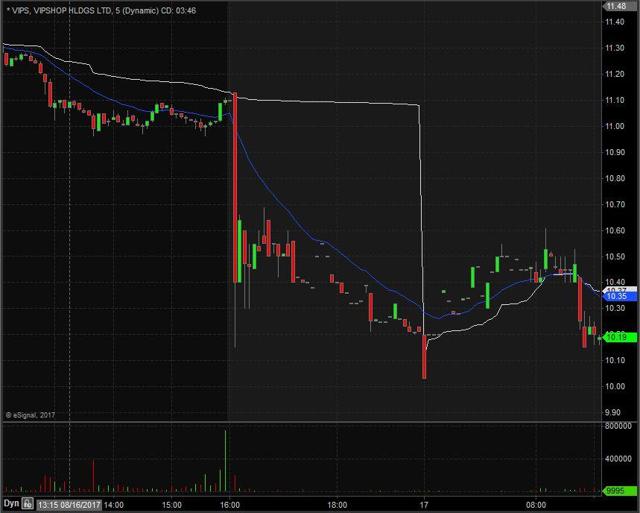 VIPS opened trading yesterday at $11.26 which was up from the previous day's trading close of $11.17. VIPS closed trading yesterday at $11.10 and spiked down after hours to $10.25, equivalent to a 8% decrease from the closing price. Taking a look at the daily chart we can see the last time VIPS traded below these levels we have to go back to July 10th when it traded at  $10.06.
Taking a closer look at the daily chart we can see that before the spike down VIPS had already been in an overall downward trend dating back to May 12th when it traded at $14.91. VIPS has a float of 424.53 million shares and traded below the normal daily trading volume on Wednesday.
For trading purposes, I would like to see VIPS open trading on Thursday below $10.55 and if it does I would be looking to take a short position at the bell. My stop loss would be $0.20 from my entry position fearing anything more than that and the stock would start to fill in the gap down.
Company Profile
Vipshop Holdings Limited, through its subsidiaries, operates as an online discount retailer for various brands in the People's Republic of China.
It offers a range of branded products, including women's apparel, such as casual wear, jeans, dresses, outerwear, swimsuits, lingerie, pajamas, and maternity clothes; men's apparel comprising casual and smart-casual T-shirts, polo shirts, jackets, pants, and underwear; women and men shoes for casual and formal occasions; and accessories consisting of belts, fashionable jewelry, watches, and glasses for women and men.
The company also provides handbags, such as purses, satchels, duffel bags, and wallets; apparel, gear and accessories, furnishings and decor, toys, and games for boys, girls, infants, and toddlers of all age groups; sports apparel, and sports gear, and footwear for tennis, badminton, soccer, and swimming; and skin care and cosmetic products, including cleansers, lotions, face and body creams, face masks, sunscreen, foundations, lipsticks, eye shadows, and nail polish.
In addition, it offers home furnishing products comprising bedding and bath products, home decors, and dining and tabletop items; small household appliances; designer apparel, footwear and accessories; and snacks, health supplements, and occasion-based gifts, such as chocolates, moon-cakes, and tea.
Further, the company provides consumer financing, supply chain financing, and wealth management services. The company provides its branded products through its vipshop.com, vip.com, and lefeng.com Websites, as well as through its cellular phone application. Vipshop Holdings Limited was founded in 2008 and is headquartered in Guangzhou, the People's Republic of China.  Yahoo Finance
Disclosure: I/we have no positions in any stocks mentioned, and no plans to initiate any positions within the next 72 hours.