Ultragenyx Pharmaceutical Inc.(NASDAQ: RARE)
Ultragenyx Pharmaceutical Inc. (RARE), a clinical-stage biopharmaceutical company yesterday reported their topline results from their phase 3 study of aceneuramic acid extended release in patient with GNE myopathy.
The late stage clinical study did not reach its primary endpoint. The study did not show a statistically significant difference in muscle strength compared to the placebo.  
Ultragenyx Pharmaceutical Inc. CEO's  Comments
"We are disappointed by these results, as we had hoped that Ace-ER would offer a new option for GNEM patients. We would like to thank the patients, caregivers, and investigators involved in the Ace-ER development program," said Emil D. Kakkis, M.D., Ph.D., Chief Executive Officer and President of Ultragenyx. "This outcome does not affect our overall strategy, as the company moves forward with multiple preclinical and clinical programs and regulatory filings."  Globe Newswire
RARE Technical Analysis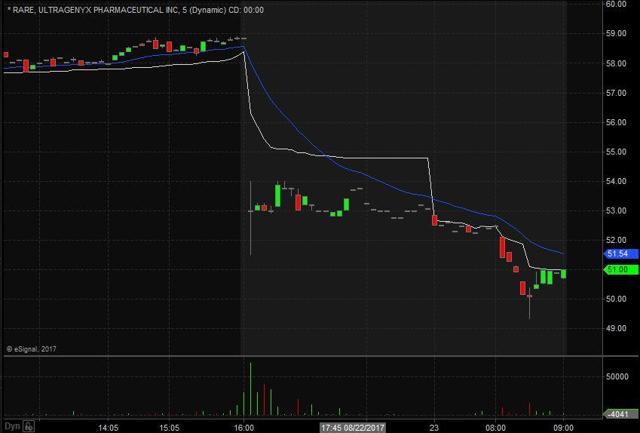 RARE opened trading yesterday at $57.31 which was up from the previous day's trading close of $56.91. Shares closed trading yesterday at $58.85 and spiked down after market to $52.75, equivalent to a 10% decrease from the closing price. Taking a look at the daily chart we can see the last time RARE traded below these levels we have to go back to November 3rd, 2016 when it traded at $52.70.
Taking a closer look at the daily chart we can see that before the spike down RARE had already been in an overall downward trend dating back to July 24th when it traded at $71.59. RARE has a float of 39.28 million shares and traded 1.21 times the normal daily trading volume on Tuesday.
For day trading purposes, I would like to see RARE open trading on Wednesday below $54.75 and if it does I would be looking to take a short position at the bell. My stop loss would be $0.35 from my entry position fearing anything more than that and the stock would start to fill in the gap down.
Company Profile
Ultragenyx Pharmaceutical Inc., a clinical-stage biopharmaceutical company, focuses on the identification, acquisition, development, and commercialization of various products for the treatment of rare and ultra-rare genetic diseases in the United States.
The company is developing various biologics product candidates, including KRN23, a human monoclonal antibody that in Phase III adult study to bind and reduce the biological activity of fibroblast growth factor 23 to enhance abnormally low phosphate levels in patients with X-linked hypophosphatemia, as well as for the treatment of tumor-induced osteomalacia.
Its biologics product candidates also comprise recombinant human beta -glucuronidase (rhGUS), an enzyme replacement therapy, which completed the Phase 3 clinical study for the treatment of mucopolysaccharidosis 7; and recombinant human protective protein cathepsin-A (rhPPCA), an enzyme replacement therapy, which is in preclinical development for galactosialidosis.
The company is also developing range of small-molecule product candidates, such as UX007, a substrate replacement therapy that is in Phase II study for patients with fatty acid oxidation disorders, as well as for patients with glucose transporter type-1 deficiency syndrome; and aceneuramic acid extended-release (Ace-ER), an oral formulation of sialic acid, which is in Phase III extension study to treat GNE myopathy.
It has collaboration and license agreements with Arcturus Therapeutics, Inc.; Takeda Pharmaceutical Company Limited; Kyowa Hakko Kirin Co. Ltd.; Saint Louis University; Baylor Research Institute; Nobelpharma Co., Ltd.; Alcami Corporation; HIBM Research Group; and St. Jude Children's Research Hospital. The company was founded in 2010 and is headquartered in Novato, California. Yahoo Finance
Check out these penny stocks to watch and marijuana stocks!
Disclosure: I/we have no positions in any stocks mentioned, and no plans to initiate any positions within the next 72 hours.