Cree, Inc. (NASDAQ: CREE)
Cree, Inc. (CREE), a global lighting, and semiconductor products for power and radio-frequency (RF) applications company yesterday reported their fiscal fourth quarter 2017 financial results.
Cree reported adjusted fourth quarter earnings of $0.04 per share which fell short of analyst expectations of $0.05 per share with revenues coming in at $358.9 million which beat analyst expectations of $350.3 million.   
Cree, Inc. CEO's  Comments
"We made progress in Q4, with good results in each business and non-GAAP earnings per share that were in the middle of our target range," stated Chuck Swoboda, Cree Chairman and CEO. "We built a solid foundation for growth in all three businesses over the last year. In the near term, we will have some incremental spending to expand capacity and are excited about the opportunity for Cree to grow revenue and profits in the year ahead."  Business Wire
CREE Technical Analysis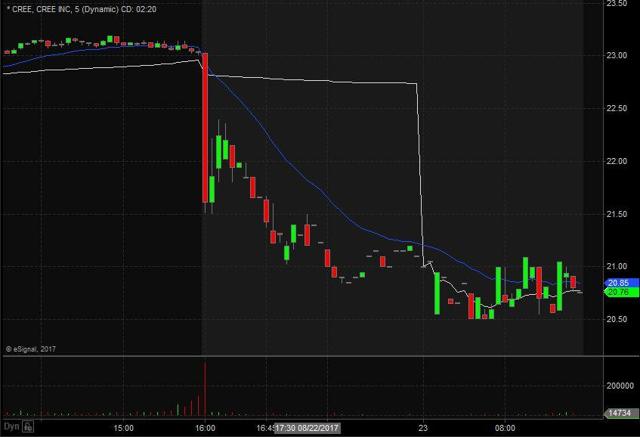 CREE opened trading yesterday at $22.75 which was up from the previous day's trading close of $22.57. Shares closed trading yesterday at $23.03 and spiked down after market to $21.10, equivalent to a 8% decrease from the closing price. Taking a look at the daily chart we can see the last time they traded below these levels we have to go back to November 4th, 2016 when it traded at lows of $20.75.
Taking a closer look at the daily chart we can see that before the spike down CREE had already been in an overall downward trend dating back to July 28th when it traded at $26.41. CREE has a float of 41.47 million shares and traded 1.66 times the normal daily trading volume on Tuesday.
For trading purposes, I would like to see CREE open trading on Wednesday below $21.75 and if it does I would be looking to take a short position at the bell. My stop loss would be $0.25 from my entry position fearing anything more than that and the stock would start to fill in the gap down.
Company Profile
Cree, Inc. provides lighting-class light emitting diode (LED), lighting, and semiconductor products for power and radio-frequency (RF) applications in the United States, China, Europe, South Korea, Japan, Malaysia, Taiwan, and internationally.
Its Lighting Products segment offers LED lighting systems and bulbs for use in settings, such as office and retail space, restaurants and hospitality, schools and universities, manufacturing, healthcare, airports, municipal, residential, street lighting and parking structures, and other applications. This segment sells its products to distributors, retailers, and customers.
The company's LED Products segment provides blue and green LED chip products for use in various applications, including video screens, gaming displays, function indicator lights and automotive backlights, headlamps, and directional indicators. It also offers XLamp LED components and LED modules for lighting applications; and surface mount and through-hole packaged LED products for video, signage, general illumination, transportation, gaming, and specialty lighting applications.
In addition, this segment provides silicon carbide (SiC) materials for RF, power switching, gemstones, and other applications. Its Power and RF Products segment offers SiC-based power products consisting of Schottky diodes, SiC metal semiconductor field-effect transistors, and SiC power modules for use in power supplies used in computer servers, solar inverters, uninterruptible power supplies, industrial power supplies, and other applications.
This segment also provides gallium nitride (GaN) high electron mobility transistors (HEMTs) and monolithic microwave integrated circuits (MMICs) for military, telecom, and other commercial applications; and custom die manufacturing services for GaN HEMTs and MMICs. Cree, Inc. was founded in 1987 and is headquartered in Durham, North Carolina.  Yahoo Finance
Disclosure: I/we have no positions in any stocks mentioned, and no plans to initiate any positions within the next 72 hours.