Splunk Inc. (NASDAQ: SPLK)
Splunk Inc. (SPLK), a global software solutions yesterday reported their fiscal second quarter 2017 financial results.
Splunk reported adjusted second quarter earnings of $0.08 per share which beat analyst expectations of $0.06 per share. SPLKreported second quarter revenues of $280 million which fell short of analyst expectations of $268.7 million.   
Splunk Inc. CEO's  Comments
"I am pleased with the solid sales execution in Q2, particularly our results in EMEA," said Doug Merritt, President and CEO, Splunk. "As I traveled across Europe, Asia and North America over the last two months, I was excited to see businesses, governments and universities adopting Splunk across multiple departments and use cases. Customer success and product innovation are at the heart of what we do. I am looking forward to the more than 140 customer presentations at .conf2017, our annual users conference, September 25-28 in Washington, D.C. It is an excellent opportunity to learn the many new ways that leading organizations are using Splunk software to solve problems and gain Operational Intelligence."  Business Wire
SPLK Technical Analysis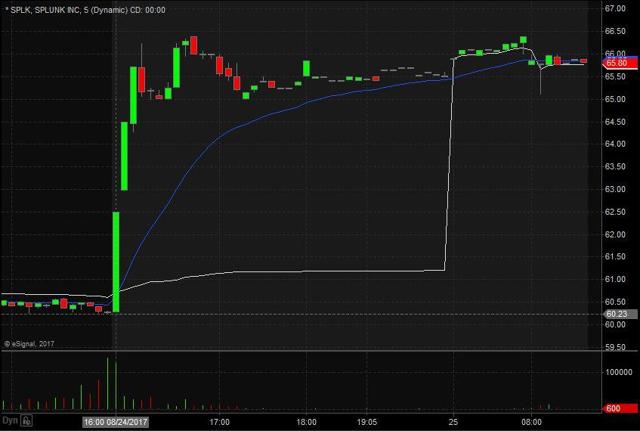 SPLK opened trading yesterday at $60.68 which was up from the previous day's trading close of $60.33. Shares closed trading yesterday at $60.28 and spiked up in the after hours to $65.39, equivalent to a 8% increase from the closing price. Taking a look at the daily chart we can see the last time SPLK traded above these levels we have to go back to May 25th when it traded at lows of $67.09.
Taking a closer look at the daily chart we can see that before the spike up SPLK had been in an overall downward trend dating back to May 16th when it traded at $68.83. SPLK has a float of 137.25 million shares and traded 1.34 times the normal daily trading volume on Thursday.
For trading purposes, I would like to see SPLK open trading on Friday above $63.70 and if it does I would be looking to take a long position at the bell. My stop order would be $0.40 from my entry position fearing anything more than that and the stock would start to fill in the gap up.
Company Profile
Splunk Inc. provides software solutions that enable organizations to gain real-time operational intelligence in the United States and internationally. The company's products enable users to collect, index, search, explore, monitor, and analyze data regardless of format or source.
It offers Splunk Enterprise, a machine data platform with collection, indexing, search, reporting, analysis, alerting, monitoring, and data management capabilities; and Splunk Cloud service. The company also provides Splunk Light, which offers log search and analysis for small IT environments; and Splunk Analytics for Hadoop, a software for exploring, analyzing, and visualizing data stored in Hadoop and Amazon S3.
In addition, it offers Splunk Enterprise Security, which addresses emerging security threats; SPLK User Behavior Analytics that detects cyber-attacks and insider threats; and SPLK IT Service Intelligence, which monitors health and key performance indicators of critical IT services, as well as SPLK App for AWS to ensure cloud security and compliance; SPLK Stream to capture, analyze, and correlate network wire data; and DB Connect to get enterprise context; Palo Alto Networks App for SPLK to gain visibility to Palo Alto Networks firewalls; and SPLK App for Salesforce.
Further, the company operates Splunkbase and Splunk Answers Websites, which provide an environment to share apps, collaborate on the use of its software, and provide community-based support, as well as offers application programming interfaces and software development kits. Additionally, it offers maintenance and customer support, training, and consulting and implementation services.
The company serves cloud and online services, education, financial services, government, healthcare/pharmaceuticals, industrials/manufacturing, media/entertainment, retail/ecommerce, technology, and telecommunications industries. Splunk Inc. was incorporated in 2003 and is headquartered in San Francisco, California. Yahoo Finance
Disclosure: I/we have no positions in any stocks mentioned, and no plans to initiate any positions within the next 72 hours.