Anthera Pharmaceuticals (NASDAQ: ANTH)
On Monday morning before the market opened, Anthera Pharmaceuticals released top line results for their study on cystic fibrosis that missed expectations. Shares plummeted over 80% and are currently trading at $0.40 a share after closing Friday at $2.64.
This is obviously a huge disappointment for investors and for any potential patients. This stock will likely be under heavy selling pressure as investors look for the exits.
CEO Comments
"We are greatly disappointed by the findings of the RESULT study," shared Craig Thompson, President & CEO. "We would like to extend our deepest gratitude to the patients and their families, study investigators, and the cystic fibrosis community for the support they have provided in the clinical development of Sollpura."
Anthera Chart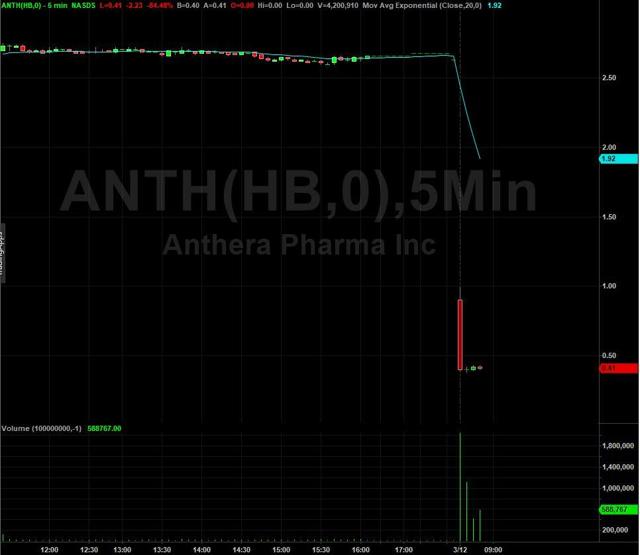 Looking at the 5-minute chart above you can see that shares nosedived following the study results. Shares are looking to open at all time lows and possibly lower. There won't be many investors interested in this stock until we get some positive news.
Since we're at all time lows there really isn't any support levels to watch other than psychological levels like $0.50 and $0.25. Resistance will be at $1.00 and recent pivot lows at $1.25 if shares can push back that high.
Company Profile
Anthera Pharmaceuticals, Inc., a biopharmaceutical company, focuses on the development and commercialization of medicines for patients with unmet medical needs. It develops Sollpura, a non-porcine investigational pancreatic enzyme replacement therapy that is in Phase III clinical trial for the treatment of patients with exocrine pancreatic insufficiency; and Blisibimod, which is in Phase II clinical trial for the treatment of immunoglobulin A nephropathy. The company was founded in 2004 and is headquartered in Hayward, California. -YahooFinance
Disclosure: I/we have no positions in any stocks mentioned, and no plans to initiate any positions within the next 72 hours.