G-III Apparel Group, Ltd (NASDAQ: GIII)
Shares of G-III Apparel Group, Ltd. soared 20% early Tuesday after the clothing company reported first quarter earnings for fiscal 2019 that finished above Wall Street estimates.
The Tommy Hilfiger, Calvin Klein, and Donna Karan owner also revised their full year forecast sending the stock to a high of $51.20 at 9:30 AM.
GIII Earnings & Outlook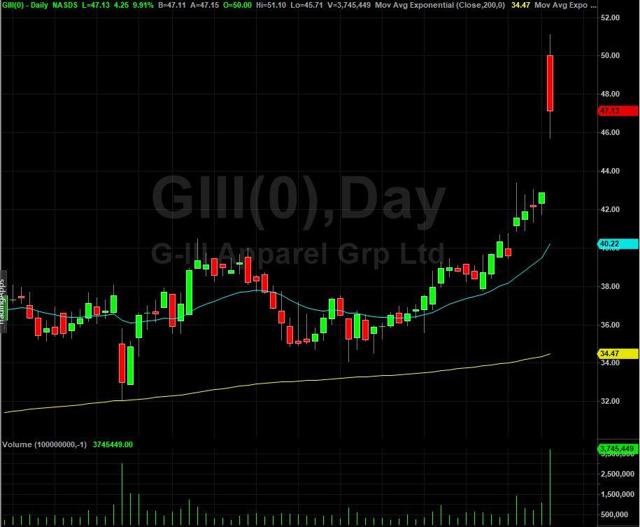 For the quarter ended April 30, the company reported net income of $9.9 million, or $0.20 per share, compared to a loss of $10.4 million, or $0.21 per share in the year-ago period.
Adjusted earnings per share came to $0.22, while Wall Street expected the company to report a loss of $0.50 a share. Sales stood at $611.7 million, up 16% from the same quarter last year, and ahead of analyst consensus estimate of $571 million.
For the upcoming quarter, the company is estimating net sales of about $590 million. For the full year, the company has raised its sales forecast to $2.97 billion, up from the previous figure of $2.94 billion.
It expects earnings per share in the range of between $2.20 and $2.30, up from earlier guidance of between $1.90 and $2.00. Further, it expects adjusted earnings per share of between $2.27 and $2.37, up from prior forecast of between $1.98 and $2.08.
G-III Apparel CEO Comments
The Chairman and Chief Executive Officer of G-III Apparel, Mr., Morris Goldfarb, commented on the results saying: "We are pleased to have begun the year with a solid quarter across the board. Strong brands, quality product, diversified distribution and great execution continue to be our winning formula. We are excited to see the momentum continue and have increased confidence in our outlook for the remainder of this year. We believe our long-term growth opportunities have never been more compelling and we remain focused on capturing market share, driving growth, improving profitability and creating exceptional value for our shareholders." -CNBC
G-III Apparel Group, Ltd Company Profile
G-III Apparel Group, Ltd. engages in the design, manufacture, and marketing of men's and women's apparel in the U.S. and worldwide. Its segments of operation are; Retail Operations and Wholesale Operations.
The company's products include swimwear, outerwear, women's suits, dresses, footwear, sportswear, women's handbags, small leather goods, women's performance wear, and cold weather accessories.
It markets its products under the several exclusive brand names, including Black Rivet, Marc New York, DKNY, G.H. Bass, Donna Karan, Wilsons, Andrew Marc, Vilebrequin, Eliza J, G-III for Her, G-III Sports by Carl Banks, Jessica Howard, Calvin Klein, Kenneth Cole, Tommy Hilfiger, Dockers, Karl Lagerfeld Paris, Levi's, Vince Camuto, and Kensie.
The company also has licenses with the National Hockey League, National Football League, National Basketball Association, Major League Baseball, as well as around 150 US universities and colleges.
The company sells its products through mass merchant retail, specialty, and department stores. G-III Apparel Group, Ltd. was formed in 1956 and its headquarters are located in New York. -Reuters
Disclosure: I/we have no positions in any stocks mentioned, and no plans to initiate any positions within the next 72 hours.