Fishy Fish Oil Studies Justify Vascepa's Use And Bolster Amarin's Market Position
Please Note: Blog posts are not selected, edited or screened by Seeking Alpha editors.
Amarin Corporation and its stockholders have been under constant bear attack since the approval of Vascepa for commercial use on July 26th of last year. One ostensibly intellectual angle of attack has been through liberally labeled "scientific" studies which in fact are only loosely scientific and furthermore not germane to the use of Vascepa.
On, Wednesday, July 10th, CNBC published yet another fish oil study linking the use of this supplement and the eating of fish itself to prostate cancer in men. But before we get to that let me remind you that Amarin Corporation is a biopharmaceutical company focused on the commercialization and development of therapeutics to improve cardiovascular health.
Here's an excerpt from the CNBC report.
Everyone knows that fish oil is good for you, right? It's a rich source of omega-3 fatty acids, which are marketed to reduce the risk of just about everything from heart disease to Alzheimer's.

But a startling study shows men who have the highest levels of these compounds - the kinds found in fish but not in vegetable sources -- have a higher risk of prostate cancer. Men with the very highest levels had a 71 percent higher risk of high-grade prostate cancer - the kind most likely to spread and kill, they report in the Journal of the National Cancer Institute.
Pretty solid publication and the study was conducted by Theodore Brasky of Ohio State University Medical Center, who worked on it with a team from the Fred Hutchinson Cancer Research Center in Seattle.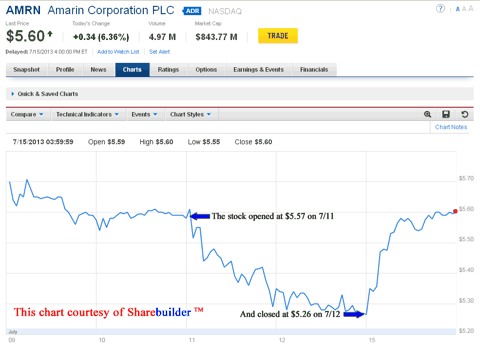 As you can see, the stock opened the day after the article was published at $5.57 per share and closed two days later at $5.26 down 5.5%. One can hardly blame beleaguered retail shareholders from becoming fearful and demoralized as this was yet again another "not again" moment.
To fully appreciate the extreme nature of this report, please read the following hysterical commentary contained within it that is actually written as if it were conclusive of the issue.
It might be a sign that popping a pill is not only possibly a waste of money - it might be downright dangerous. And eating fish too often might be, also.
The emphasis of course is mine. Here's the problem. The study is in no way relevant to prescription grade fish oil, not at all relevant to Vascepa and only marginally adheres to the scientific method. One has to wonder who's behind these studies and what their motivations really are.
Radio talk show host, Michael Savage of the nationally syndicated, The Savage Nation who himself holds a PhD in epidemiology and nutrition had as his guest, Anthony Victor D'Amico of the Dana-Farber Cancer Institute. You can find an MP3 copy of the interview here. Dr. D'Amico holds a doctorate from the University of Pennsylvania, a PhD from M.I.T. and his expertise is in prostate cancer. Dr. D'Amico said the following regarding this study.
The study cannot make the conclusion that it's trying to make because these types of studies are not cause and effect. That is, if you take the fish oil you're going to get some form of aggressive prostate cancer. These studies are simply associations. And when you have an association type study, the way you strengthen it, which is not what they did, is you try to adjust for that association and for all the things you know can cause prostate cancer.

And this is the main issue with the study, they tried to, but they didn't do it properly. They adjusted for things like family history of prostate cancer and diabetes, but they left out some very important risk factors for prostate cancer namely, whether the gentleman was African-American or not, how old they were, what their PSA level was - which is a very important blood test associated with prostate cancer, what their rectal exam revealed, and what their body mass index was - that is whether they were over-weight or not (and over-weight has sometimes been shown to be associated with more aggressive forms of prostate cancer).

So what you're left with at the end of the day is an association that is at best very weak and further weakened by the fact that they didn't account for the known predictors of prostate cancer when they were making the calculations.
If only Amarin (AMRN) investors were to have had access to Dr. D'Amico shortly after reading this fishy story they might not have sold off their positions. Sadly, they must have instead felt the chilly draught of Adam Feurerstein's delight in yet another fish oil study that could be used to hammer the head of Vascepa by association. It's a valid perception. Vascepa is after all fish oil, isn't it?
Now take a look at these two tweets that appeared side-by-side in my twitter flow from July 10th. I only follow these two persons on Twitter - Jason Napodano of PropThink and the aforementioned Adam Feurerstein of The Street.

The perceptions here are in stark contrast to one another, aren't they? While Adam Feurerstein sees a here-we-go-again moment Jason Napodano sees an opportunity that Amarin can capitalize on. So who's right? Which tweet is more insightful?
Both realizations are powerful but only one is accurate and therefore true. Adam's comprehension of the issue was influential in the short-term as Vascepa suffered a two day decline from guilt by association as mindless investors reacted by leaving their positions.
In the longer-term however, Jason Napodano's perception will conclude the issue as Vascepa will benefit from increased use because this study deals with over-the-counter fish oils which contain the leading culprit of disease causality - docosahexaenoic acid, or DHA.
Apparently the investigation was confirmatory in nature. From the same CNBC article we read:
The same team published a study in 2011 that showed men with the highest levels of one omega-3 fatty acid called docosahexaenoic acid, DHA for short, had double the risk of high-grade prostate cancer. Other studies have had similar findings.
So from the first study we find that DHA caused a 100% increase in the risk of this virulent form of prostate cancer but from the most recent research that broadened the issue to include all three Omega-3 components including eicosapentaenoic acid, or EPA and docosapentaenoic acid, or DPA we see a reduced risk of only 71%. A reasonable person would therefore conclude that EPA was perhaps a risk reducing factor.
Vascepa is the only prescription grade fish oil that contains no DHA. It's 96% pure EPA. Lovaza, its only commercial competitor does contain DHA, but I doubt Adam's tweet was targeted GSK's way because the focal point of our attention in the here and now is Vascepa whether it deserves to be or not.
Even if we were to open our minds so wide that our sense of reason fell out, measuring the risk of prostate cancer relative to heart disease requires an imbalanced scale as the former is measured in hundreds of thousands and the latter in millions.
In conclusion, as investors paused to think over the weekend taking into account the bigger picture, they voted their opinions with their wallets on Monday as the stock rallied 6.5%. If these studies prove anything at all it might be that pure EPA only Vascepa is the only fish oil supplement anyone should ever take. Hopefully, Amarin management is listening and alerting their advertising department.
Therefore, I remain confident in Vascepa's place in cardiovascular care and Amarin's position in my growing portfolio of biotechnology stocks.
Disclosure: I am long AMRN. I wrote this article myself, and it expresses my own opinions. I am not receiving compensation for it (other than from Seeking Alpha). I have no business relationship with any company whose stock is mentioned in this article.
Additional disclosure: This article has been written for entertainment purposes only. Nothing in it should be construed as investment advice. All investments carry with them considerable risk, especially those covered in my articles. Any stock can go up or fall down for a myriad of unseen or unanticipated reasons. Never make an investment decision without doing your own extensive research and always consult an investment professional. All information provided herein has been culled from public records and may or may not be true. Any statement I make may, in fact, be made in error. You are responsible for your own due diligence and investment choices. Do not act on my musings alone!
Seeking Alpha's Disclosure: Past performance is no guarantee of future results. No recommendation or advice is being given as to whether any investment is suitable for a particular investor. Any views or opinions expressed above may not reflect those of Seeking Alpha as a whole. Seeking Alpha is not a licensed securities dealer, broker or US investment adviser or investment bank. Our analysts are third party authors that include both professional investors and individual investors who may not be licensed or certified by any institute or regulatory body.