I'm a novice in personal investment. I've always been an amateur at most everything I've done that's brought me pleasure in life. The word amateur is derived from the Italian "amator" meaning "lover", and "amare" meaning "to love." When one gets paid to do something they love it's both gratifying and a curse.
Gratifying because there's public recognition and a small quarterly check. A curse because it's difficult enough for me to live up to my own expectations let alone yours. It's important however, for you to remember that I'm a blogger and not a financial advisor. I absolutely insist that you make this differentiation because you will be less inclined to express irrational disappointment as a result.
My articles this past year were a joy to write. Some of the best, didn't make the publishing criteria of the editors or deadlines of relevance. That said, those that did make the grade scored equally well in the eyes of investors as the graphic below clearly indicates.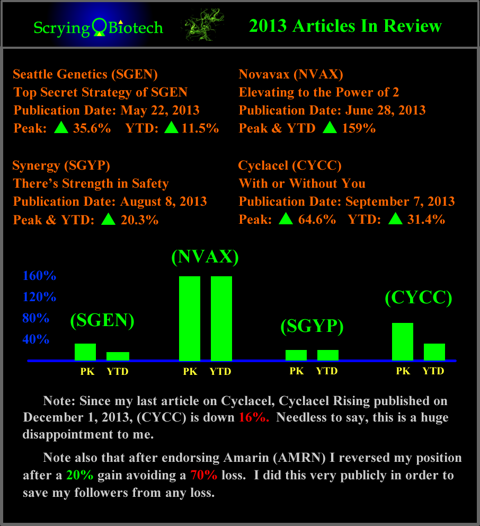 These stocks on a buy and hold basis from the date of publication have returned investors a good bit of money. And it's important to note that none of my articles led investors down a blind alley to significant loss.
In point of fact, I warned investors against binary disasters facing those holding long positions in Delcath (NASDAQ:DCTH), Aveo (NASDAQ:AVEO), GTX (NASDAQ:GTXI), Cytokinetics (NASDAQ:CYTK) and Amarin (NASDAQ:AMRN) weeks and sometimes days before the stocks plummeted 65 to 70%. There is however, no joy in doing this as investors always question your motives never thinking you might have their best interests at heart.
I've put together a short video primer covering investment in the biotechnology sector. It deemphasizes catalysts because that's the first thing that every biotech investor acquaints themselves with and latches onto.
This year begins with my largest personal holding in Cyclacel (NASDAQ:CYCC) and a growing but smaller position in Nektar (NASDAQ:NKTR). I plan to provide more video companions to each article that I author this year. You'll find them on YouTube at ScryingBiotech.
It's my hope that together, we can expand our knowledge and consequently, our profits by learning from each other along the way.
I thank you for your investment in my words and for your encouragements and criticisms over the past year. Hopefully, they'll serve to make me better in this year ahead.
Michael Webb
Disclosure: I am long CYCC, NKTR, .