As many of you are aware, I became associated with MannKind Corporation (MNKD) through the publication of three pre-adcom articles that warned investors of the risks associated with binary events. It was unfortunate that MannKind happened along at the time I chose to tackle the issue of human bias and holding through advisory committee meetings without adjusting one's profile to risk. Unfortunate, because there was nothing about Afrezza that I didn't like as a product and nothing that I didn't admire about Alfred Mann as a person. I take comfort in knowing that there isn't a word I would alter in any of the articles I wrote, and in knowing that a dear friend of mine who heard Alfred Mann speak and met him informally, suggested that he would have loved my fascination with the Tarot and all things mystical.
No one should presume that the purpose of my article today is to make amends, as there are none to make. I frankly pity those who were offended by me, as remaining so to this day would be an awful burden for them to bear. Rather, I'm here to alert investors to an idea that has taken root in my mind that I can't seem to shake.
Afrezza Is To Apple Macintosh What Exubera Was To The IBM PC.
Perhaps it's too late in life for Alfred Mann to be considered the Steve Jobs of diabetes. And perhaps the metaphor itself is difficult for some to condone. But the fact is that some inventions are culturally disruptive in that they change the way we live, work and play. They literally change the way we perceive ourselves to be as human beings and change the way we interact with each other.
In his final technology products column for the Wall Street Journal - and I never read one of them, Walt Mossberg compiled a list of the 12 most influential devices he had reviewed over the previous 2 decades of his then concluding career. On that list, you'll find 3 Apple icons - the iPod, iPhone and iPad. But the 2 Steves - Wozniak and Jobs got started sooner in life creating disruptive technologies than Mr. Mossberg's career of coverage allowed for.
Like the diabetes market, the world of personal computing was already established before Apple (AAPL) made the concept popular. Shadow casting monoliths like Xerox and IBM were in full control along with startups like Atari and Commodore.
In 1981, IBM was poised to dominate the landscape with the IBM PC that imitated most of Apple's disruptive features embodied in the Apple II. But Steve Jobs by this time was maniacally possessed with the idea of making a machine that was easier to operate, less obtrusive and more user friendly. Does that description remind you at all of the qualities Afrezza offers? It should. Because I believe these technologies are remarkably analogous one to another.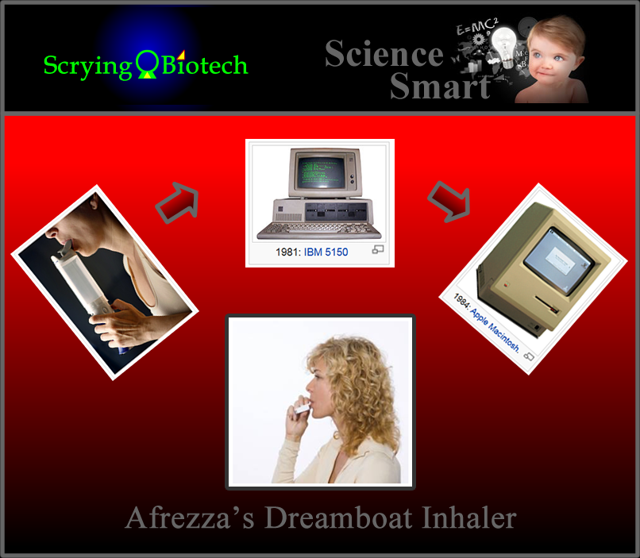 Macintosh reshaped the way people thought of computing and thought of themselves. You could do things on an Apple that you couldn't do on an IBM like paint your own images and write documents in a way that you could edit them on screen. Of course, we now take these things for granted, but back in the day, these qualities were beyond what the word "innovative" implies. For all the creativity, hard work and good fortune provided, however, it took a partnership to put Apple on top of the world.
Sanofi Is To Afrezza What Adobe Was To Apple
Not enough credit was given to Adobe Corporation (ADBE) of Seattle Washington in the development of Apple's iconic image. You see, Adobe created the software that people needed to become their own personal publishers. This made Steve Job's job significantly easier because he could focus on creating the technologies that buttressed the evolution of the individual's personal computing experience. And this is what I believe is happening now with Afrezza.
Afrezza is the innovating force that will change the way diabetics not only use insulin but become insulin users. No longer will people avoid taking the insulin that could save their lives because they naturally want to avoid the pain of an injection. And no longer will they feel uncomfortable dining with friends by having to escape to some private place to inject a needle when they can simply and easily inhale their medication right at the table. A sick person or addict injects their drug while someone having fun toots on a whistle. The device itself fits in the palm of your hand. You can see a quick video here that demonstrates how it works.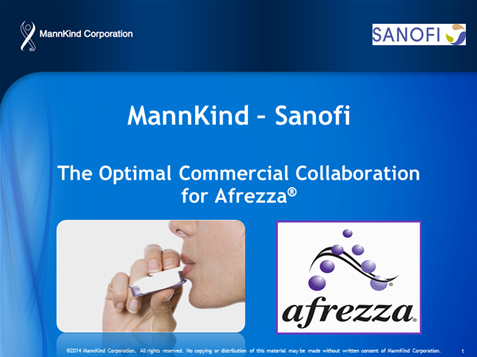 Sanofi (SNY) will allow Alfred Mann and MannKind Corporation to return to a focus on innovation just as Adobe once did for Apple. In this clip from the Quarterly Earnings Call that followed the partnership presentation, Alfred Mann's youthful exuberance at 91 years old got the best of him as he blurted out something that was not yet to be publicly made known.
Adnan Butt - RBC Capital Markets
If I can get a follow-up, Matt, so what are the plans for cash that you received. How should we view R&D going forward? The company will -- I mean, are there plans to do some R&D or pretty much it's going to be an AFREZZA-focused company?
Matthew Pfeffer - CFO
No, there's definitely plans to do R&D. I mean, we have a lot of exciting possibilities in front of us for using this technology in other applications. It was mentioned briefly on the call this morning, although it was primarily about the deal. We did not want people to forget that we view this as a platform technology with a lot of exciting applications and you should expect to hear more from us in the future about that. I mean, it's the obvious next question post Sanofi.

In that regard, I've been asked this a couple of times on the phone, so probably clarify it, because people will say what rights in those other areas do Sanofi have? They do have a right of first negotiation if we were to take a formulation of inhalable GLP-1 forward. But they have not rights to those -- any other products beyond that. So, I can't say we would mind talking to them about them when they get to the point when that's appropriate. But under the current agreement, the only future potential right they have is on the GLP-1.
Alfred Mann - Chairman and CEO
They also have rights to our new process.
Matthew Pfeffer - CFO
We've not disclosed that yet Alf.
Alfred Mann - Chairman and CEO
Sorry. [Laughter throughout the room.]
What this spontaneous outburst indicates to me is that MannKind is still hard at work developing new technologies that could be revealed at any moment of any day.
Licensing Out Modified Technosphere Technology Could Result In Regulatory And Sales Milestones As Well As Royalties
Obviously, the technology behind Afrezza's Dreamboat inhaler can be tweaked and refined to other licensable applications. There will be other biotech startups whose medications might benefit from a delivery method that emphasizes rapid biologic absorption but has also already passed regulatory scrutiny and been utilized commercially.
I also believe, however, that MannKind will be tasked to develop something to complement Sanofi's secret marketing plans - accessories, especially by crafting kits designed to bundle Afrezza with Sanofi's traditional insulin therapies.
Two Forms Of Marketing Will Make Sanofi The World's Largest Insulin Provider
At that same Q2 Earnings Call, Adnan Butt asked the other question on every investor's mind. Would Sanofi make every effort to sell Afrezza? The thought behind this question is fairly straight forward. Why would a partner enthusiastically sell a drug at a 35% discount that would take away 100% of their own drug's profit?
And of course, Mathew Pfeffer revealed only that this was top-secret information that Sanofi was unwilling to share with competitors through public disclosure. As a result, it becomes the perfect fodder for my speculative mind.
To topple Novo Nordisk (NVO), Sanofi will need to steal away existing clients from other companies and bring in both treatment naive patients and those who've given up on needle based insulin therapies. To demonstrate how they will do this, I've constructed two conversations that exemplify this two-pronged approach to marketing success.
Private And Professional Marketing
Denise is a newly diagnosed diabetic and is talking with her doctor about receiving therapy.
Doctor: It's time to put you on some form of insulin therapy.
Denise: But doc, I don't like shots!
Doctor: That's understandable. We have a new insulin that you inhale through this little whistle before meals.
Denise: So, I don't need shots?
Doctor: Well, yes and no. You need fewer of them though. This is called a Dreamboat inhaler that you'll use at mealtime. And before you go to sleep at night we'll prescribe a more traditional, injectable insulin.
Denise: That doesn't sound so bad.
Doctor: Well, I could write you two separate prescriptions - one for your inhalable insulin - Afrezza, and another for your bedtime insulin. But Sanofi has this nice little compact kit that you can place in your purse or pocket and it allows you to store and take a days supply of insulin out with you. It's very convenient and easy to use. And it pairs any of their fine insulin products - Toujeo, Lantus or Apidra in one easy to use and convenient package. There' even a larger travel case that keeps everything fresh for days.
Denise: Ok. Thanks. I'll give it a try.
Public And Social Marketing
Denise is now at a restaurant with friends, breaks out her Dreamboat inhaler and toots her dose of mealtime therapy.
Her Friend: What's that?
Denise: Oh, it's my insulin. I have to take it before every meal.
Friend: You're kidding, right? My mom's diabetic, but she gave up on all the shots.
Denise: I totally get that. You should have her go see my doctor. He said for me to think of this as a romance between Toujeo and Afrezza. This [holding out the Dreamboat in the palm of her hand] is Afrezza. Toujeo protects me in the morning and before I go to bed. And Afrezza's with me all day long. Here's his number.
Friend: Thanks you! And I'll be sure to let my mom know.
So, from these two conversations we can see that once Sanofi has educated physicians on Afrezza's method of delivery, providing a pre-designed kit that bundles their existing insulin together with it would make the patient's experience more enjoyable. This convenience and ease of use will make Sanofi the worlds largest insulin provider in a very short period of time.
Some Closing Thoughts
Comparing Afrezza to Apple may seem a stretch to most of you, but I believe the similarities abound. When Apple entered the personal PC market, there were larger, established companies all around them. But the market was woefully underserved and Apple offered users something personal and profoundly more responsive to their input.
The same is true in the diabetes market that Afrezza now enters. Established companies and therapies are ubiquitous, but Afrezza offers something deeply personal and extremely liberating. Something that will take insulin treatment and diabetic persons out from behind closed doors and into public places where they can begin to be proudly human again.
And in no more than a decade's passing, I believe that those who now would rather die or go blind by not injecting their treatments will stand in the pharmacy waiting line to have their prescription filled. What Afrezza will look like at that point in time I'm not exactly sure, but I'm quite certain, Alfred Mann has a pretty good idea already.
Always be well...
Disclosure: The author is long MNKD. The author wrote this article themselves, and it expresses their own opinions. The author is not receiving compensation for it (other than from Seeking Alpha). The author has no business relationship with any company whose stock is mentioned in this article.
Additional disclosure: Any information or opinion expressed herein may not be true, accurate or correct and it does not constitute any suggestion to buy, sell, hold or adopt any investment strategy for this stock or any stock that may be mentioned. Reliance upon information in this article is at the sole discretion of the reader. The sole purpose of my article is to entertain by providing information, the accuracy of which is as good as the public sources it was derived from. Do not act on anything I have written. Rather, do your own due diligence and consult an investment professional before making any investment decision. Acting on what any one writer, including me has imparted to you is foolish at best. I have no better access to resources or gift of opinion formulation than you do. I sometimes make mistakes. There are a myriad of things, which can happen in lieu of any forward-looking statement I have made. Any stock featured or mentioned in an article I compose is subject to all manner of influences, which can change its value in dramatic fashion upwards or downwards. These events can be of a wide variety not limited to news-related occurrences, managerial decisions, trial failures, stock manipulations and so on. I make every effort to declare positions I have in stocks I cover or mention in an article but reserve the right to move in and out of said investments at my own discretion based upon the wisdom of doing so. I implore you to do your own due diligence, invest at your own considerable risk attaining the just reward your efforts have wrought.