In addition to my writing on Seeking Alpha and my work at Gerring Capital Partners, I am a Visiting Instructor at Ursinus College in Collegeville, PA. And as part of my teaching, I have had the opportunity to serve as the faculty advisor for the CFA Challenge team at Ursinus College.
The goal of the CFA Research Challenge according to the CFA Institute is to teach best and ethical practices in equity research through a real-world experience to the next generation of investment professionals. The competition begins at the local level, and the team from Ursinus College was among the entrants with the CFA Society Philadelphia.
The Ursinus College CFA Challenge team advanced to the CFAP finals on February 17 after receiving one of the four highest scores on their written research report. And after presenting to an audience that included panel of judges and an extended Q&A session, the Ursinus College CFA Challenge team was named the winner of the CFAP Research Challenge competition.
The Ursinus College CFA Challenge team will now advance to the Americas Regional Finals being held in Chicago during the week of April 11 to compete against roughly 50 teams from across the Western Hemisphere with the opportunity to earn one of two spots to advance to the Global Finals being held later that same week against the winners from roughly 20 teams from the Asia Pacific region and around another 30 teams from the Europe, Middle East and Africa (EMEA) regions.
Congratulations to the Ursinus College CFA Challenge team of Robert Glanville, Gabe Gordon, Ryan Pinter and Gavin Reeves for a job well done! And a special thanks also to Michael Martorelli from Fairmount Partners in Conshohocken, PA who is serving as the industry advisor to the team.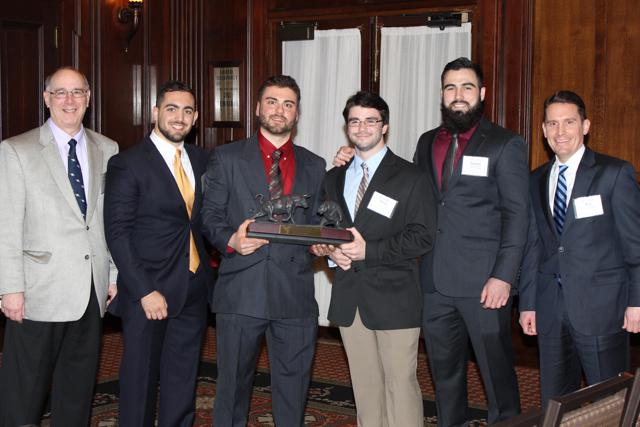 The Ursinus College CFA Challenge team shown above following the CFA Society Philadelphia finals: from left to right - industry advisor Michael Martorelli, Gabe Gordon, Ryan Pinter, Gavin Reeves, Robert Glanville and faculty advisor Eric Parnell.
Best of luck to the team as they move on to the next round of the competition in Chicago!