This article is the latest in the Investment World Cup 2018series on Seeking Alpha that will take a more in depth look at investing in specific markets outside of the U.S.
The 2018 FIFA World Cup continues in Russia. With the Knockout Round now underway, the following are summary highlights from the remaining countries not already covered in the group stage.
Let's start with Group B. This includes the following countries
Iran
Morocco
Portugal
Spain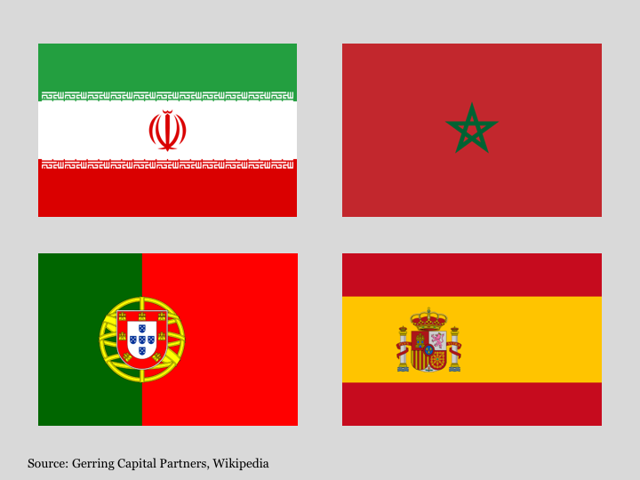 We'll make this group summary quick. While Iran and Morocco have the best growth prospects of the group and Morocco has economic freedom and credit quality metrics comparable to their Iberian neighbors to the north, both are eliminated on account of a lack of investability.
Narrowing the field to the final two, Spain wins out over Portugal thanks to marginally higher economic freedom, better credit quality, marginally better economic growth prospects, and stock market performance that has been generally comparable between the two but with lower volatility associated with Spain.
Those to advance from Group B are . . .
Group Winner: Spain
Group Runner Up: Portugal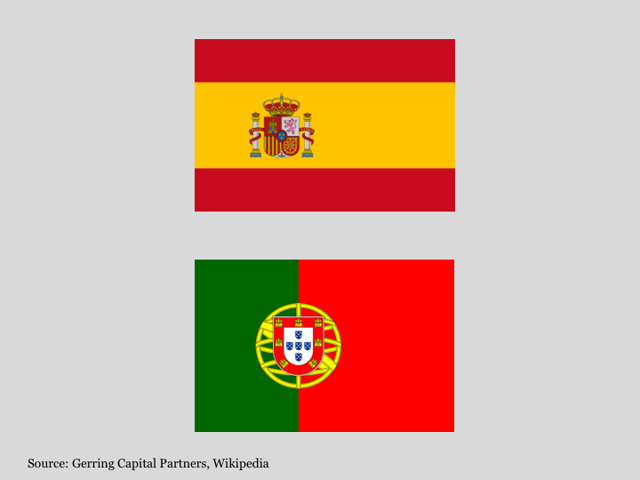 Moving on to Group C.
Australia
Denmark
France
Peru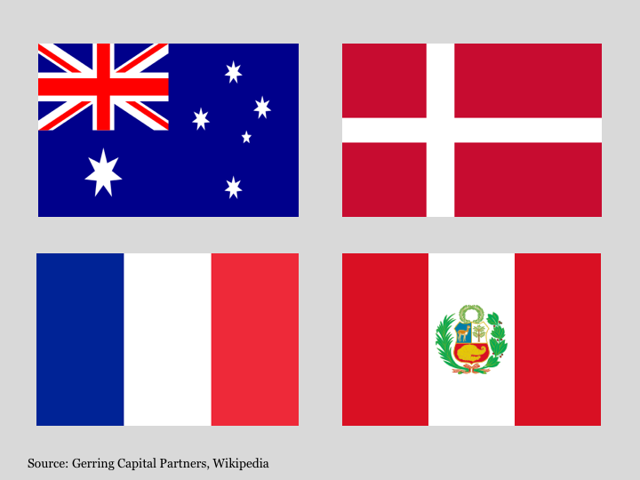 This was one of the most contested groups in the field, as each country has their own dedicated ETF for investors to access these markets. Moreover, all four countries have ADRs that trade on U.S. exchanges (10, 6, 11, and 3, respectively, from the list above).
Both Australia and Denmark stand out above the rest from an economic freedom standpoint with ratings at the very top of the tables. Notably, Peru also scores well from an economic freedom standpoint with ratings that are considerably higher than France that finishes at the bottom of the group in this regard.
All four countries are also investment grade rated, with both Australia and Denmark boasting prime AAA ratings, with France not far behind at AA and Peru also at a respectable BBB+/A3 rating.
From an economic growth perspective, Peru offers the best prospects with forecasts approaching 4% followed by Australia at near 3% and both Denmark and France just below 2%.
As for market performance itself, Denmark over the past six years has been both the best performer in outdistancing the S&P 500 Index while also being the least volatile followed by France, Australia and then Peru in distant fourth in terms of returns performance as well as underlying price volatility, which is not entirely unexpected given the heavy commodities stock concentration coming out of the South American nation.
The one downside to Denmark is the significant concentration in the ETF to Novo Nordisk at more than 22%. But this concentration is not enough to diminish the various other virtues exhibited by the country. The fact that both Australia and Denmark maintain their own independent currencies relative to euro member France is also an added plus for both countries.
Those to advance from Group C are . . .
Group Winner: Australia
Group Runner Up: Denmark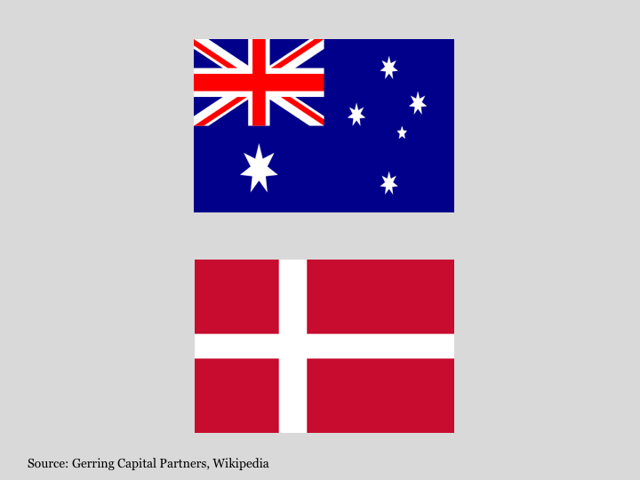 Next up is Group F.
Germany
Mexico
South Korea
Sweden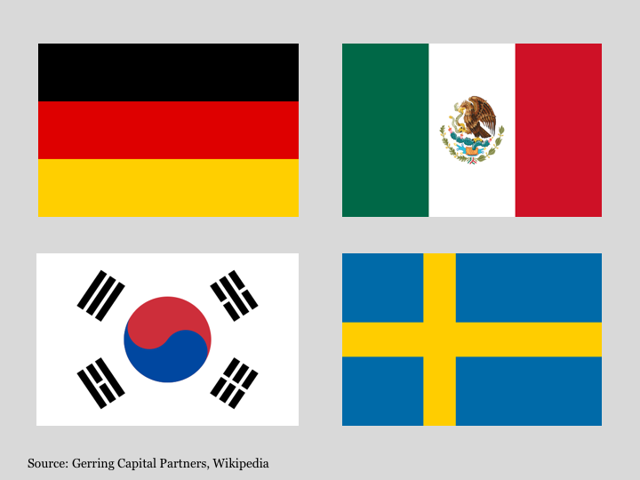 This was the most contested group in the tournament this year, as all four countries had a case for advancing to the next round. Once again, all four countries have dedicated ETF products and ADRs that trade on U.S. exchanges (10, 15, 11, and 4, respectively).
Three of the four countries in Germany, South Korea and Sweden also rank generally high on the economic freedom tables among the most free countries in the world and in the same range as the United States.
From a credit quality standpoint, both Germany and Sweden boast prime AAA ratings, while South Korea is not far behind with an AA rating while Mexico is also has a respectable BBB+/A3 rating.
As for growth prospects, both South Korea and Mexico stand out in the group with growth forecasts in the 3% range, while economic prospects for Sweden are a bit more subdued at around 2%. Germany, on the other hand, has the most glum outlook with projected growth not far above 1% over the next five years.
Given that all four countries are investible, it is worth noting that they also come with considerably higher price volatility relative to the S&P 500 Index as well as comparable correlations to the U.S. benchmark. Thus in the end, the final decision comes down to selected intangibles, or tiebreakers if you will.
In regard to both Germany and Sweden, their ETF products are broadly diversified with fortunes not disproportionately concentrated in a single name. Germany also ranks among the most stable economies in the world. And given my otherwise aversion to advancing a euro zone member to the next round, Germany is the one country more than any other than warrants inclusion in this regard. On the flip side, South Korea provides the opportunity to concentrate in a market with higher growth prospects with comparable underlying quality characteristics.
After a tough group phase, those to advance from Group F are . . .
Group Winner: Germany
Group Runner Up: South Korea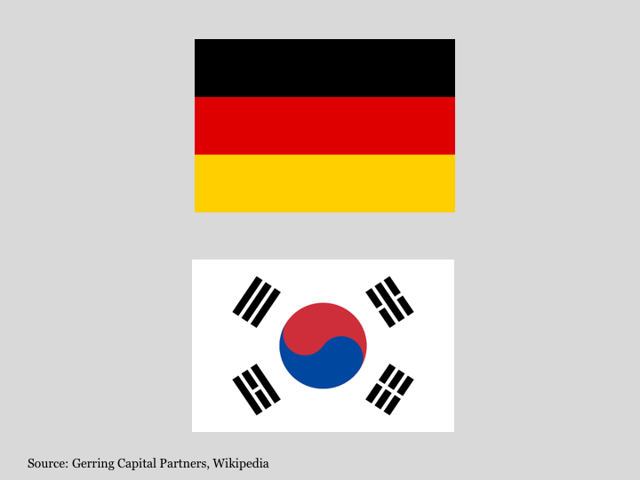 We will finish with Group H.
Colombia
Japan
Poland
Senegal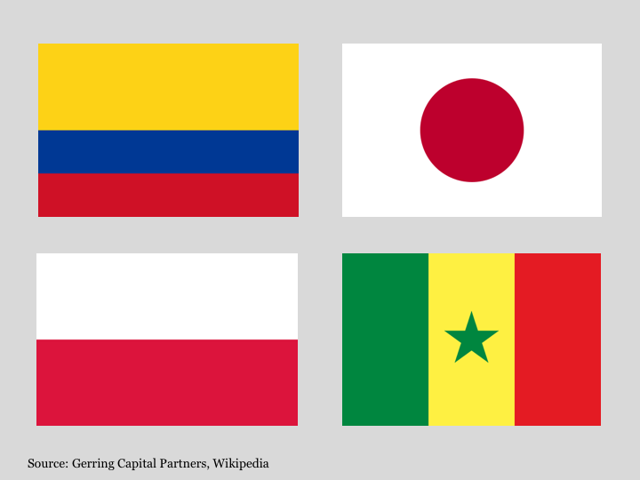 Colombia, Japan, and Poland all have dedicated country ETFs. Colombia and Japan also have ADRs that trade on the U.S. exchanges totaling four and thirteen, respectively. Senegal has neither an ETF or ADRs trading in the U.S.
Japan stands out on top in terms of economic freedom, with Poland following next with Colombia not far behind. Senegal ranks much further down the list in terms of economic freedom.
In terms of credit quality, Japan, Colombia and Poland are all comparably rated in the A range for Japan and the BBB level for Colombia and Poland.
As for growth prospects, Senegal has the most robust forecast at nearly 7%, but the lack of investibility eliminates them from advancing regardless. As for Colombia and Poland, they also have relatively attractive growth outlooks in the 3% to 3.5% range over the next five years. As for Japan, it is forecasted for barely positive growth in the next five years despite extraordinary monetary policy measures to try to jump start the economy from its three decade malaise.
In terms of investability, the Japan ETF is filled with hundreds of companies including some of the most well recognized and highest quality names in the world. The market also has risk-adjusted return characteristics that are notably more favorable than its peers in the group. As for the remaining match up between Colombia and Poland, both countries have solidly diversified ETF offerings in their own right. And although Colombia has underperformed as of late, its marginally more favorable growth prospects and somewhat more balanced securities mix relative to Poland give the South American country the edge at the end of the day.
Those to advance from Group H are . . .
Group Winner: Japan
Group Runner Up: Colombia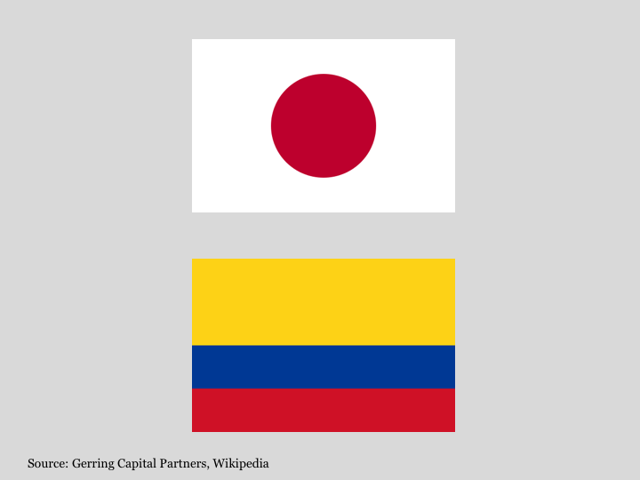 Next up is the Knockout Phase for the remaining 16 countries that advanced past the Group Phase.
Disclosure: This article is for information purposes only. There are risks involved with investing including loss of principal. Gerring Capital Partners and Retirement Sentinel makes no explicit or implicit guarantee with respect to performance or the outcome of any investment or projections made. There is no guarantee that the goals of the strategies discussed by Gerring Capital Partners and Retirement Sentinel will be met.
Disclosure: I/we have no positions in any stocks mentioned, and no plans to initiate any positions within the next 72 hours.