This article is the latest in the Market Sounds Of Summer series on Seeking Alpha. It is the "B-Side" to Markets Have No Color, Stocks Don't Rhyme
"'Cause we live in a time,
When meaning falls in splinters from our minds.
And that's why I've traveled far,
'Cause I come so together where you are."
--Sentimental Lady, Fleetwood Mac, 1972
Looking beyond today's bull market. Today's bull market remains intact, but perhaps this distinction is not good enough for you as an investor. You may also recognize that the bull market is among the oldest and grayest in history, and you would rather position your stock portfolio today to better protect against the inevitability and potential chaos associated with its final ending. Fortunately, our market of stocks has some attractive securities on offer today that may be well suited for such objectives.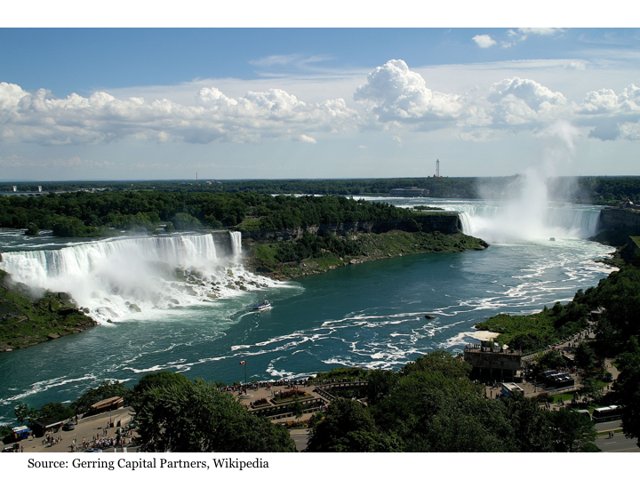 Focusing on stocks that have already fallen in splinters from our markets. One of the best ways to protect against future sharp portfolio downside is to focus on a few key elements.
Click here to learn more about safeguarding your retirement ahead of the next bear market.
The first step is to identify stocks that have already endured considerable downside. This is due to the fact that much of the selling pressure that devastates so many names following a bull market peak has already played itself out to a meaningful degree with names that have already fallen by a considerable amount. Of course, the focus cannot simply stop at this step, as many stocks simply fall for justified reason.
This leads to the next important step, which is to focus on attractive value among quality companies with healthy balance sheets that are well positioned to weather any future economic challenges. Put simply, it is best to focus on companies that have struggled during the later stages of the bull market not because of their underlying quality but instead because they were being overlooked in favor of the more cyclical momentum names that often drive the stock market to its final top.
Another important consideration is the sustainability of earnings growth. This is critical not only in supporting the company's ability to continue to grow its stock price even more difficult economic and market conditions, but also to support its ability to continue to grow its dividend over time, a characteristic that becomes all the more valuable during more challenging market conditions.
Companies with these three key characteristics are most often found in the more defensive segments of the market. The following are some market sectors that may warrant a closer look at the present time for those seeking opportunity while still preparing for any bear market scenario that might lie ahead.
Click here to learn more about safeguarding your retirement ahead of the next bear market.
Consumer Staples
My favorite stock market sector over the decades. Quality companies, predictable earnings, defensive yet understandable business models. And at the present time, notably attractive valuations. Here's a stock market sector that fell by nearly -17% peak to trough from late January to the start of May, and has only recovered less than half of its value since.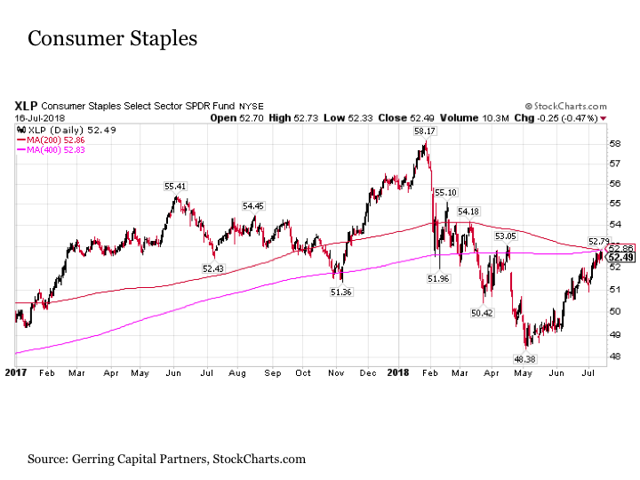 It should be noted that the sector has arrived at an incredibly tricky juncture at the present time, as the XLP has arrived at 200-day and 400-day moving average resistance just as these two lines are converging on one another. This is about as decisive a test as it gets from a technical analysis standpoint. As a result, investors are best served to wait and see how this joined battle plays out, as it is very possible that the sector may provide at least one more leg lower in its current downside move before it's all said and done.
Utilities
Showing how these past technical breaks can play out favorably in ongoing bull markets, we have the utilities sector, which was all but left for dead by the pundits back at the start of the year as the stock market raged to the upside. But following a -17% decline in its own right that culminated with the stock market hurricane of early February 2018, utilities found their bottom and have been fighting their way back ever since. After failing at its first two attempts to break out back above trend line resistance, the third time proved to be the charm as utilities are now +12% higher from their lows. At the same time, they remain -6% below previous highs.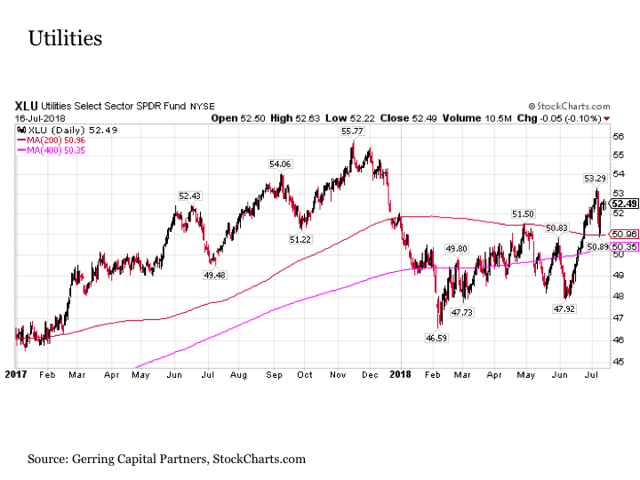 Reflecting On Past Bull Market Peaks
The focus on defensive names being thrown out in a bull market has proven rewarding in the past. Consider the performance of consumer staples and utilities stocks in the months leading up to the tech bubble peak in March 2000. In a word, unloved.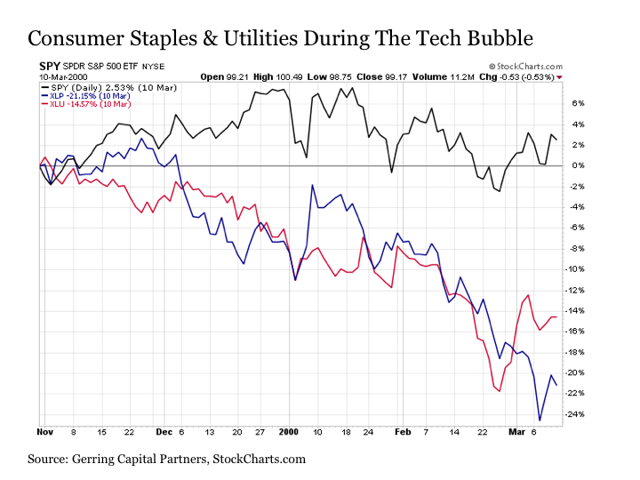 Then consider the performance of these same two sectors over the next two years into 2002. While the S&P 500 Index was falling by as much as -30%, consumer staples and utilities were rising by as much as +30%.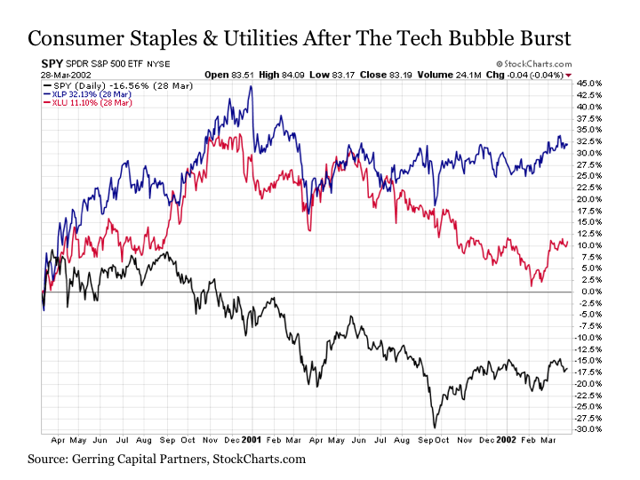 Beautiful Splinters
So while the broader stock market as measured by the S&P 500 Index may someday appear precariously perched and destined for considerable downside, this outcome does not necessarily need to be true for all of the stocks that make up the market. A focus on those high quality, attractively valued, defensive earnings growing segments of the market that have already been sold off in advance of the peak can provide downside protection while also offering potential upside opportunity and income growth well into the next bear market.
Click here to learn more about safeguarding your retirement ahead of the next bear market.
Disclosure: This article is for information purposes only. There are risks involved with investing including loss of principal. Gerring Capital Partners and Retirement Sentinel makes no explicit or implicit guarantee with respect to performance or the outcome of any investment or projections made. There is no guarantee that the goals of the strategies discussed by Gerring Capital Partners or Retirement Sentinel will be met.
Disclosure: I am/we are long PG,GIS,SJM,KR,SO,D,PPL.