The recent proliferation of articles discussing a deficit in the global sugar balance should not be news.  The market awareness of a potential supply shortage that has given another constructive surge to the raw sugar market is most recently being connected to Tropical Cyclone Yasi, which made landfall last week, and tracked through the cane growing regions on northern Australia (see image from the Courier Mail below).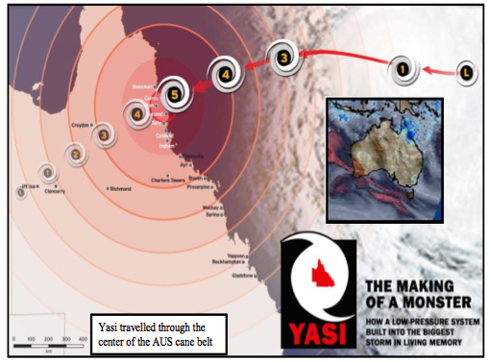 The track of TC Yasi has likely caused significant damage to Australia's cane crop, leaving growers with up to 50% less cane than what they had anticipated before the system ripped apart their fields. As Yasi progressed through the northeast Australian fields, March10 raw sugar futures surged to 36 cents/lb., which is a 30 year high; the contract has since retreated back to the 33 cent range. This event-driven reduction for Australian growers, which some are now placing at around 300K mmt,comes on top of previously reduced crop expectations (~500K mmt) as a result of the flooding in Dec/Jan. With many analysts now calling for a shift to a global supply surplus for the 2011/12 crop year (Oct/Sep), we are cautioning readers to be aware of the risks that can be embedded in these numbers. Note that the International Sugar Organization and several other sugar analysts have reduced their surplus expectations for 2011/12 in recent months from numbers in the +3-4 mmt range down to the +1-1.5 mmt range.  Further weather disruptions at any large/medium origins could easily push this down to the negative side of the S-D balance. For this reason, the pattern for Brazil and the 2011 Indian Monsoon will carry significant importance in the coming months.



Disclosure: I have no positions in any stocks mentioned, and no plans to initiate any positions within the next 72 hours.