Introduction
A company like Mednax Inc. (NYSE:MD) would never fit in Buffet's portfolio. Graham would probably scoff at its valuation, and even a growth investor like William O'Neil would probably cast it aside. But for me, MD's innate state of extreme balance nearly brings me to tears, this company is not perfect in any way, shape or form. It doesn't have a great valuation, it doesn't have startup-like forward estimates, and it certainly isn't outperforming its peers in every category. But the feeling you get when you analyze this company is that they're moving in one direction, forward. Take a look at any visual for this company and you'll see one evident truth is present, progress. It's truly beautiful, a site that emulates the look of other great American companies. Take a look at CVS Health Corporation (NYSE:CVS)'s visual income statement for the past 10 years. Then go ahead and take a look at MD's. Notice any similarities? They're almost carbon copies of each other on a different scale! Each highlighting steady, consistent growth with marginal expansion, and best yet, strong expected forward growth.


I think there's a quote that sums up this stock very well, and more importantly sums up my investing philosophy as a whole, "Strive for progress, not perfection".
About Mednax
Mednax is a fairly simple company to understand, and often times I take that for granted when I'm attempting to research more complex companies. Mednax offers healthcare services in the United States, MD's core business revolves around maternal services. There's over 2,500 Mednax physicians, and they partner with hospitals across North America. What's interesting about MD is that they just completed eleven acquisitions. Of the eleven, nine were physician group practices including six anesthesiology practices, two neonatology (medical care of newborn infants, often those born prematurely) practices, and one pediatric subspecialty practice. The remaining two acquisitions were in radiology and telemedicine. If you're still itching to know more about Mednax (who wouldn't be?) you can view more information here http://www.mednax.com/.
Financials
Mednax has a deep, rich financial history, and I absolutely love looking at how this company has growth financially. Let's dig into it statement by statement.
Income Statement
Mednax has had text-book income statement growth. Here's a visual look at their operations for the last 10 years, and then analyst estimates for the next 3 years.

In 2005 MD had revenues of just over $680M, in 2014 MD ended the fiscal year with $2.4B in revenue, a 250% increase, or an average annual growth rate of over 25%. Bottom line income has seen similarly explosive and consistent, going from $87.5M a year in 2005 to well over $315M in FY 2014. This is a 260% growth rate, averaging about 25% per year as well. This consistent growth is only part of the reason I like MD, they also have consistently stable margins. Take a look at this visual below.

Margins have stayed consistently stable for over 10 years now, and with expanding revenue and more efficient operations in the future, I expect more marginal growth to be seen here. With new acquisitions and a stronger data-based approach than ever before, I think that the general marginal structure of this company is about as sound as you'll find anywhere.
Balance Sheet
What interests me more than the income statement itself is how MD continues to maintain a great looking balance sheet.

Liabilities have grown, long-term debt has increased, but what we see is a consistent and constant trend of increasing value for shareholders. There is one thing that concerns me about the last year though, look at how much liabilities has grown, ouch. To pull off all these acquisitions they needed to take out debt to do it, and that comes at a cost.
Take a look at this liquidity and leverage chart, the have the highest debt/equity ratio in 10 years, rivaled only by 2008.

This leverage makes me a little bit uneasy. For whatever it's worth, in 2008 we did see great financial growth over the previous year, with revenue growth at 16% and EPS growth at 25%, but with higher interests rates, increasing global turmoil, and a global economy that's increasingly uneasy, I'm not sure if now is the time to aggressively fund their expansion through debt.
Am I extremely worried about this leverage? No, a debt/equity of 0.59 is nothing to worry about too much. And with a current ratio of over 1.1 and a cash ratio of over 0.12 it's not like they're on the brink of a debt-funded collapse, but it is something to be aware of if you're considering investing in MD
Cash Flows
Man can this company pump out consistent cash flows, it's insane. Take a look at the visual below

Just 10 years ago MD had a free cash flow of $154M, now we're sitting at $404M a year, that's nearly a 165% increase over 10 years, and just 2 years ago we saw 30% FCF growth. CAPEX has remained consistent and stable, and cash from operations has been growing at about the same rate as free cash flow. I don't know if we can expect a dividend in the future, but what we can expect is some extreme reinvestment in assets, and I expect this trend to continue as we see more top and bottom line growth.
Financial Metrics
I've already pointed out margins, so let's move to efficiency ratios.

This is one of the areas I'm slightly less impressed in than others, as historically speaking, the company's efficiency hasn't improved greatly. Here's what I will tell you though, in 2008, a year of historically high leverage, MD killed it on its efficiency ratios. Whether or not there's a direct correlation there is another question, but what is clear is that MD's efficiency ratios definitely have room for improvement. Peeking in 2008 and hitting rock-bottom in 2012, I like to think we're over the rough patch, but I can't say for sure.
I love how this stocks stacks up against its industry and sector, even against the market as a whole, take a look.

Compared to its competitors MD dominates in several key areas. It's forward revenue and EPS growth is explosive, much higher than that of its industry, and particularly the Healthcare sector as a whole. MD's return on assets and return on invested capital remain strong, but return on equity is about comparable with the industry.
Valuation
This is where I think that MD gets interesting. I'm not drooling over MD's valuation by any means, in fact I think its pretty average, but the very fact that MD can maintain a modest valuation with great growth and awesome margins is simply outstanding to me, this thing isn't that overvalued, if at all. Let's dive into the specifics.
Historically speaking, MD is about at where we'd expect looking at the 5 year median values. The growth aspect of the stock hasn't changed a lot, margins has stayed consistent, and for the most part, so has its historical multiples. Here's a closer look at some multiples.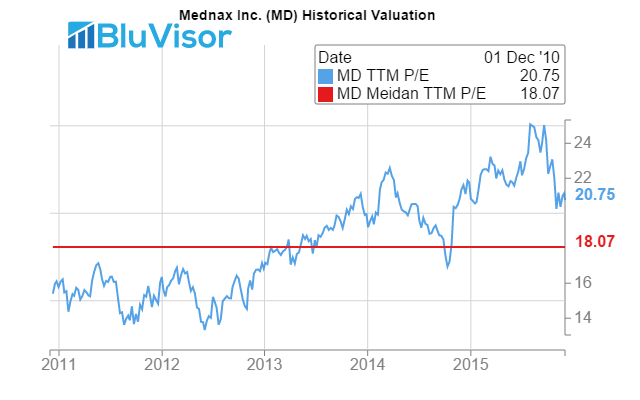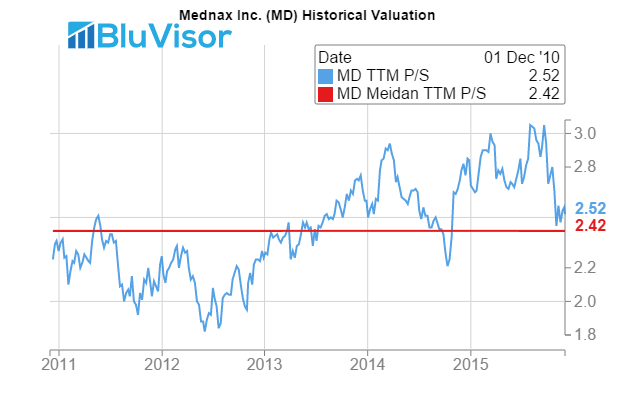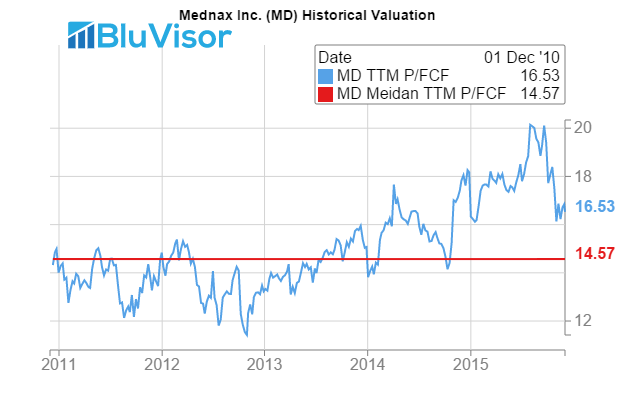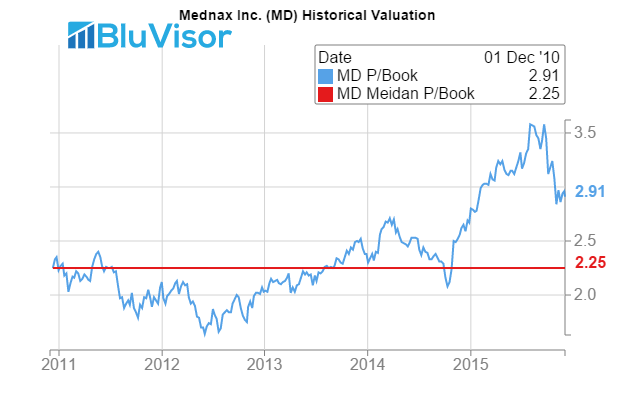 Relative valuation is pretty similar to historical valuation, modest, expected, and average.

On a Price/Sales and EV/Revenue basis, MD clearly looks overvalued, but that's expected when your EBITDA margin is 7% higher than the industry average, and your EPS and Revenue growth are each in the double digits. For the most part there isn't anything to be surprised about in MD's valuation, it's about what I'd expect of a company growing at half the rate of MD's. Overall I'm extremely pleased with MD's valuation.
Conclusion
I love this stock. The combination of strong fundamentals, growing financials, great expectations, and a modest valuation add up to an interesting company. I think there is more to know about the company, the industry, and its competitors before I personally would jump into a position, but hopefully this article acted as a great primer to a new idea. This company isn't perfect, it isn't going to be the next great American stock, and it certainly won't triple overnight, but that's exactly why I love it. This company grows, this company expands, this company makes money, and this company is modestly valued on a historical and relative basis. MD doesn't have celebrity status and isn't going to change the world. This company isn't on the world's doorstep ready to bring about a healthcare revolution, but what this company does do is make progress. It grows, it expands, and it multiplies. It has done so historically and it will do so again, and if that isn't beauty of business in its simplest form, well then I truly don't know what is.
If you enjoyed this article, please check out my website, BluVisor.com, I would love some feedback. Follow me on Twitter @SamuelRystrom, where I tweet articles, interesting charts, screens, and ideas.
Disclosure: I/we have no positions in any stocks mentioned, and no plans to initiate any positions within the next 72 hours.