This Tuesday, June 9th, the Energy Information Administration (NYSEMKT:EIA) - the branch of the U.S. Department of Energy (DOE) responsible for providing energy statistics - is likely to significantly increase its estimate of U.S. crude oil production for 2015 and 2016.
While the magnitude of this increase is not yet known, an increase of 150,000-200,000 barrels/day is possible. The International Energy Administration (NASDAQ:IEA) is likely to announce a similar increase later in the week.
These revisions directly contradict EIA's earlier view that production in major U.S. tight oil plays would decline rapidly in May, with the potential to drop by as much as 400,000 barrels/day by September. Instead, estimated May production could be raised to as much as 9.5-9.6 million barrels/day, surpassing the previous all-time record for U.S. production
This shift, coming on the heels of OPEC's decision Friday not to curb output, could significantly affect oil prices.
It also underscores the need for EIA and IEA to re-examine the methodologies used to estimate U.S. production, and for Congress to provide more funding to EIA to enable it to expand the limited resources currently available to the Agency in preparing its estimates.
EIA's production estimates can have a major impact on oil prices, the U.S. and global stock markets, and interest rates set by the U.S. Federal Reserve Board and monetary authorities around the globe. It is critical that EIA get this metric right.
Previous EIA Crude Oil Production Estimates Considerably Off the Mark
Despite massive oversupply, oil prices have rebounded strongly since mid-May. During the period from March 18th through May 6th, the price for front-month NYMEX crude exploded, rising $20.55/barrel, from $42.03 to $62.58 - a 49% gain. While prices have pulled back slightly, even after OPEC's announcement last week, front-month crude traded as high as $59.23/barrel - close to previous highs.
EIA's estimates have played a major role in driving prices higher. While many factors have contributed to the rise in oil prices, one of the most important has been EIA's claim that U.S. production would start to plummet in May. EIA first made this assertion in its April Drilling Productivity Report (DPR) - the main tool EIA relies upon to (NYSE:I) analyze recent trends in U.S. production and (ii) develop its projections for the month in which the DPR is issued and the following month. Previous EIA reports had claimed that growth in U.S. production would slow dramatically this spring. The April DPR, however, took a much stronger position, claiming that aggregate production from the four largest tight oil plays (Bakken, Eagle Ford, Permian Basin and Niobrara) would nose-dive in May, declining 59,000 barrels/day.
Prior to the release of this estimate, front-month NYMEX crude had been trading just above $50.00/barrel - only $2.00-$3.00/barrel above its March average.
The release of the April DPR, however, triggered an immediate rally, helping to quickly push front-month NYMEX crude to the upper $50s. EIA's May DPR further inflamed bulls, predicting that production in the major tight oil plays - the primary growth engine for U.S. production - would drop by an additional 86,000 barrels/day in June, reducing U.S. production by a total of 145,000 barrels/day between the end of April and June.
Further, the day after the issuance of the May DPR, in its May Short-Term Energy Outlook (STEO) EIA sliced its estimate of 2015 and 2016 U.S. crude production even more sharply. The May STEO estimated that production would peak in April of 2015 at 9.36 million barrels/day and then start to rapidly decline, falling to just 8.97 million barrels/day by September - a decline of nearly 400,000 barrels/day. EIA further estimated that, even during the first nine months of 2016, U.S. production would average just 9.1 million barrels/day, not returning to April 2015 levels until November.
This assessment, by the federal agency responsible for estimating U.S. production, has played an important role in keeping oil prices near $60.00 for more than a month. EIA's estimates have been heavily relied upon by many Wall Street analysts, as well as by the IEA and OPEC. Not surprisingly, more than half of the increase since March has occurred after release of the April DPR.
EIA's production figures appear to have seriously understated U.S. oil production since 2015 began - potentially by as much as 200,000 barrels/day - masking the extent of the excess supply in the U.S. market. Over the past ten days, however, it has become clear that EIA has severely underestimated U.S. oil production since the first of this year, raising serious questions regarding EIA's recent estimates of future production.
The first sign that EIA's assessment might be far off the mark occurred on May 28th, when EIA issued its Weekly Petroleum Status Report for the week ending May 22nd. In its May 28th Report, EIA abruptly raised its estimate of weekly production, reporting that production in the Lower 48 states had increased by 209,000 barrels/day between the week ending May 15th and the week ending May 22nd - the largest one-week increase ever reported by EIA not attributable to restoration of production after a major hurricane in the Gulf.
EIA's Lower 48 state production figure for the week ending May 29th was identical to production during the week ending May 22nd - confirming that the previous week's figure was not an anomaly. Coupled with a 20,000 barrel/day week-over-week increase in Alaskan production, the effect was to raise EIA's estimate of total U.S. crude production to 9.58 million barrels/day - a new all-time U.S. record.
Weekly U.S. Crude Oil Production vs EIA STEO Projections (mmbbs/d), July 2014-December 2015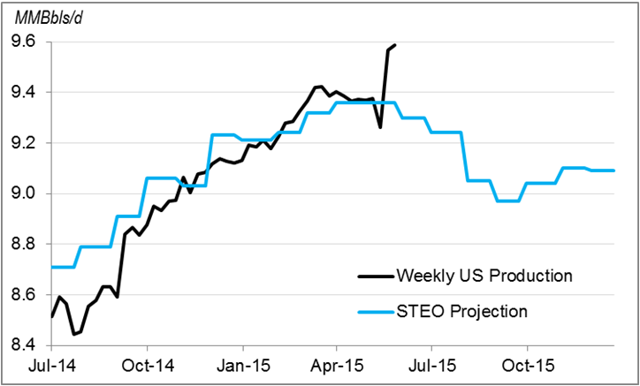 Source: EBW Analytics Group, Bloomberg
This startling increase has generally been ignored by most Wall Street analysts and the trade press, who have focused instead on the summary data presented by EIA in a short (four-paragraph long) "Summary of Highlights" published in conjunction with the Weekly Petroleum Status Report. EIA's Summary does not include data on weekly production, which can only be found by reading the full Report.
The huge jump in estimated weekly production announced on May 28th and reaffirmed this past week, however, is nearly certain to presage major upward revisions to EIA's production estimates for the first five months of this year and the remainder of 2015. Its 2016 estimate is likely to be increased significantly as well.
EIA needs to explain its methodology and sources of data more clearly. The specific methodology and sources of data used to develop production estimates in the Weekly Petroleum Status Report and STEO remain opaque - a notable exception to EIA's policy of trying to provide transparency regarding the basis for its estimates. It is clear, though, that the short-term analysis in the DPR influences EIA's projections.
Further, while not widely known, the current-week estimates presented in the Weekly Petroleum Status Report had not been based upon actual data for production during the seven-day period covered by the Report - in part because there is no source available for this data.
Instead, the limited documentation EIA provides regarding the basis for its weekly estimates makes clear that its weekly figures are developed by applying the same methodology used to develop the medium-term projections in the STEO.
In effect, therefore, the weekly estimates provide a preview of the next STEO.
EIA's estimates of past and future production is nearly certain to be revised - most likely on June 9th, when it issues its June STEO. It is conceivable, given the unprecedented increase in EIA's weekly estimates of U.S. production in the past two weeks, that EIA will wait another month before it adjusts the production estimates in the STEO to reflect its recalibration of U.S. production over the past ten days. If this occurs, the full extent of EIA's revisions may not become clear until July.
The more likely scenario, however, is that EIA will adjust its estimates of 2015 and 2016 production in its next Short Term Energy Outlook - scheduled to be released on Tuesday. At a minimum, if this occurs, the same factors that caused EIA to increase its production estimates for the past two weeks by 209,000 barrels/day will force it to make a similar adjustment to estimated production in May. It also will be required to start with a much higher baseline for June - blowing out of the water the notion that U.S. production has fallen sharply from end-of- 2014 levels.
Estimates of both past and future production are likely to be significantly increased. Further, production estimates for the past few months and for the remainder of 2015 are likely to be raised significantly.
There is no way to know in advance precisely how EIA's recalibration will affect its production estimates for the first four months of this year or the remainder of 2015; instead, it will be necessary to wait until the new estimates are issued.
It is inconceivable, however, that U.S. production increased abruptly by 209,000 barrels/day during the week ending May 22nd and then suddenly froze at that level. Instead, a significant portion of the increase undoubtedly occurred prior to the week ending May 22nd, but has not yet been reflected in EIA's production figures for earlier periods. Further, the record production that apparently occurred in late May sets a new baseline for subsequent production, requiring EIA to adjust its estimates for the remainder of the year and for 2016.
Recent production outages in oil sands in western Canada, when U.S. refinery utilization is near seasonal peaks, have temporarily masked the impact of record U.S. production. EIA's disclosure that U.S. production is much higher than EIA has previously reported may temporarily confuse the market. If production is at record levels, why have U.S. crude inventories started to decline?
Three factors are involved:
1. Peak refinery utilization. With the peak summer driving season already underway, U.S. refineries are operating near maximum capacity, pushing refinery crude inputs to near record levels. Last week, for example, reported refinery utilization was 95.2% in the Midwest (PADD II) and 96.9% along the Gulf Coast (PADD III) - close to maximum sustainable levels. Refinery utilization of crude is near its maximum for the year.
2. Exceptionally high oil-sands production outages in western Canada. At the same time refinery utilization is peaking, a series of events affecting oil sands production have temporarily reduced Canadian crude oil imports into the U.S. by more than 500,000 barrels/day. These developments include: curtailments in field production due to the mud season in western Canada; (ii) huge wildfires that temporarily shut in more than 300,000 barrels/day of production; and (NASDAQ:III) a decision by a major refiner to accelerate maintenance on a larger upgrader from September to June.
3. Injections into the U.S. Strategic Petroleum Reserve. Finally, to test the strategic reserve system, the U.S. government has been injecting 5 million barrels of crude into the Strategic Petroleum Reserve in late May and June, reducing the amount of crude oil available for injection into commercial tanks by as much as 100,000 barrels/day in some weeks.
This combination of circumstances, like the sudden increase in estimated U.S. crude production reported by EIA two weeks ago, has been largely ignored by the market. It has major implications, however, for oil prices later this year.
The overlap in timing is critical. Canadian oil sands production often declines modestly in May and early June. The combination of massive wildfires over a huge area and injections into the Strategic Reserve, however, has reduced the amount of crude available for injection into commercial storage by as much as 350,000-450,000 barrels/day (2.45-3.15 million barrels/week) - far above typical levels - at a time when refinery crude inputs are near record levels.. Further, if this crude had been available, much of it would have been injected into storage in PADD II and PADD III - the core of the U.S. refinery system.
Notably, over the past six weeks, only 4.6 million barrels has been withdrawn from storage in PADD II (an average of 110,000 barrels/day) and 3.2 million barrels in PADD III (75,000 barrels/day).
These draws are well below seasonal norms.
Rather than declining modestly, however, if wild fires had not shut in massive amounts of oil production in western Canada, PADD II and PADD III crude oil inventories might well have built counter-seasonally every week. These builds - at a time when refinery utilization is near the peak for the year - would have left little doubt regarding the oversupply condition in the market, driving prices lower.
The recognition that U.S. production is significantly higher than previously expected, coupled with the prospect of Canadian production returning to normal levels soon, has ominous implications for oil prices this fall. With Canadian imports likely to reach record levels, and refinery utilization potentially declining by more than 1.0 million barrels/week, another round of very large crude inventory builds is nearly certain to occur this fall at a time when the amount of oil in storage is already at record levels. The likelihood of another major dip in prices is high.
Further, by the end of the year, U.S. production could start increasing again as a result of hedges put in place in May and early June that are prompting producers in the lowest-cost tight oil plays to ramp-up drilling and speed-up completion of wells previously deferred - delaying the rebalancing of the U.S. oil market until the middle of next year, if not longer.
Need to thoroughly re-evaluate EIA's methodology and sources of data. While there is no way to "replay the tape" and determine the path oil prices would have followed if EIA's production estimates has been more accurate, the apparent errors in EIA's estimates have almost certainly caused serious distortions in the market. Despite the best efforts of the staff of a severely under-funded Agency, traders have gained or lost hundreds of millions of dollars - or most likely billions of dollars - because of shifts in market prices driven by faulty assumptions. Major capital investments have also been made that may prove to be ill advised.
This can no longer be tolerated.
The shortcomings in EIA's methodology and the steps that need to be taken will be critiqued in detail in a subsequent report. Recommendations will also be made regarding actions EIA should take to improve the quality of its estimates.
For more information, please contact Andrew.Weissman@EBWAnalytics.com or visit www.ebwanalytics.com
With decades of energy market and regulatory experience, EBW AnalyticsGroup delivers fundamentals-based market analysis and penetrating critical trends in natural gas, oil, and electricity sectors. Led by Andy Weissman, our client-focused enterprise provides innovative solutions that bring measurable value in a rapidly changing marketplace.
Try our energy market analysis reports free: http://ebwanalytics.com/free-trial-all/
Disclosure: The author has no positions in any stocks mentioned, and no plans to initiate any positions within the next 72 hours.