Salt-cavern scrapes this week were quite bullish weather-adjusted and are driving market expectations for quite a low Producing Region (PR), and overall national, build.
Looking at salt scrapes in the PR over the past 3-4 years, gas week 4/19/12 was very tight against our PR temperature proxy - gas week 4/19 is the red boxes on this PR salt scrape/PR temp proxy scatter. So tight was 4/19 in the salt caverns, that the only scatter-plot neighbors gas week 4/19 found on this scatter, exactly every single one, were from Oct 2009. Back when salt caverns were struggling to keep from full and we were in congestion city in the Producing Region.
Back then the prompt future - cash spot spread looked like this. Oct 2009 in the yellow circle.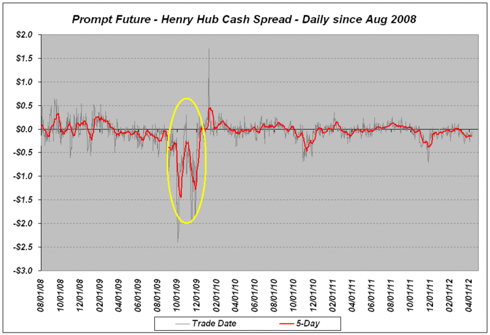 So - salt caverns are rejecting gas owing to spacing issues - e.g. Egan is some 92% full against 46% full this time last year, reflective of the vast majority of Producing-Region salt caverns. But we didn't get a cash signature in this past gas week that signaled the rejected gas being forced onto the market, as we did in Oct 2009.
So, one of two things happened
We very conveniently found the demand to clear the salt cavern rejections, all in a week with the some of the lowest notional producing-region demand this year. Dallas averaged 69F for 7-days through gas week 4/19, Houston 73.
Or, non-visible intrastate storage assets injected, like Clear Lake, which is pretty likely the only storage asset in the US Gas Economy with a huge YoY deficit.
I think we've got good risk for a Producing Region bearish surprise. I'm 37/7/4 East/Producing/West for a +48 Bcf Total.
Disclosure: I have no positions in any stocks mentioned, and no plans to initiate any positions within the next 72 hours.