The Euro was seen gaining traction against the US dollar, as the latter one got weakened against most major currencies. Some of the best performing currencies were the Aussie dollar and the British pound. The Euro buyers had more than one reason to take the shared currency higher. One of the main reasons was the bailout deal optimism of Greece. This is proving to be a game changer in the short term. The EURUSD pair spiked higher recently and even challenged the 1.1380 resistance area where the sellers somehow managed to stall the upside in EURUSD.
One more event, which affected the Euro was the speech from the fed chairwoman Janet Yellen. She was on the hawkish side, but the US dollar buyers were less impressed by the outcome, as the greenback was seen trading lower in the near term. The AUDUSD pair even gained momentum to surge by more than 100 pips.
There were a few releases lined up today, including the Italian Trade balance and the Spanish producer price index.
Italian Trade Balance
Earlier today, the Italian Trade Balance measuring the balance between exports and imports of total goods and services was released by the National Institute of Statistics. The outcome was not a positive one, as the Italian trade balance registered a trade deficit compared to the last time surplus of €5.235B. In terms of the yearly change, the trade balance showed a deficit of 234 million euro, compared with a same month of the preceding year.
Moreover, the Italian exports in seasonally-adjusted terms fell by around 2.4%, and Italian imports too dived by 0.4% in January 2015, compared with December 2014. This was definitely on the negative side, and somehow affected the Euro's momentum. The Euro fell by more than 20-30 pips after the release.
The Spanish Producer Price Index (PPI) measuring the change in the price of goods sold by manufacturers was also released, which registered a decline of 2.8%, which was a bit better than the last reading of -3.7%.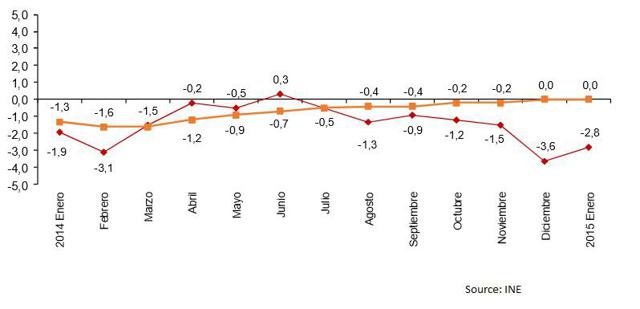 Technically, the EURUSD pair traded towards the 1.1380-1.1400 resistance area where the Euro buyers struggled to gain momentum. The pair is currently correcting lower, which can be considered as a buying opportunity. On the downside, initial support lies around 1.1320, followed by the 1.1300 area.