The Euro was one of the best performers against the US dollar, as it traded higher and cleared a critical resistance area around 1.0920. However, there is one more point to note, as the EURUSD pair struggled to clear the 1.10 level. We need to see how it trades in the near term, and whether it can break the 1.10 level or not moving ahead. The economic releases in the Euro area and the US might well play a critical role in the path of the EURUSD pair in the short term.
Today, during the London session, the German GfK Consumer Confidence, which is an important index measuring the level of consumer confidence in economic activity was published. The forecast was lined up for a minor increase from 9.7 to 9.8 in April 2015. The outcome was on the higher side, as the German GFK consumer confidence climbed by 0.3 points to 10. There were increases noted in both economic and income expectations as well as willingness to buy, as per the report published.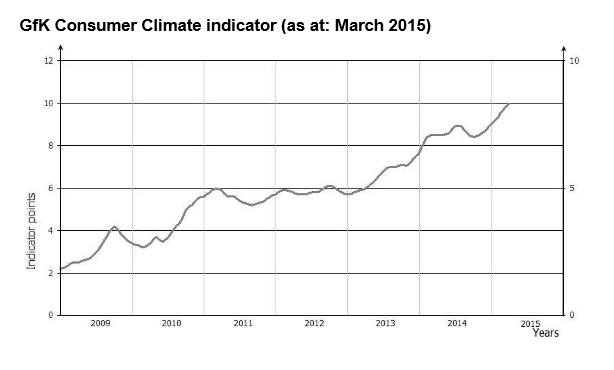 The report also highlighted that the tensions in Europe over the future of Greece made no impact and the consumer mood of Germans was far above the last time. Furthermore, the movement in economic expectations was also strong as the indicator managed to gain by more than 9 points to 36.8 points. This marks the fourth consecutive rise. There was a mention of the lower Euro, as it helped in improvement of the competitiveness of German exports outside the Euro zone.
Lastly, the income expectations also registered an increase and gained by 2.5 points to 53.1. This marks the third consecutive rise on an already extremely high level, according to the report.
US Initial Jobless Claims
In the US, the US Initial Jobless Claims will be released by the US Department of Labor for this week. The market is not expecting any major change in the jobless claims, and expects it to fall from 291K to 290K. Let us see how the outcome shapes up, as a major rise in the US initial jobless claims might put some pressure on the US dollar and could help the Euro moving ahead.
Technically, the EURUSD pair climbed above the 1.0900-20 hurdle and tested the 1.10 which acted as a barrier. In short, the pair is stuck in a range and waiting for a catalyst to break on either side.