by Jim Stanton, Technical & Quantitative Analyst, Smart Profits Report
One of the companies that hasn't yet reported its second quarter earnings is Massachusetts-based UniFirst Corp. (NYSE: UNF).
With its subsidiaries, UniFirst designs and manufactures workplace uniforms and protective work wear clothing.
With quarterly earnings due out before the opening bell on Wednesday, let's see how the stock is trading up to the announcement…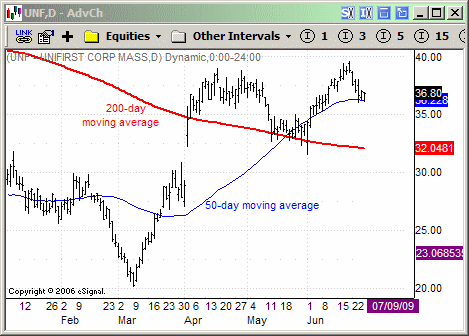 As the stock rebounded off the March lows, it gave a daily buy signal, but has yet to reach its minimum upside target around $40.90 and possibly as high as $41.85.
Importantly, the 50-day moving average has crossed above the 200-day moving average, which is normally a bullish sign.
Having reached a high of about $39.60 a week ago, the stock has pulled back to test the 50-day moving average over the past few days. From here, shares could move up, but the earnings announcement adds some uncertainty into the mix.
If Earnings Are Worse Than Expected: In this case, the stock could drop down to test the $32-33 area, which it did back in early June. At this point, it would set up a great, low-risk buying opportunity.
If Earnings Are Better Than Expected: We could see a rapid-fire move up to around $41.
Jim Stanton

Disclosure: No positions