by Lee Lowell, Futures Options & Commodities Specialist, Smart Profits Report and Editor of Triple-Zone Profit Trader
At any one time, there are about two-dozen commodities available for you to trade. But within that group, only about a dozen of them are truly worthy of your time and effort.
I say that not because I prefer any one market over another, but because factors like liquidity, volume, tight bid and ask prices, and ease of trading are all very important. So we focus on the markets that have broad appeal, plus plenty of action, giving you confidence that you won't be stuck with a position that is difficult to unwind.
That includes the energy commodities, metals, grains, and occasionally the "soft" commodities. These four segments traditionally offer the best bang for your buck in terms of activity and the chances of success. So let's get to the biggest one…
From $0.40 A Day To $3: The Oil Market's Volatile Progression
When it comes to commodities, the energy market is definitely the leader of the pack.
When I was a market maker on the floor of the NYMEX (where energy futures and options trade), we'd be lucky if we had an intraday range of $0.40 per barrel. Today, though, you can almost count on the oil market seeing intraday swings of over $3 per barrel. If you're looking for excitement, look no further than the oil market!
For example, it's almost a year now since oil set its record high near $150 a barrel. But earlier this year, it plunged all the way down to $32 - an incredible range that equates to a swing of almost $120,000 in equity).
In recent columns, I've commented that the energy markets have found their footing and embarked on an upside breakout. We pegged the $60, $65 and $70 per barrel levels as target areas for the oil market - and it certainly hasn't disappointed.
At the moment, the front-month futures contract (August 2009) is hovering near the $69 per barrel level, having touched a high of $73.90 just two weeks ago. That move came from a low of $66.37 per barrel last week, but when word spread of the unrest in Nigeria, it rallied up to its current price.
As you can see on the chart below, the 50-day and 200-day moving averages converge around the $63 per barrel level. And that's the support point for any meaningful pullback - and the ideal place to initiate new bullish trades.
However, there's no guarantee that oil will pull back that far, as $80 is certainly the next target area for many traders.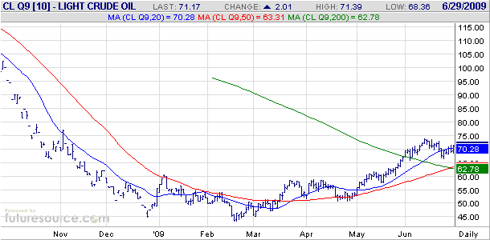 If you're considering playing the oil market, check out United States Oil (NYSE: USO), the popular and widely traded ETF that tracks the price of oil. Even better… you can trade it like a stock from a regular stock brokerage account. It's an easier and cheaper alternative to futures and futures options area, while still profiting from the same moves as the underlying oil market.
Status Quo For Natural Gas… But These Three Factors Could Push It Higher
Also located at the NYMEX is the natural gas market.
Over the past year or so, it's provided some of the most manic trading days in the history of the exchange.
Like oil, it also reached fantastic heights last summer when it bumped up to $12.000 per MMB/tu, only to then sink to its low of $3.500 per MMB/tu this past spring. That move encompassed an $85,000 swing on just one contract alone.
We're still waiting patiently for natural gas to move back up. Over the past couple of months, it's given it a shot, occasionally breaking out to the upside, only to get knocked back down again in the following days.
As far as chart patterns go, the natural gas market seems to be basing between the $3.500 and $4.500 per MMB/tu level. But until it works through the large supply of underground storage that has built up over the past year, we could continue to see the market stay in this range.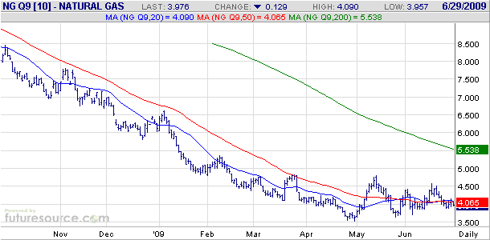 However, it's only a matter of time before the supplies start to diminish. And there's a chance for huge upside potential, given these bullish factors…
Natural gas drilling companies are pulling back on their manpower.
There's more demand for air conditioning in the summer months.
The threat of hurricanes ripping through the Gulf of Mexico.
Like the oil market, there's an equivalent ETF for natural gas - United States Natural Gas (NYSE: UNG)
This Commodity Is Ripe For A Speculative Trade
Lastly, I want to cover the orange juice market, which is shaping up for a potentially lucrative seasonal trade.
When I wrote about OJ in early March, I noted that it was getting down to long-term historical low levels that could offer some great potential buying opportunities.
Since then, the market hasn't disappointed. As you can see on the chart, it bottomed out immediately and went on a 2,700-point run (a $4,050 move). But like many other commodities, orange juice has fallen back down into those historical low levels.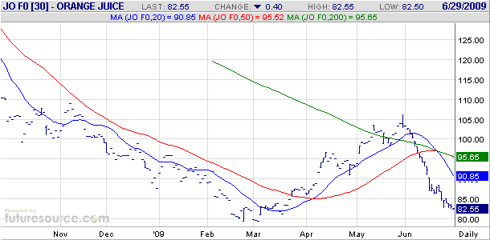 At this point, a bullish speculative trade is warranted, as the risk-to-reward ratio is small. And now that we're into hurricane season in the southeast, it could drum up huge upside interest if there are any potential threats to the orange crop there.
Here's a guideline…
Look to purchase OJ call options that trade on the NYBOT/ICE exchange for the January 2010 option expiration period. January 2010 OJ futures (the underlying contract for the option trade) are currently priced around 83 cents per pound.
With that in mind, consider the 85 cent calls or higher, which can cost up to $1,500 per contract, depending on where the market is at the time.
Good trading.
Lee Lowell
Editor, Triple-Zone Profit Trader

Disclosure: No positions