Monday, June 22, 2009
by Jim Stanton, Technical & Quantitative Analyst and Editor of The 1-2-3 Trader
When oil prices moved over $30 a barrel in the mid 1980s, it was considered a significant event.
It also signaled the birth of small ethanol companies in the Midwest. Many of them managed to hang around long enough to get a second wind when Iraq's invasion of Kuwait and the ensuing Gulf War pushed oil prices pushed past $40.
But the renewed interest in ethanol proved to be short-lived, as oil retreated back below $20 a barrel just four months later. As a result, many of those smaller ethanol companies within the alternative energy market couldn't survive.
Flash forward to today, where we've seen crude oil prices double in just the past four months. Worldwide oil demand has soared, particularly from fast-growing countries like China and India, and although the global downturn has seen the pace of demand slow, the global economy gets back on track, it should prove even more bullish for oil.
But there's another sector that should rise, too…
Viable Alternative Energies: The Clean Energy Tracker
With oil prices rising again recently, it's sparked yet another conversation about the viability of certain alternative energies.
One ETF that tracks the performance of clean energy firms is the PowerShares WilderHill Clean Energy (NYSE: PBW) - a widely traded vehicle that gives you exposure to this still-growing sector in a safer way than investing in individual companies.
While firms like Exxon Mobil (NYSE: XOM) rake in billions of dollars per quarter from oil, PBW invests almost entirely in experimental, technology-focused "green" companies. And while these guys stand to benefit from higher oil prices just like specific oil companies, their success depends more on regulatory changes, subsidies and a global recognition of the need for alternative energy solutions.
The Government Is Helping… But This Industry Still Faces A Battle
When it comes to the alternative energy market, wind, solar, hydroelectric, geothermal, and nuclear power have all received attention over the past couple of years.
But when the oil market first began its march towards record high prices, it was the ethanol industry that took center stage and triggered the wider debate over cleaner energy resources.
However, the ethanol market faces a battle. Despite the government's intervention and subsidies for the industry, newer technologies are needed in order to make ethanol more viable - and the industry's companies profitable. A good example is Pacific Ethanol (NASDAQ: PEIX) - a company that Bill Gates invested heavily in a few years ago, paying $12 a share. Today, the stock trades for just 40 cents.
Below is a daily chart of PowerShares WilderHill Clean Energy (NYSE: PBW), which is currently at a critical juncture.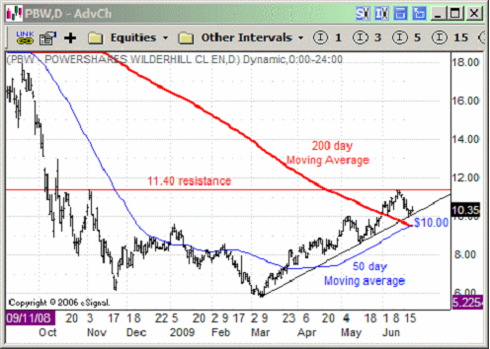 Three Scenarios For The Clean Energy Fund
As you can see, when the stock market bottomed out in March and oil prices retested their lows, PBW did the same.
Since then, however, PBW has doubled off those lows to the June 10 high of $11.37. This is right around the swing high of $11.40 that it tested back in November before it pulled back to the trendline drawn off the March lows.
In addition, the 50-day and 200-day moving averages are very close to crossing one another - a development that sometimes indicates a short-term top.
So what we have here is a relatively clear-cut conclusion…
A close above $11.40 would be bullish and should lead to higher prices.
However, a close below the trendline, currently around $10, would be bearish over the short-term.
A close or two below the 50-day and 200-day moving averages, which are currently around $9.50, could lead to a move down to $8 or lower.
Jim Stanton
Editor, The 1-2-3 Trader

Disclosure: No positions