Hewlett-Packard Company is now officially split into HP Inc. (NYSE:HPQ) and HP Enterprises (NYSE:HPE). The rationale is to separate the growing servers, storage, networking, and consulting business from ailing PCs and printers business to create value for the shareholders, and let the two companies focus on their core businesses. Although HPQ is comparatively a larger company with a revenue base of $52.7 billion last year, it is going through a very rough patch as the slump in PC market is squeezing the revenue stream. The investors' confidence is weak because printers business is also very challenging and sales are likely to remain under pressure before the PCs and printers market stabilizes.
The company recently released the fourth quarter 2015 results missing the estimates and shares plunged. HPQ is down 13% over the past one month, and it is trading at very low valuation multiple, perhaps due to growth uncertainty attached to the PCs and Printers businesses. However, HPQ still has some positive factors that could help to improve the investors sentiment going forward. The fully focused management, a new strategy to target the tablets market, hefty dividend yield, and strong balance sheet suggests that the long-term shareholders would reap the benefits.
Change Is For Better Future
HPQ earns approximately 80% of its total profit from printers, which is the very challenging business right now. The industry-wide printers and supplies sales are weak, and management expects the trend to prevail for now.

Source: HPQ Presentation
That said, HPQ needs to change the strategy to improve the profitability mix. In this regard, the company will now focus on high-end premium devices to generate higher profit per device rather than depending on higher volumes. Ron Coughlin, president for personal systems said;
"We are going to focus where there is profitability and growth and will not chase the low-end tablet market. We are focusing on business mobility to deliver tablets built for field service, education, retail, and healthcare."
The overall tablet sales declined for the fourth straight quarter with 48.7 million units shipped during the third quarter 2015, down 12.6% year-over-year. It seems that consumers interest for tablet computing is fading away, and there are a couple of good reasons for that. First, the smartphones are now powerful and big enough to carry out the tasks tablets were supposed to do. Secondly, the concept of tablets is not very popular in the emerging markets as it is in the developed markets, not to forget that emerging markets are significant growth drivers. Thirdly, the Android OS in tablets is good enough for the on-the-go tasks, but it cannot replace the Windows OS for complex productivity and multitasking. IDC expects that Windows based detachable & convertibles will slowly take market share from Android-powered tablets, and Windows 10 will play an important role. Strategy Analytics expects the popularity of Windows tablets will grow rapidly and estimates that they will account for 18% of the market in 2019. In this scenario, HPQ's shift in strategy makes sense and it would help the company to accelerate profit margin gains.
Detachable tablets hold just a single-digit market currently, but its market share will increase dramatically over the next several couple of years. HPQ's tablets market share is pretty small, but this shift would be an ideal opportunity for the company to push hard its high-end products like the Spectre x2 and Spectre x360 to penetrate the market.
No doubt, the competition in the high-end category is tough and it is hard to compete with Microsoft's (NASDAQ:MSFT) Surface Pro 4 and Apple's (NASDAQ:AAPL) iPad Pro. To better compete, HPQ launched Elite x2, a high-end tablet with a kickstand and a detachable keyboard. Moreover, it will come with pen support using a Wacom pen with 2,048 pressure levels, which is twice the pressure sensitivity of the Surface Pro 4 and iPad Pro. The Elite X2 will be available in three Intel Core M chipsets and easily replaceable screen, making it competitive to Surface Pro 4. Moreover, comparatively affordable price tag and lots of added advantages would help HPQ to strengthen its footings in the high-end detachable tablets category.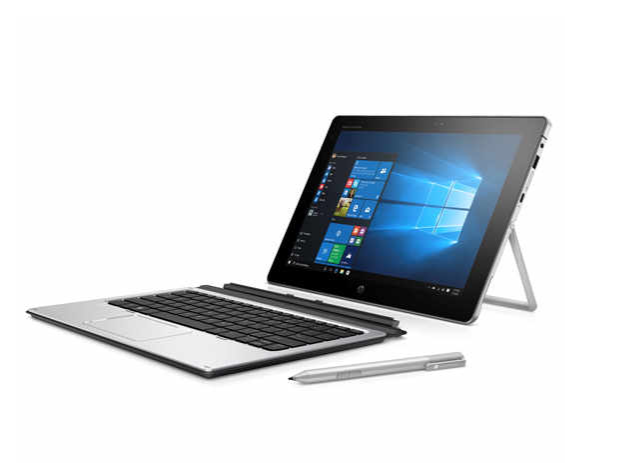 Source: HPQ
What Else
Besides shifting its core business strategy to boost the profit margins, HPQ is exploring new opportunities to expand beyond its existing business. In this regard, the company is set to bring its virtual reality display into the healthcare industry. In collaboration with medical software upstart EchoPixel, HPQ is looking to introduce its Zvr machine in the medical field with a 23.6-inch display connected with four cameras, called the True 3D to the healthcare system. Currently, virtual reality in the healthcare industry is at its early stage, but the adaptation is likely to increase as further innovation allows breakthrough diagnose and effective treatment of diseases. The overall virtual reality market is expected to reach $15.89 billion by 2020, depicting a five-year CAGR of 63.2%. Thus, tapping the high-growth virtual reality business would expand HPQ's wings and strengthen its profitability.
HPQ's low-end PC business is largely intact, and the company is still offering affordable Chromebooks to keep up with consumers preferences. HPQ is exiting low-end tablets, but the company will stick to growing Chromebook market. According to Futuresource Consulting report, Chromebooks now make up more than 50% of all devices in the U.S. classrooms, up from less than 1% in 2012. As the Google, a subsidiary of Alphabet (NASDAQ:GOOG) (NASDAQ:GOOGL), continues to optimize the Chrome OS, the demand for Chromebooks is likely to increase in the coming years. With the availability of more productivity and classroom apps, the Chromebook sales will reach 7.5 million this year and 11 million by 2019. Thus, sticking to growing Chromebooks market with its HP Chromebook 11 and HP Chromebook 14 would help the company to generate healthy cash flows.
Final Thoughts
HPQ generated $52.7 billion in revenue and EBT of $4.9 billion for the fiscal year 2015. The fourth quarter 2015 results showed some stabilizing performance and personal system segment revenue increased 3% quarter-over-quarter while operating margin also inched up. The PC market is stabilizing, and HPQ has gained some market share during the third quarter. HPQ, the second largest PC company, witnessed its market share growing to 18.5% from 17.8% same quarter last year. It is also evident from the fact that 50% of consumers intend to buy a PC in the next twelve months, and that bodes well for HPQ.
HPQ estimates earnings per share of $1.59 - $1.69 for the fiscal year 2016 and $0.33 - $0.38 for the first quarter. Thus, the stock is trading at very low forward PE of 7.30x, significantly less than the industry average of 12.8x. On the other hand, the stock is offering a hefty dividend yield of 5.79%. HPQ is a cash generating machine with expected FCF of $2.4 billion - $2.7 billion for the ongoing fiscal year, which would ensure the secure dividends. In addition to that, the stock has an upside potential of approximately 22% at an average target price of $15. That said, HPQ is still an attractive stock to buy.
Disclosure: I/we have no positions in any stocks mentioned, and no plans to initiate any positions within the next 72 hours.
I wrote this article myself, and it expresses my own opinions. I am not receiving compensation for it (other than from Seeking Alpha). I have no business relationship with any company whose stock is mentioned in this article.