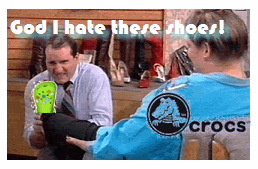 Crocs Inc. (NASDAQ:CROX) maker of the ultimate nurse and soccer mom shoe has seen its shares come back from the dead in the last month jumping from just over $1 a share to $3.75 then stepping back to the low $2 range. If there's anyone one lesson for CROX shareholders, Al Bundy provides words of wisdom with this quote -- May the shoe-business take you all!
Crocs Inc. shares were on a tear up until the May 7th earnings call, that's when Croxy posted a deeper net loss on a 32% drop in revenue, even as the shoe maker cut inventory and costs. Since that wonderful earnings call Crocs shares have dropped 40% and volume has returned to the usual 3 million shares traded daily.
The company reported a Q1 net loss of $22.4 million, or 27 cents per share, compared with a net loss of $4.5 million, or 5 cents per share, a year earlier. Excluding a foreign currency exchange loss, the loss was 23 cents per share, Crocs said.

"Our intention in 2009 is to preserve the strength of the Crocs brand while endeavoring to strike a balance between lowering our fixed cost base and responsibly reducing our inventory," said recently named Chief Executive John Duerden. How about just getting people to buy your shoes instead of the knock-offs you can find any local grocery store or gas station.

Revenue fell 32% in the quarter to $134.9 million, above the $114.4 million expected by Wall Street. For the second quarter, Crocs estimated a loss per share of 15 cents to 31 cents. However the big kicker was when Crocs Inc. said it would not provide annual guidance due to uncertainties from the downturn.
Gentlemen, place your bets. At this point, buying Crocs is putting a leap of faith into their management team, and new CEO John Duerden (since Feb 2009) President and COO at Reebok from 1990-1995, and more recently was the founder and owner of the Chrysallis Group, a consulting group focused on the development and renewal of brands. Wedbush Morgan thinks he could use his experience with re-building brands to re-ignite to Crocs' brand.

Although, Wedbush expects Crocs to exceed the analyst consensus view and is impressed with the CEO, it is still cautious on Crocs and recommends that investors avoid shares of CROX given the significant uncertainties related to the company's business.
Wedbush said some of these risks include:

* inability to adapt to changes in tastes and create new styles that appeal to consumers
* inability to continue to successfully expand into international markets
* inability to protect intellectual property, especially nature of croslite material
* consumer weakness due to macroeconomic factors.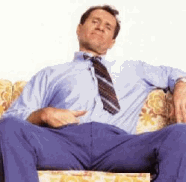 Fellow Masters, no 2009 guidance, sliding retail sales, Crocks Knock-Offs, and volatile CROX trading -- only Al Bundy can guide this company and Crocs shareholders.
Al....?
It's only a game if you win but if you lose it's, a stinking waste of time.
Disclaimer: No positions in CROX.