The top insider purchase on our weekly Top 25 buy list was 282,403 shares of kidney care provider DaVita, Inc. (NYSE:DVA) by Berkshire Hathaway Inc. (BRK.A, BRK.B). The shares were purchased on 9/26, 9/27, and 9/28 and reported on 10/1. With these purchases Berkshire raised their ownership to 10.8%.
Here's the full report: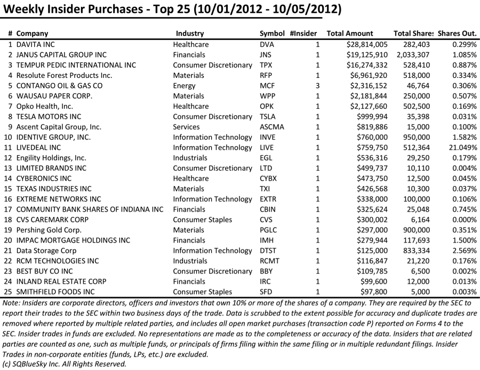 Also, here's the same data sorted by sector: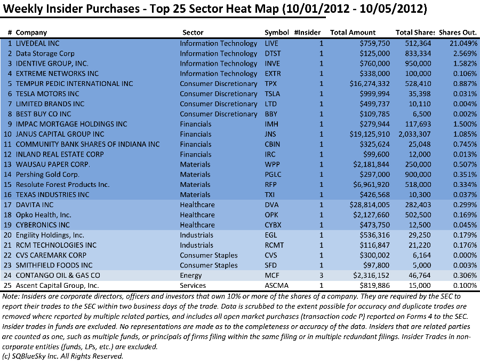 Disclosure: I have no positions in any stocks mentioned, and no plans to initiate any positions within the next 72 hours. I wrote this article myself, and it expresses my own opinions. I am not receiving compensation for it (other than from Seeking Alpha). I have no business relationship with any company whose stock is mentioned in this article.
Additional disclosure: SQBlueSky is a financial information and solutions provider. SQBlueSky is not a registered investment advisor and does not provide specific investment advice. The information contained herein is for informational and recreational purposes only, and is meant to serve as an example of the analysis that can be done with SQBlueSky data and tools. Nothing in this article should be taken as a solicitation to purchase or sell securities. Before buying or selling any stock you should do your own research and reach your own conclusion. It is up to investors to make the correct decision after necessary research. The information and data is provided as is and is believed to be accurate, but no guarantees or representations are made as to the accuracy or completeness of the data. The article has been written entirely by editors at SQBlueSky and the firm or its employees are not receiving compensation for it (other than any that may be received from Seeking Alpha). The company does not have any business relationship with any firm whose stock is mentioned in this article.