Our favorite commentary about the Netflix stock is from Todd Juenger at Bernstein: "A wise investor once remarked to us: 'If Jesus were a stock, he'd be Netflix'. You either believe or you don't." The believers pushed the stock, which has a negative free cash flow and a P/E multiple over 200, up more than 10% in the after hour trading after an EPS miss.
The reason is that many investors seem to only care about the number of subscribers, which rushed the expectation (WSJ, paywall). The rationale behind this conviction is simple: companies enjoy the economy of scale. And that is especially true for internet companies. For example, the cost for Google to serve 200 million search customers and the cost to serve 400 million customers are not that different, but such as an increase in users could nearly double the revenue. Believers in NFLX also assume that's the case for the Netflix: the costs of making original content are high, but if Netflix could one day attract a large number of users without incurring huge costs, then Netflix will become cash-making machine like Google, Microsoft or Bloomberg.
This is a nice vision. And if it really happens, we could see NFLX at $300 or more (based on a quick calculation, not a model, so don't interpret this as a bull case price target). However, we do not see any evidence to sustain this outlook in the Q2 numbers. Behind the huge subscriber addition, the cost of revenues also increased dramatically.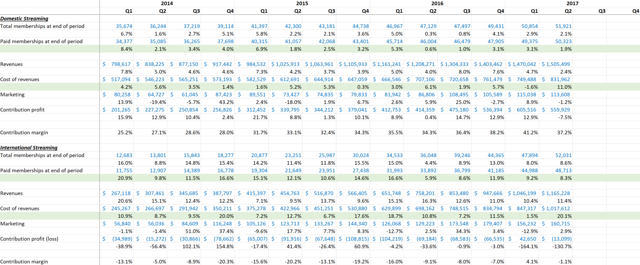 In the second quarter of 2017, the number of paid U.S. subscribers increased by 1.9%, and cost of revenues (mostly content cost) increased by 11%; the number of paid international subscribers increased by 8.3%, and the cost of revenues increased by 20.1%. Netflix had three consecutive quarters of revenue > cost of revenues, but it ended in 2017Q2.
And we don't see this rise in cost ending any time soon. Especially during the phase of rapid international expansion. Many countries are non-English speaking, but most Netflix original content are in English. The company can't be serious competitors in non-English speaking markets if it just provides subtitles to its English-language shows. If Netflix needs to make original shows for each language, then the cost for attracting and keeping new subscribers in those markets could be high. (Just look at the U.S. revenue vs. cost of revenues growth rates.)
Furthermore, in the last two months, writers and actors of streaming shows reached tentative deals which include better pay. This can increase the cost even more at Netflix.
The bottom line is that subscribers are increasing, but cost of keeping the subscribers are increasing at a higher pace, and we don't see it slowing down anytime soon. This is not what a long investor wants to see.
Competition
A quick note on the competitive environment of Netflix.
Amazon Prime Video is a similar product as Netflix, but we can very easily see the two competitors coexist. The brand recognition and user habit could protect Netflix from Amazon in the near future. 
But we do see two potential competitions that are far more serious.
First, content makers. Most serious content makers, such as HBO, CBS, Showtime etc, are developing their own streaming service. These platforms don't just compete with Netflix directly, but content makers also have incentives to increase the prices of their content on Netflix.
Second, streaming television services. There are things you just have to watch live. Sports and news, for example. With the improvements of streaming only television (such as more stable platform, more user-friendly interface, and Cloud DVR), they can easily become new destinations for all-in-one entertainment. Three major players YouTube TV (with potential integration with YouTube), DirecTV Now (with HBO if the AT&T-Time Warner merger goes through), and Hulu TV (which includes an ad-free subscription of Hulu and is owned by ABC, NBC, Fox and Time Warner) are all working hard at improving their products. If they integrate their services well with their streaming television service, they could become very serious competitors of people's time spend on entertainment. (There is also a rumor that Amazon and Dish Network, owner of Sling TV, are working on something. If it is true, then big problem for Netflix.)
Risks
If you don't believe in NFLX, now is a good opportunity to initiate a short position as we believe the positive reaction to the 2017Q2 earnings are unfounded. 
However, Netflix has a very good product, an extremely well-established brand in its sector, and a very capable management team. These factors make it dangerous shorting the stock. So, proceed with caution. 
Disclosure: I/we have no positions in any stocks mentioned, but may initiate a short position in NFLX over the next 72 hours.