Contained in this report
A total of 6 fully disclosed automated long/short CHF trading systems
3 Momentum traders, 1 short, 1 intermediate and 1 long term.
3 Range traders, 1 short, 1 intermediate and 1 long term.
Objective; To diversify not only the markets I trade but the way I trade them.
2 January 2007 through 21 October 2016
$50,000, Start balance
$300,317, Cumulative net gain trading 62,500 CHF, no compounding of positions, withdrawing all profits annually.
-$10,287, Greatest net drawdown from highest high to lowest low marked to the market daily prior to recovery.
+172.37%, $86,185 Best year 2011
-10.79%, -$5,396 Worst year 2014
+60.82%, $30,412 Average 2007-2016
+73.10%, $36,548 2015
+48.92% $24,458 2016
Monthly performance

Links to full disclosure of the 6 trading methodologies.
I've included all supporting historical price data, every order generated 2007-2016, every trade entry, offset, gain or loss enabling you to verify past performance and monitor trades moving forward.
Momentum traders
1 Short term CHF01T
1 intermediate CHF02T
1 longer term CHF03T
Range traders
1 short term CHF01R
1 intermediate CHF02R
1 longer term CHF03R
2007-2016 price action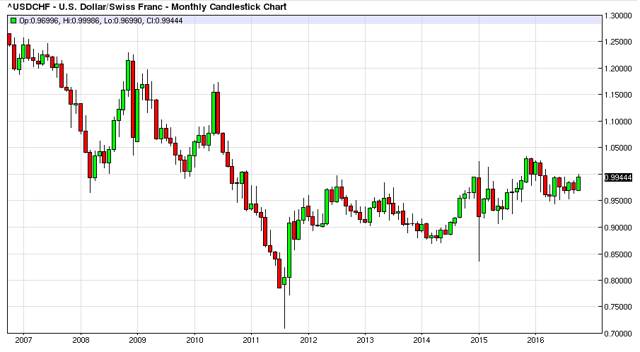 Why I trade multiple systems
I am an advocate of both diversifying the markets I trade and the way I trade each market.
I assume that I don't know what strategy will perform best over the next 12 months or at any point in the future.
I prepare for system failure and replacement in every market I trade.
By using a "basket" of momentum and range trade strategies I've increased my return on risk and smoothed out my overall equity curve for each market.
This study takes the daily "out of sample" performance for the 6 systems then ranks the 63 possible combinations by life of program reward on risk RR. (reward risk = life of program total net profit divided by maximum life of program drawdown)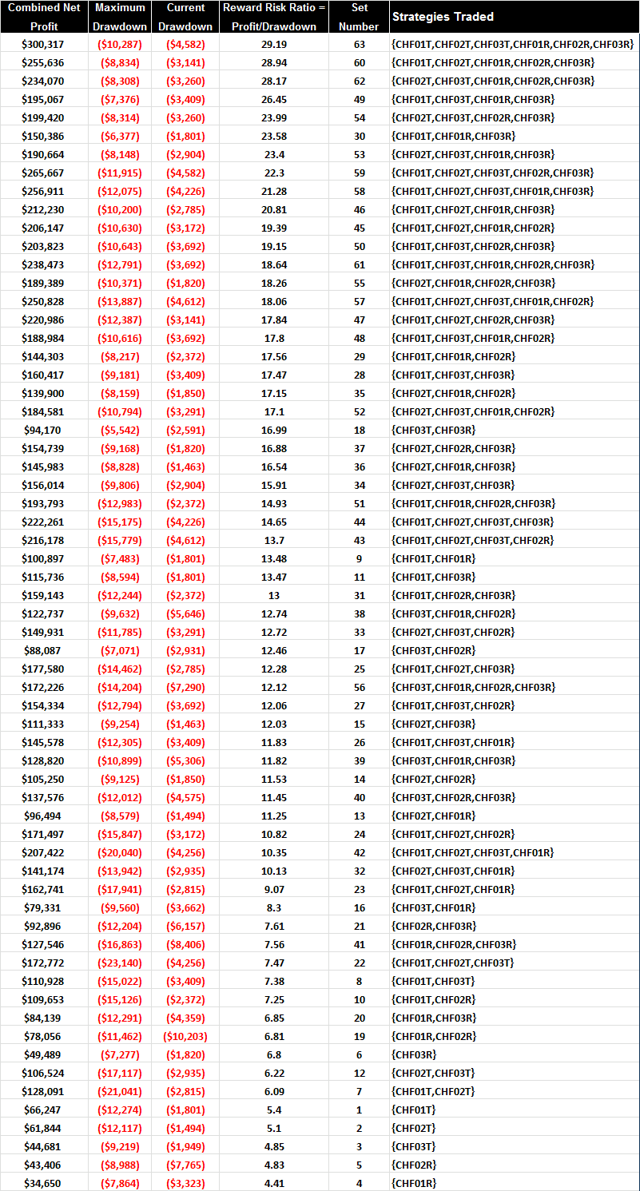 Each individual system's profit and drawdown are monitored mark to market daily. Should the maximum drawdown for a given system exceed the previous life of program drawdown by 30% the system is replaced with any of the 15 alternate systems I monitor for that market on deck.
The purpose of these reports is to motivate all of us to share solutions to the challenges of making money during the major market moves that will be generated by the current extreme fundamentals.
If interest is high enough and commentaries are objective and productive I'll expand my reports to International markets and additional trading programs.
More on automated trading programs
Disclosure
I've been a professional trader and run a family office in Tortola, British Virgin Islands for the past 20+ years, zero income, corporate and inheritance tax and would like to keep it that way. Because of the potential tax implications I do not manage US accounts or sell advisory services to US clients. I do however manage funds for a limited number of qualified non U.S. investors. I may at times for my own accounts or for the accounts I manage have positions on that could be contrary to the ones mentioned in my reports.