14 December 2021, Knight EMA Performance Update
Please Note: Blog posts are not selected, edited or screened by Seeking Alpha editors.
Summary
Position valuation.
Simplified trend qualification procedure.
Links to generate and track trades, 2000-2021 performance by market.
Creating your own allocation.
Setting up to monitor intra-day performance for any EMA allocation.
1) Position valuation spreadsheet, settlement 14 December 2021
Profit = net change on the day for that position
Total profit = total open trade equity for the position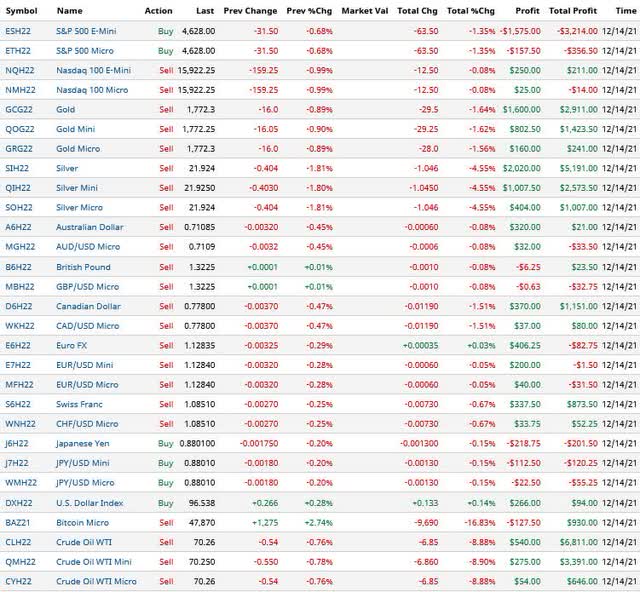 2) Position update 14 December 2021
NASDAQ short at 15,936
All other positions were maintained
Previous days are published on Barchart & Seeking Alpha
2000-2021 performance for top allocations posted here
3) Simplified Trend Qualification Procedure
Open the 2 month Barchart 3rd column below,
If the EMA9 is above EMA18 blue trade long.
If the EMA9 is below EMA18 blue trade short.
Use the EMA 4.5 green, EMA9 red and technical opinion for confirmation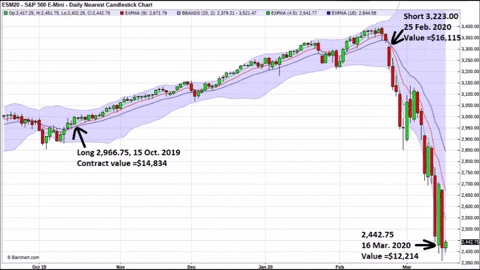 3) Links to generate trades
January 2000 - November 2021 performance by EMA market traded
Spreadsheets, all trades and data
CandleStick
Bar Chart
Opinion
Margin & Spec
Net Per Contract
Maximum Drawdown
Stock Indices
ES SP 500 Mini Contract
ES
ES
O
$11,500
$303,048
($12,882)
ET SP 500 Micro Contract
ET
ET
O
$1,150
$22,318
($2,594)
NQ Nasdaq 100
NQ
NQ
O
$17,000
$400,593
($20,668)
NQ Nasdaq 100 Micro
NM
NM
O
$1,700
$32,794
($3,104)
Metals
GC Gold 100 Ounces
GC
GC
O
$7,000
$365,890
($27,612)
GC Gold 50 Ounces
QO
QO
O
$3,750
$178,538
($13,962)
GC Gold 10 Ounces
GR
GR
O
$750
$35,708
($3,285)
SI Silver 5000 Ounces
SI
SI
O
$11,000
$534,676
($48,503)
QI Silver 2500 Ounces
QI
QI
O
$5,750
$263,243
($24,291)
SO Silver 1000 Ounces
SO
SO
O
$2,300
$100,384
($9,763)
Currencies
A6 100,000 AUD
A6
A6
O
$1,600
$190,274
($14,039)
MG 10,000 AUD
MG
MG
O
$160
$11,937
($1,966)
D6 100000 Canadian
D6
D6
O
$1,480
$109,559
($11,077)
S6 125,000 Swiss Franc
S6
S6
O
$3,300
$189,292
($13,333)
WN 12,500 Swiss Franc
WN
WN
O
$330
$17,947
($1,384)
E6 125,000 Euro Dollars
E6
E6
O
$2,200
$291,652
($19,570)
E7 62,500 Euro Dollars
E7
E7
O
$1,100
$141,205
($9,940)
MF 12,500 Euro Dollars
MF
MF
O
$220
$20,847
($2,323)
B6 62,500 British Pound
B6
B6
O
$2,150
$142,017
($16,663)
J6 12,500,000 Japanese Yen
J6
J6
O
$2,200
$254,663
($8,570)
J7 6,250,000 Japanese Yen
J7
J7
O
$1,140
$122,554
($4,383)
WM 1,250,000 Japanese Yen
WM
WM
O
$228
$16,867
($1,645)
DX 100,000 Dollar Index
DX
DX
O
$2,090
$202,011
($5,760)
BT 5 Bitcoin
BT
BT
O
$95,315
$532,913
($28,704)
BA Micro Bitcoin enter .04
BT
BT
O
$1,907
$21,317
($1,148)
Energy
CL Crude 1000 Barrels
CL
CL
O
$5,850
$549,594
($18,783)
QM Crude 500 Barrels
QM
QM
O
$2,925
$270,819
($9,528)
CY Crude 100 Barrels
CY
CY
O
$585
$47,799
($2,124)
4) Using this spreadsheet you can create any allocation of the EMA markets above and instantly review 2000-2021 performance.
Enter your start balance in cell H19,
Number of contacts traded for each market in cells I19 - I44,
2000-2021 annual performance shows in cells D19-D43,
Monthly performance column F, maximum drawdown H-21.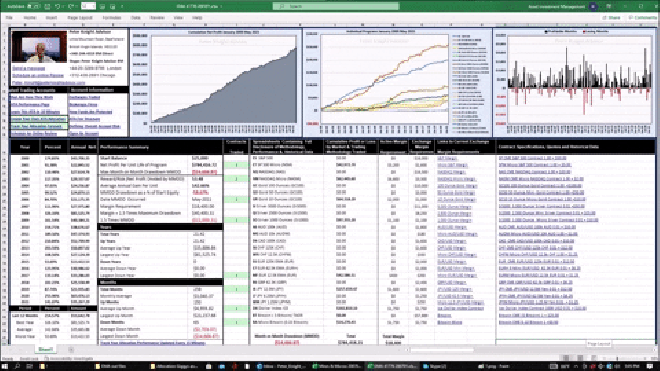 5) Set up with Barchart to track trades intra-day for any allocation
Open this page then click on sign up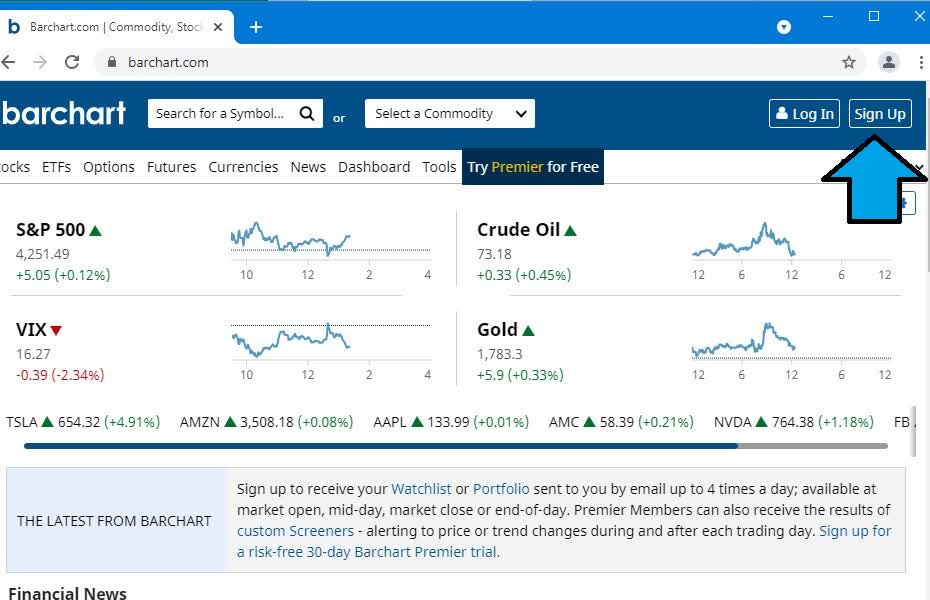 Click on get free (it never expires)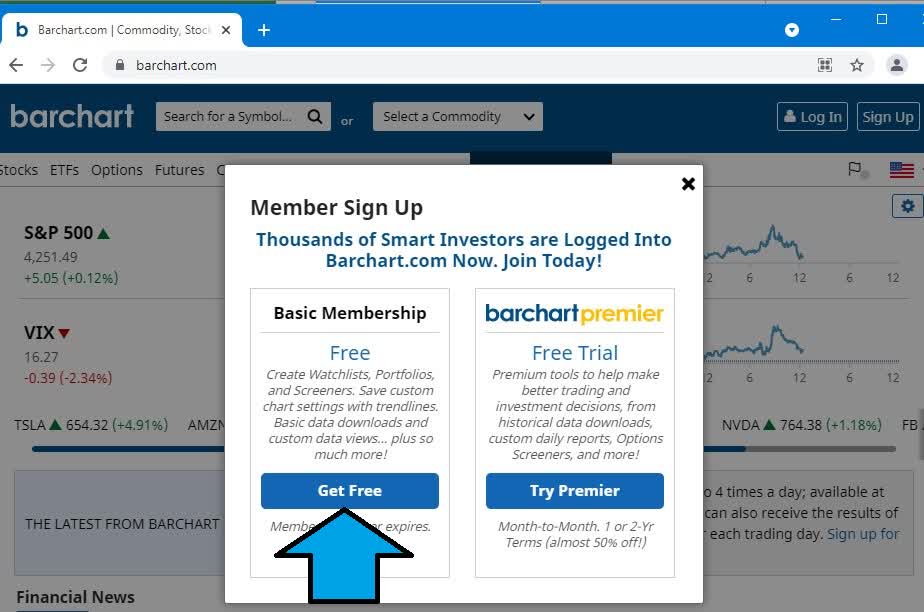 Enter your name, email, pick a password, create a free account, (no additional information is required).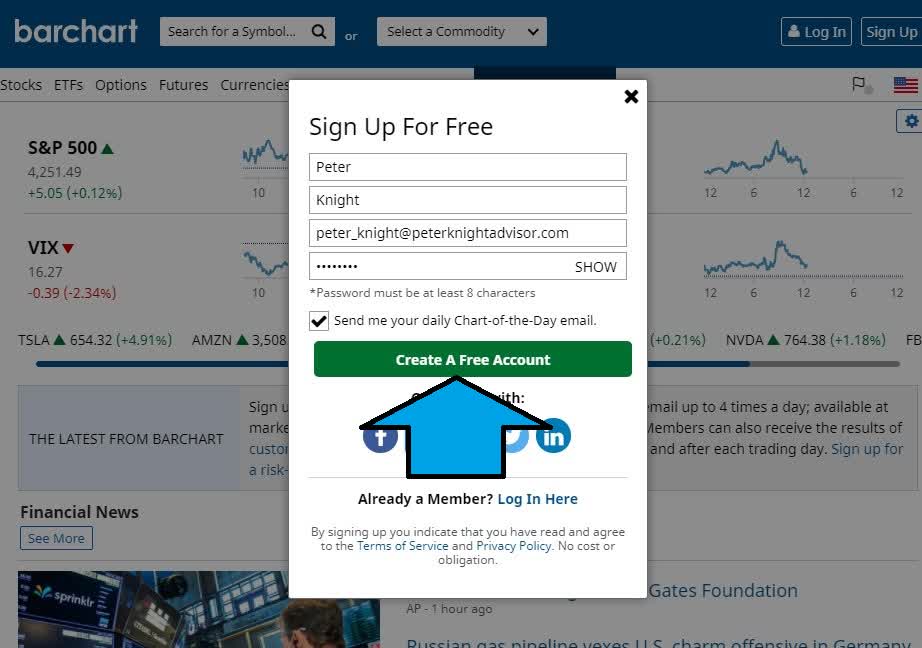 login to your Barchart account, under my account click on portfolio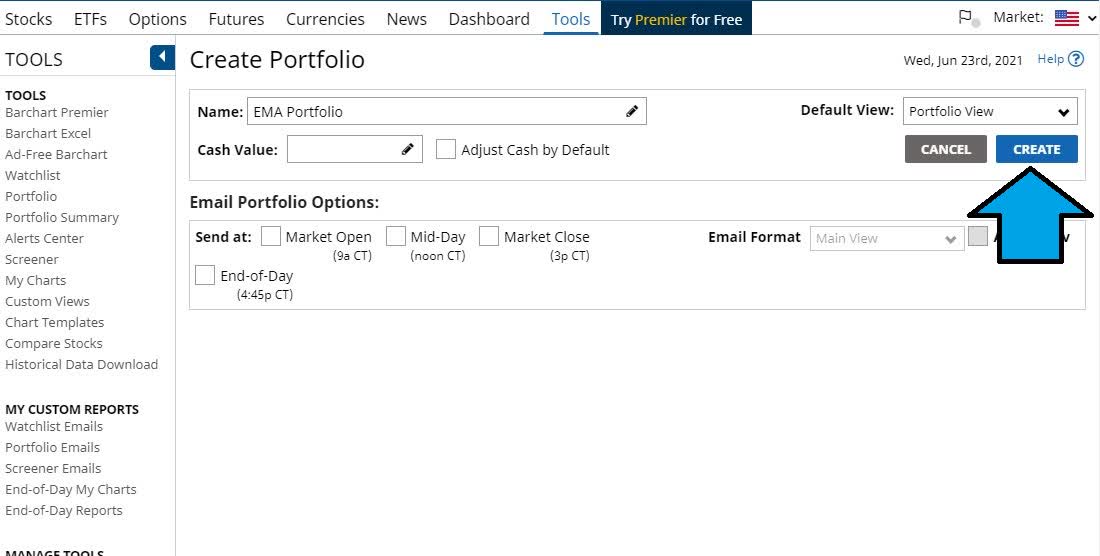 Add markets traded to your EMA portfolio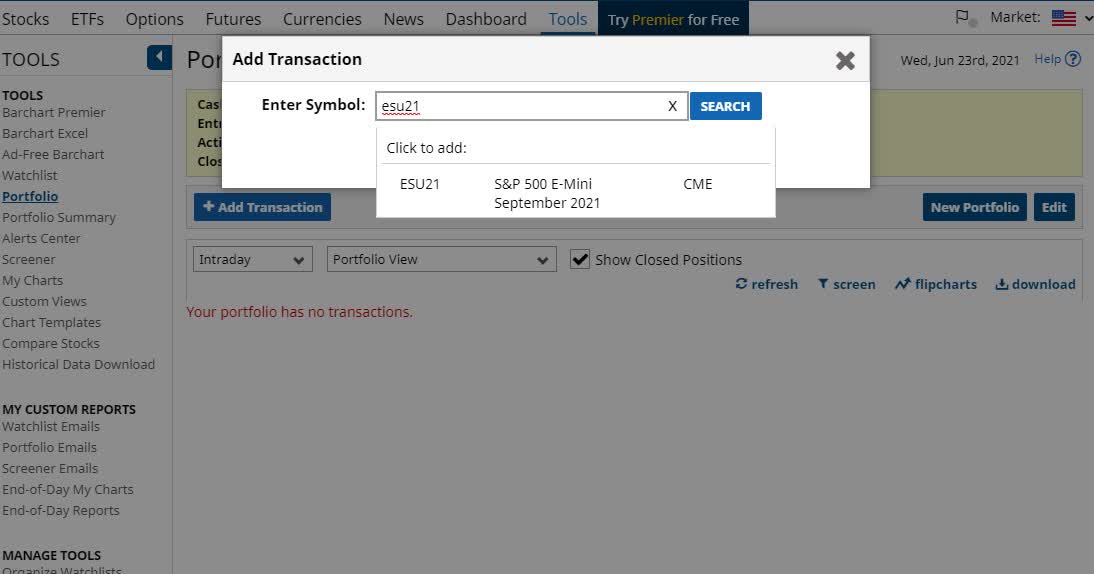 Enter date, price, quantity of contracts traded, then apply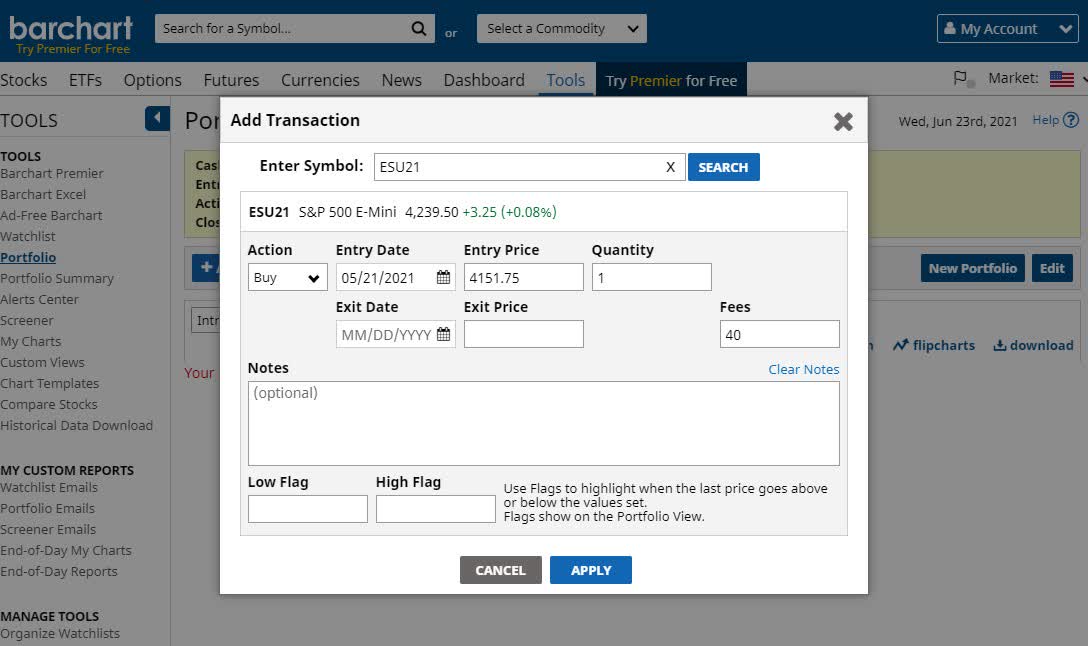 Once built out your allocation's performance is updated every 15 minutes.
1)_Today's total profit or loss2) Total open trade equity3) Total profit or loss4) Current contract price5) Today's P&L per market6) Total P&L per market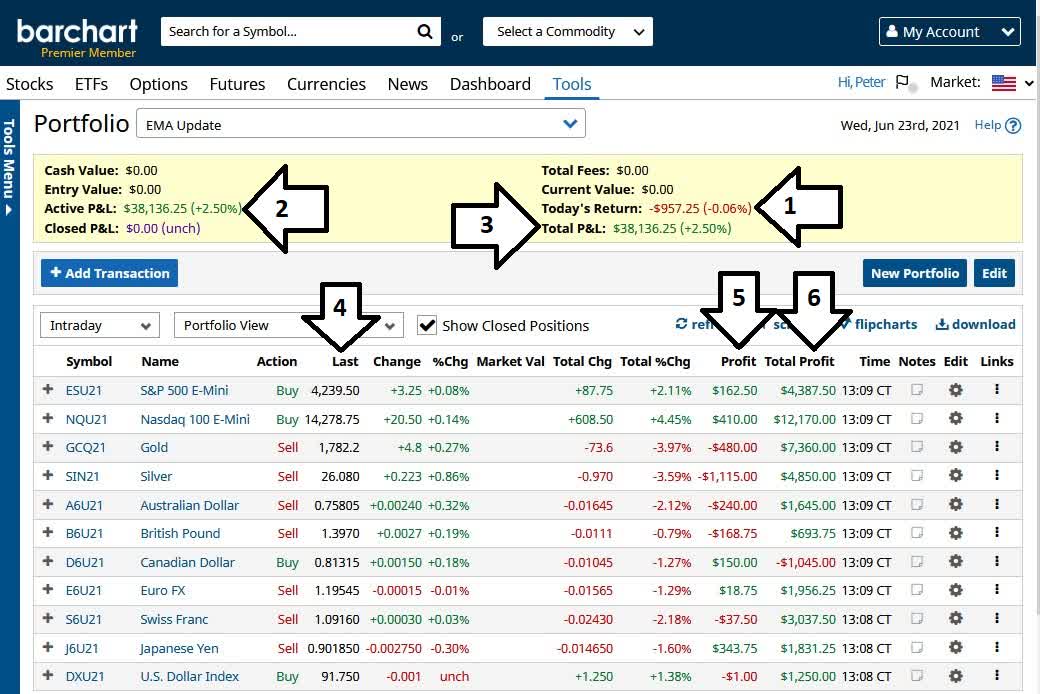 To offset any positions click on edit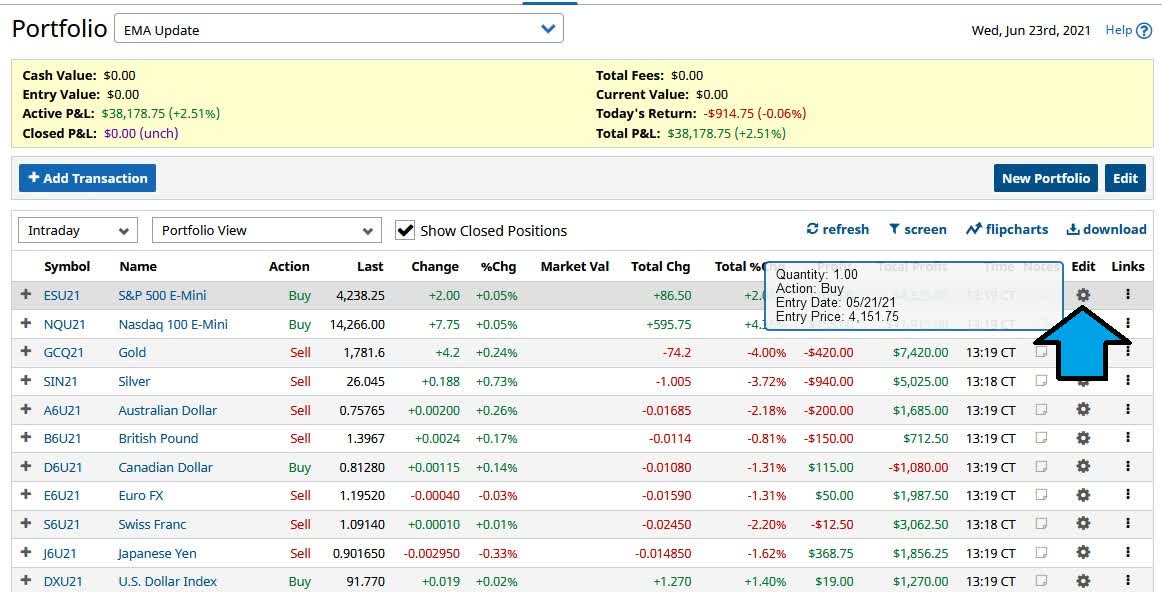 Enter the offset price, then apply
1)_Shows net profit or loss2) Shows the position has been liquidated3) The offset position's profit or loss is added to closed P&L.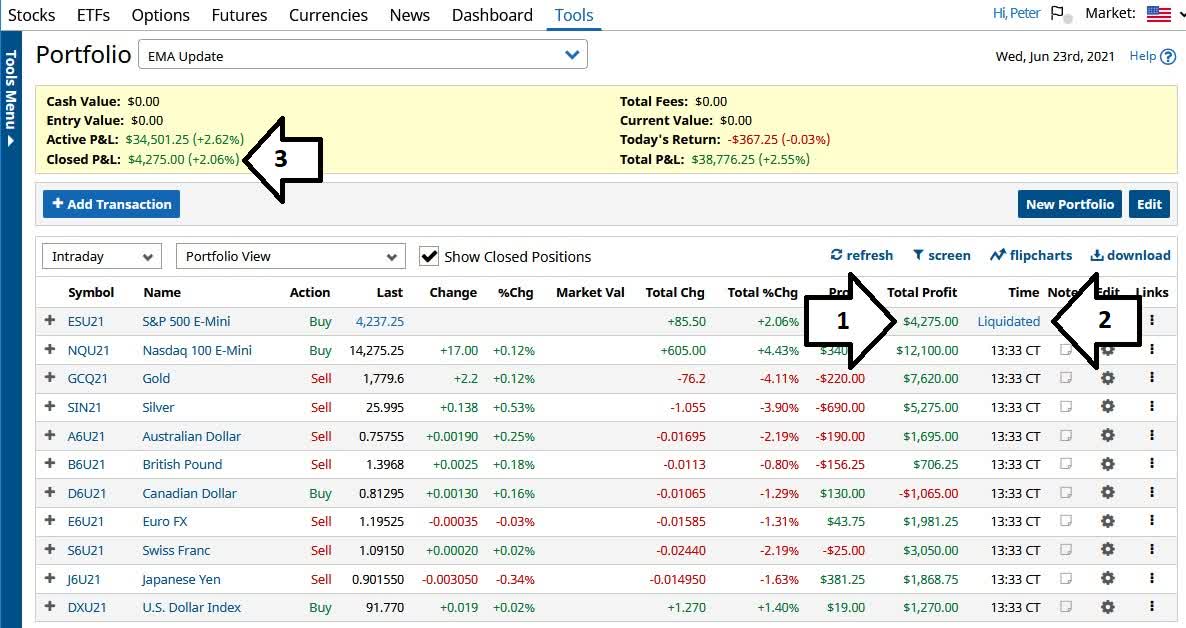 To organize the portfolio click on edit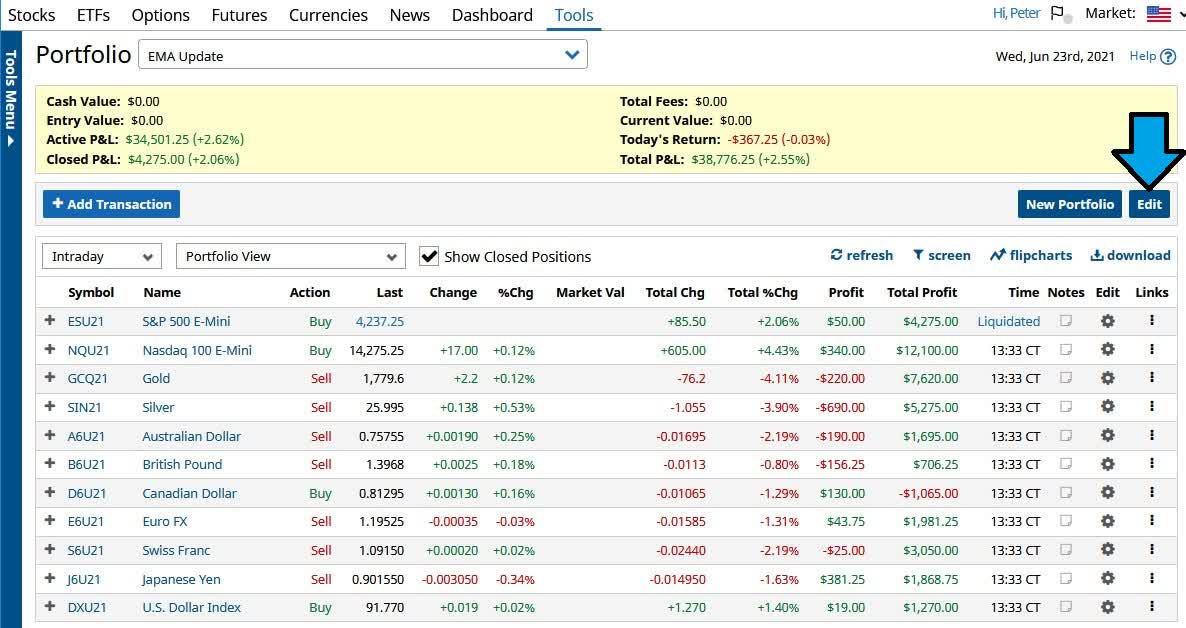 Clicking on the arrow or dragging the trade moves the position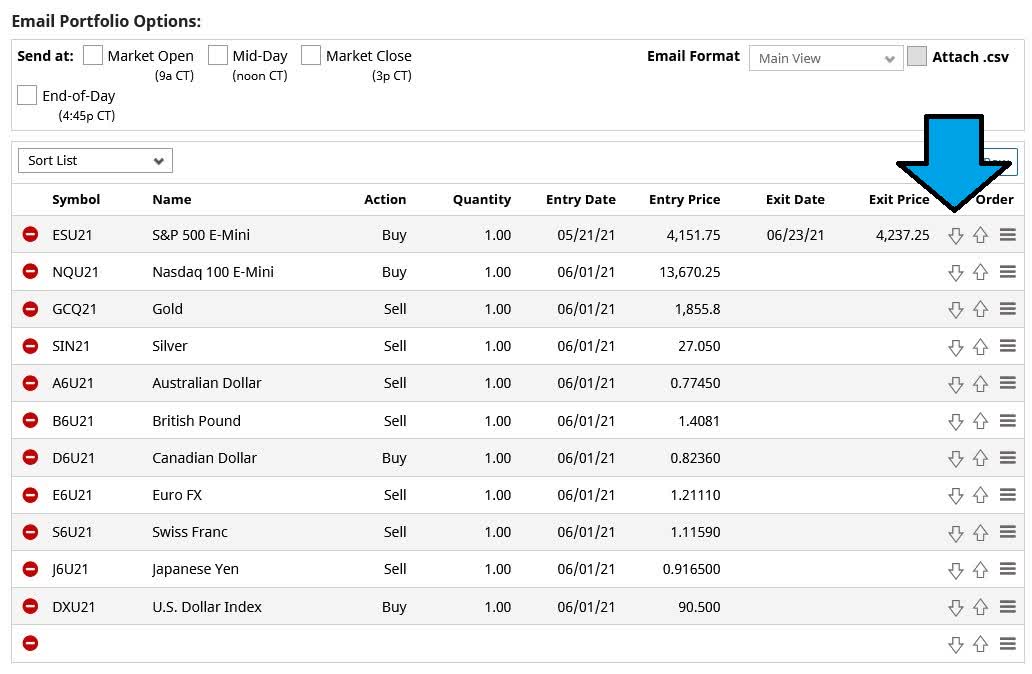 When finished hit save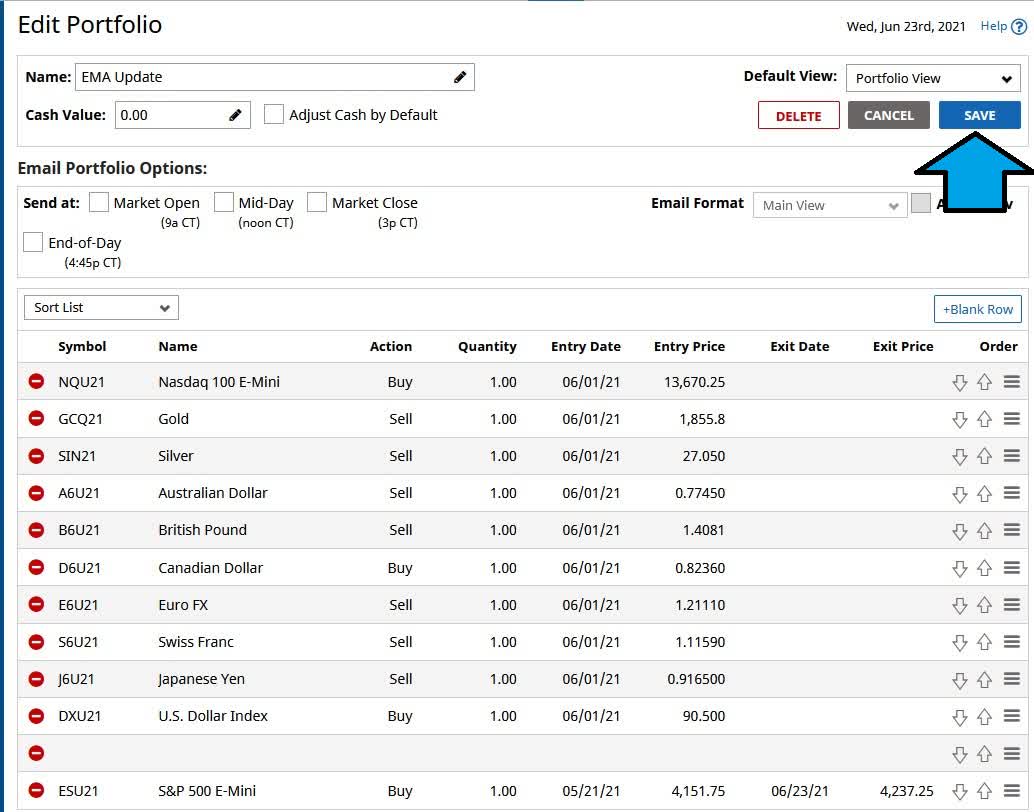 CFTC RISK DISCLOSURE STATEMENT
Additional Disclosure: I run a family office, I am not located in the United States nor am I licensed to handle U.S. retail accounts, nor do I sell an advisory service. My services are limited to non U.S. clients and individual U.S. clients that have a net worth of 2 million or more (excluding primary residence) with an existing account of $250,000 or more, U.S. institutions a net of 5 million or more with an existing account of $500,000 or more. Compensation is based on 10.00% of net new high profits quarterly, zero front loads, zero management fees.
Seeking Alpha's Disclosure: Past performance is no guarantee of future results. No recommendation or advice is being given as to whether any investment is suitable for a particular investor. Any views or opinions expressed above may not reflect those of Seeking Alpha as a whole. Seeking Alpha is not a licensed securities dealer, broker or US investment adviser or investment bank. Our analysts are third party authors that include both professional investors and individual investors who may not be licensed or certified by any institute or regulatory body.